Belated Happy Mother's Day, a UP Trivia Question, UP Counties Among Top Vaccinated in State, New Health Care Developments, and This Month's Lansing Legislation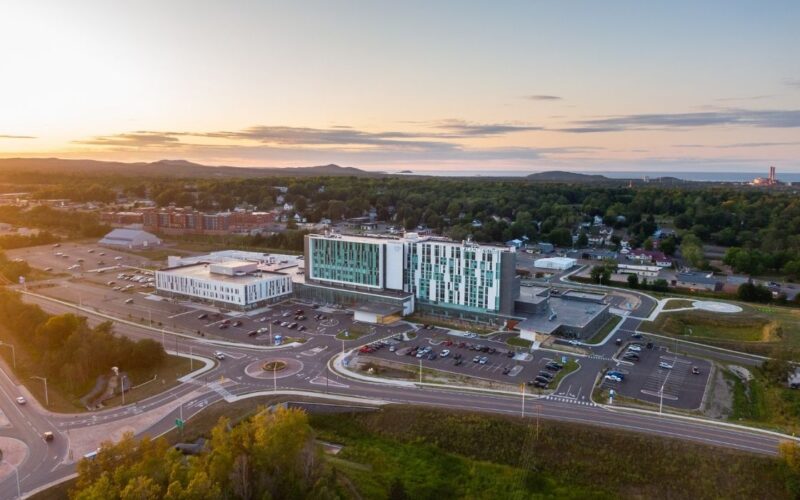 Photo courtesy UP Health System Marquette.
Belated Happy Mother's Day
To all the Mothers throughout the UP–we hope Sunday was a wonderful day for you with your families and friends. 
Upper Peninsula Trivia Question
Construction of this Michigan bridge began on May 7th, 1954. What's the name of this bridge? Come on, you can't miss this one. Answer at the end of this article.
Upper Peninsula Counties in Top Vaccinated Michigan Counties
A report from Lansing says that two of our UP counties are in this elite group of vaccinated citizens. Keweenaw county is in the over-60% category and Marquette is in the 55-60% category. Other counties are getting there also. More good news to come.
Upper Peninsula Health Care Developments
UP Health System-Marquette (Duke/Lifepoint/Apollo-owned) has had a group of their employees file to form a union. The ancillary staff has filed the paperwork with the National Labor Relations Board to vote on joining the Michigan Nurses Association.
If these staff approve the union, they will be part of 300 Marquette nurses who are now members of the MNA. The MNA is a large and very powerful labor union.
Another development relating to UP healthcare is the owner of UP Health System–Apollo Global Management–has agreed to buy Yahoo and AOL from Verizon for $5 billion. In addition, Apollo has been growing its $320 billion credit arm.
Additionally, it has bought the Las Vegas Venetian Hotel for $6 billion and the crafts retailer Michels for $5 billion.
Whew, that is a lot of billions and a whirl of purchases. By the way, Apollo has $49.7 billion of unspent capital on hand to make some more purchases and deals. It also recently announced that it has a $670 million quarterly net income–a record for them.
Adding to Apollo's wealth, it has also seen a 22% growth in the value of Palos private equity portfolio.
So what does all this mean to the Upper Peninsula health care delivered by UP Health System? One thought from some Whisperers is that maybe Apollo might be considering divesting its investments in health care as it expands its investments in technology, retail, credit, etc.
Another thought is that you can bet the Marquette Ancillary staff and the Michigan Nurses Association are sure looking at those investment and profit numbers. So too are most likely all the employees of the UP Health System. 
On a more humorous note, a couple of Whisperers thought maybe it means free Yahoo or AOL service for the employees and/or patients of UP Health System. Maybe discounts if you stay at the Las Vegas Venitian Hotel or shop at Michaels?
On a serious note, it might mean more investments by Apollo in their healthcare holdings, including UP Health System. Might it give more cause for the University of Michigan Health Systems to replace Duke in the Duke/Lifepoint arrangement?
Might all this mean that we will see more increased health care services for the people of the Upper Peninsula? From your mouth to God's ears. 
Lansing Legislation Introduced This Month You Might Have Missed
SB 394 would provide that local road agencies would receive over $261.3 million of funds from the state. The state funds would be replaced by money from the COVIDS-19 stimulus packages.
This legislation is sponsored by Senator Wayne Schmidt (R-Traverse City), whose district includes the eastern end of the Upper Peninsula.
Also recently introduced was House Joint Resolution "E" and is sponsored by Rep. Matt Hall (R-Hall, Marshall). "This joint resolution would apply for a convention of the state under Article 5 of the US Constitution. The convention would be used to propose constitutional amendments placing restraints on the federal government and limit the power, jurisdiction of the federal government and implement term limits for federal officials and members of Congress."
We try to provide information about federal and state legislation that may be of interest to the Upper Peninsula citizens and/or may have a direct impact on lives. No endorsement or support intended by Rural Insights for any legislation listed in this section.
Books (Recommended by Readers)
"First Principles: What America's Founders Learned from the Greeks and Romans and How That Shaped our Country." Thomas E. Ricks.
Quotes (That Make You Go Hmm)
"You never get in trouble for something you did not say." Former US Senator John Tower.
"The more I learn about people the more I like my dog." Mark Twain.
Trivia Answer for This Week
The Mackinac Bridge. Of course.