Blaney Park Resort – Part One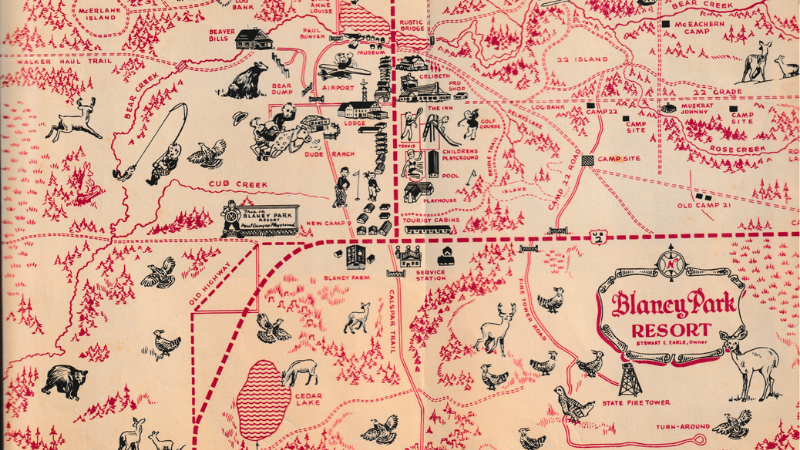 For decades, Blaney Park Resort in Michigan's Upper Peninsula drew visitors from all over the Midwest to an unparalleled array of activities.
From nearby and faraway, tourists and local residents came by train, small plane, and vehicle to Blaney Park.
UP residents remember Blaney as the scene of formal receptions, informal socializing, dining, dancing and drinking, and a whopper smorgasbord. From horseback riding, swimming, golf, archery and snow sports; to hunting, fishing and trapping; to elbow-bending and toe-tapping, Blaney had something for everyone.
The Inn at Blaney blended mature guests with a young staff: The waitresses ("waitri," in college staffers' slang) and other employees put on skits of youthful energy and talent. Dr. Jim Surrell vividly recaptures the congenial relationship between staff and guests.
My brother Don played jazz piano there when still a student at Newberry High School, sometimes solo, occasionally with Charlie Taylor on bass, and once or twice sitting in with the Swing Kings. Mrs. John Alton (Peg) Barrett took us to dinner there and danced us all under the table. I put a right angle in my brother's nine iron trying to hit a golf ball out of a small shrub, under the shade of the American Elms along the ninth fairway of the sporty Blaney golf course.
The Bill and Naida Earle family moved from Blaney to Newberry in 1961 when Bill, son of owner Stewart Earle, stepped away from management of the Resort preliminary to its sale by Stewart. Some of us regarded the Earle kids with curiosity and open arms. (Literally: I took the oldest Earle daughter, Mary Margaret, to the Christmas Ball in 1962. We reconnected and married in 2010. Mary died seven months later.)
We kids never appreciated what a phenomenal chapter the Resort and its owners wrote in UP history, nor did we know how typical of UP history—from founding to foundering—Blaney's story.
I hope this little book corrects that. It is dedicated to the memory of the guests, the woodsworkers and waitri and other staff members, and to C.J.L. Meyer and the Earle family, especially Mary Margaret.
This was the introduction to Blaney Park Resort – Part One by Ted Bays. You can read the full publication, for free, here:  Blaney Park Resort – Part One