Congrats to the Munising Mustangs, New UP Veterans Home Location, Dark Stores and the UP, Friend of UP Appointed, Former City Manager Returns, and a Real Estate Rumor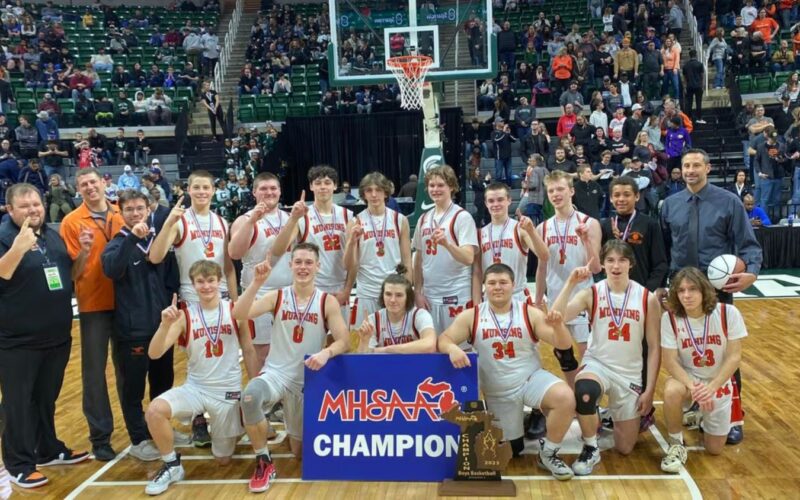 – INFORMED BREVITY –
Congrats to the Munising Mustangs!
Boys basketball state champions. What a great success. Their first. The entire Upper Peninsula is proud of them.
Upper Peninsula New Veterans Home Location
The DJ Jacobetti Home is going to be moved to a new facility that will be built someplace in Marquette. Initial rumors said it would be located on Marquette's Lakeshore Blvd on some lakefront property. We have learned from State officials that a final decision has not yet been made and they are still looking at sites in Marquette Township. More to come.
Dark Stores and the UP
Local governments and community leaders are getting behind the legislation introduced by the Upper Peninsula's State Senator Ed McBroom (38th Senate District). The proposed legislation would fix the tax loophole that big box stores like Meijer, Target, Walmart, etc., use to escape paying their fair share of taxes.
As a result of this loophole, local school districts, local public school districts, local governments have had to cut services. Take a look at the issue and the new legislation. There are several articles on our website that can assist you in reviewing this issue (www.ruralissue.org).
Friend of Upper Peninsula Appointed to Federal Position
Former Governor James Blanchard has been appointed by President Biden to be a member of the United States Advisory Commission on Public Diplomacy. Governor Blanchard also served as the United States Ambassador to Canada.
Former Upper Peninsula City Manager Returns to UP
Bill Vajda former City Manager of Marquette, returns to his hometown to join the Northern Michigan University team as the Executive Director of the Upper Peninsula Cybersecurity Institute. He brings decades of cybersecurity expertise at the federal, state and local levels to his new NMU position.
Bill's family has long ties to NMU, starting with his father who served as an NMU academic department head for many, many years.
Upper Peninsula Community Colleges Getting New Leadership
Gogebic Community College President McNulty announced his resignation. Bay de Noc Community College's longtime President is also retiring. Northern Michigan University has a new president. Finlandia University has announced it is closing its doors for good.
Lots of change in leadership and direction will be coming to higher education in the Upper Peninsula in the coming years. Higher education in our communities are major economic drivers and influencers. Worth watching what will develop.
Marquette Business Real Estate Rumor
Another rumor about the former popular restaurant and entertainment venue, Upfront & Company. Whisperers are telling us the most recent rumor is that the popular spot downtown that has been closed for over a decade is going to open again as a pizza place that will serve drinks and have live entertainment again. Hmmmm. Believe it?
From the World Around Us
Spring and summer are coming–hopefully. Thunderstorms are coming. Here is an interesting statistic from the National Weather Service:  "The odds of getting struck by lightening in your lifetime is 1 in 15,300."
From a Georgetown University study: Some 30 million jobs in the United States paying an average of $55,000 do not require a bachelor's degree. The study also pointed out that student debt is rising. Two-thirds of those with degrees say the debt was worth it, according to a YouGov poll.
Quotes
"An appeaser is one who feeds a crocodile hoping it will eat him last." Winston Churchill.
"Haste is from the devil." An Arabic proverb.
Talk To Us
Keep your raves, laurels, rants and darts coming. Send them to us at david@ruralinsights.org. We love to read them. 
About Us
Rural Insights connects policy, information, news and culture to raise topics and stories/information you might have not seen or overlooked. We bring you original writing from Rural Insights and other researchers, change makers, and storytellers, as well as our latest research and analysis.
Like Whispers?
If so, please forward it to your friends, and let them know they can sign up here or on our website: www.ruralinsights.org.
TWITTER: Follow us @ruralinsightsUP.
"WE BELIEVE YOU ARE SMART ENOUGH TO FORM YOUR OWN OPINIONS, AND WE TRY TO GIVE YOU SOME SOURCES TO DEVELOP YOUR OPINIONS."