Fall Tourism in the Upper Peninsula, Banned Books, State Constitutional Amendments, UP Slogans, and Child Poverty in Michigan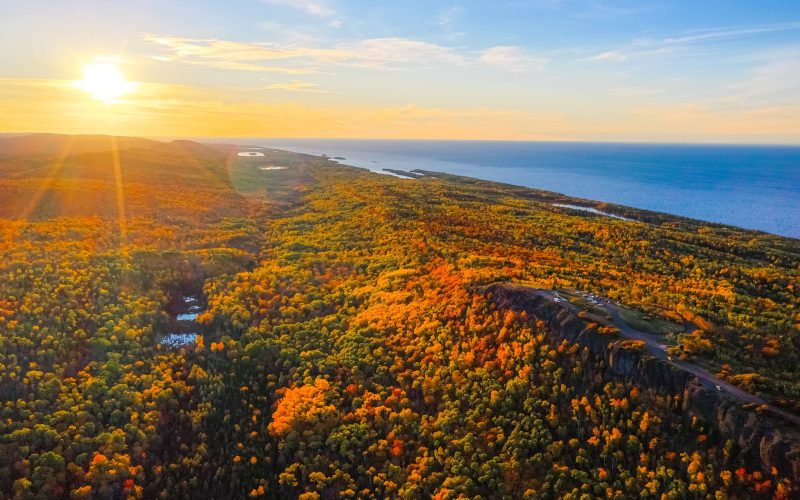 – INFORMED BREVITY –
This Week in Rural Insights
This week we will be featuring a podcast with Steve Young, the Chairman of the Board of Trustees at Northern Michigan University. We discuss a number of topics of importance to NMU, including the upcoming selection of a new President of the university. Don't miss it. By the way, for those of you who prefer to read the interview versus listening to the podcast, we publish a transcript of the podcast.
Fall Tourism in the Upper Peninsula
All around the Upper Peninsula there has been a record number of tourists visiting our beautiful region. Hotels have been experiencing high occupancy, restaurants have seen record crowds and tourist attractions have been busy, busy. Now we enter the Fall color season and there will be more record tourism according to the hospitality industry.
Banned Books
There have been 1,641 attempts and/or actual banning of books so far this year all across the country. Observers tell us that there will be increased numbers in the last three months of this year.
Many public libraries and public schools are intensely fighting book banning. Local leaders are speaking out against the banning attempts.
In rural communities across America, including in the Upper Peninsula, public libraries have played a very important role in local communities. They have served as community gathering places for cultural, educational and informational sessions. They have become a place not only for getting books to read but to hear music, see theatrical events and get information important to families.
Rural public libraries and public school libraries play an important role in rural communities and get big community support.
State Constitutional Amendments on the Ballot This Fall
There are three constitutional amendments on the ballot: amending term limits; voter rights and reproductive freedom. All three are important and have active constituencies trying to get support.
This week we feature the amendment to amend the state's constitutional language creating the conditions of term limits for legislators (1992).
Currently, state House members can serve three two-year terms and Senate members can serve two four-year terms. Fourteen years total of legislative service. After they reach those limits they are done.
The ballot question, if approved, would allow legislators 12 years of legislative service, but they could in this proposal serve the 12 years in either legislative house or a combination of time in either the Senate or House. So it reduces 14 years of allowable service to 12 years and changes that they could serve it all in one house or a combination of both.
Legislative term limits as passed in 1992 had a bigger impact on rural areas than other communities in the state. Rural voters often returned legislators for many, many terms and this enabled them to get seniority and power–and therefore being able to be strong advocates for rural communities. This all changed after the 1992 term limits amendment was implemented.
Another feature of this year's term limits constitutional amendment is that it puts in place very specific requirements for financial disclosures from legislators and state officers–such as the Governor, Attorney General, Secretary of State. Transparency and strong ethics advocates for public officials have long wanted more transparency from these elected officials. This amendment would place those transparency requirements in place for these elected officials.
Under the ICYMI tab on our website you will find an excellent analysis on this topic from the prestigious Citizens Research Council of Michigan.
Slogans for the Upper Peninsula
We have received many thoughts from our readers. Please continue sending your ideas and suggestions for slogans. We will start letting our readers know your ideas.
Child Poverty in Michigan
16.8% of children ages 0-17 in Michigan live in poverty. A bone chilling statistic.
Most observers agree that as income inequality grows, children from more privileged families start and most likely finish further and further ahead of the children from less privileged families.
One interesting statistic is that children born to a high school dropout were more than four times as likely to have a parent sent to prison.
If you would like more information on child poverty in Michigan, take a look at https://mlpp.org/kids-count/2022dataprofiles/. Lots more data and facts. Data profiles and data maps for communities across the state, including data for Upper Peninsula communities and other rural regions.
Quotes That Make Us Go Hmmm
"Only cowards ban books. Banning books is as un-American as it is futile in the age of the internet." Alex Kingsbury.
"We can't all do great things, but we can do small things with great love." Queen Elizabeth.
"Whenever they burn books, in the end they will also burn human beings." Heinrich Heine.
Talk To Us
Keep your raves, laurels, rants and darts coming. Send them to us at david@ruralinsights.org. We love to read them. 
About Us
Rural Insights connects policy, information, news and culture to raise topics and stories/information you might have not seen or overlooked. We bring you original writing from Rural Insights and other researchers, change makers, and storytellers, as well as our latest research and analysis.
Like Whispers?
If so, please forward it to your friends, and let them know they can sign up here or on our website: www.ruralinsights.org.
TWITTER: Follow us @ruralinsightsUP.