Golf Course Rumors, Houghton Walmart Fighting for Tax Cut, Michigan Gun Reform Efforts Fast Tracked, UP University Active-Shooter Warning Systems, & Mandatory National Service Op-Ed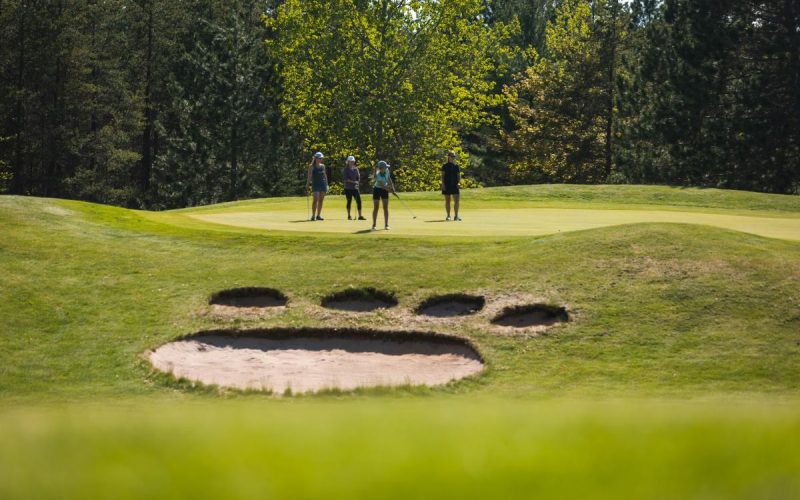 – INFORMED BREVITY –
This Week in Rural Insights
On Wednesday we will be publishing an update on the International Ski Federation Continental Cup Tournament at the Pine Mountain Ski Jump in Iron Mountain taking place this weekend (March 3-5). Thank you to the Dickinson Area Economic Development Alliance for the info!
Golf Course Rumors
We continue to hear rumors that the NMU Golf Course sale is still alive and well. University Foundation and University officials continue to hold discussions on this topic with tribal leaders and lawyers.. More later on this and on transparency and Freedom of Information Act compliance on this topic and more.
Houghton Walmart Fighting for Tax Cut for Local Store
Our readers know we have written often about the so-called "dark store tax exemption" in Michigan law and its horrendous impact on local communities. Go to our website tabs for more detailed analysis on this pro-business tax exemption.
Walmart wants to lower its tax evaluation on the property it owns in Houghton. If they get their way it would mean a gain to Walmart of $1.2 million just on this store, and a loss of $1.2 million to the City of Houghton. Houghton says this will force cuts to local city services.
One wonders where UP business lobbying groups like Invest UP are on this issue. Are they lobbying to change this pro-business tax exemption which so greatly harms local UP communities? Are local communities paying to join Invest UP and how much? Should there not be a strong UP business lobbying effort against these dark store exemptions that so damage local communities and their citizens? Are UP local governments left to fight this exemption and spend thousand and thousands of dollars on legal fees? Are local businesses helping with this effort and sharing the costs to fight Walmart, Meijer and other chain businesses who fight for this exemption? Are they leaving local government twisting in the wind or are they sharing in the effort and cost to change this statewide attack on local government finances and local taxpayers?
The Michigan Legislature could fix this whole problem by amending the Michigan tax code and help local tax payers and local governments. That is exactly what happened in our neighboring state of Wisconsin. Will the legislature step up and will UP business lobbying groups support the process to change the tax code? Where will Invest UP and other businesses lobbying groups be when the amending process begins? More to come–lots more.
Michigan Gun Reform Efforts in Michigan on Fast Track
The 2023 Michigan campaigns saw and heard lots of promises about bringing gun control on long-arm weapons and other military type weapons. The new Democratic majority in the Michigan legislature and the newly re-elected Governor began drafting bills to get at this issue in 2023. The tragic shooting and murders on the MSU campus lit a renewed fire under these efforts.
We should see some actual bills and some votes and less rhetoric on this topic real soon here. Opponents and proponents are lining up to support all across the state. What are you hearing in your UP community? Let us know.
Upper Peninsula University Active Shooter Warning Systems
MTU, NMU, LSSU and FU all put out statements after the MSU shootings/murders that gave detail about their active shooter policies and notices to the campus and beyond. All four university presidents issued statements expressing sympathy and support for the MSU community and for the families of students murdered and injured from the gunshots.
Very classy and well-done statements to their own campus communities and alumni community by each of these university presidents. The UP is fortunate to have this level of leadership.
Mandatory National Service Op-Ed
Last week we ran an opinion article by yours truly. It called for a discussion about what are the obligations and responsibilities of American citizenship and various types of national service. We received scores and scores of comments, messages, emails and texts on the op-ed.
About 85-90% were positive and supportive of some sort of mandatory national service. We read of many different ways of getting to the goal of mandatory national service. The 10-15% of those opposed to the concept had very constructive and creative reasons about why it would be difficult to accomplish in this country.
In typical Upper Peninsula style both sides of this issue were positive, polite and respective of opposite views on this issue. Okay maybe a few called me select names–some pretty creative combination of insults and curses. Keep sending your thoughts to us on this topic.
From the World Around Us
Growing up I learned about the Jewish tradition of "pikuach nefesh." It is the idea that if you save one life, you save the entire world. It is the principle that the preservation of human life overrides virtually any other religious or life rule.
It would be great if we all practiced that in our lives actively. Might just help us Americans reduce the mental health crises, hunger, poverty, veteran homelessness, etc.. The list is unlimited. Oh well, back to reality. Who knows, maybe we would not be seeing the horrible destruction and loss of life in Ukraine.
Quotes That Make Us Go Hmmm
"If you are on the wrong road, progress means doing an about-turn and walking back to the right road." CS Lewis.
"I never lose, I win or learn." Nelson Mandela.
Books Recommended By Our Readers
"The Nazi Conspiracy: The Story of a Nazi plot to kill President Roosevelt, Joseph Stalin and Winston Churchill." Brad Meltzer and Josh Mensch.
Talk To Us
Keep your raves, laurels, rants and darts coming. Send them to us at david@ruralinsights.org. We love to read them. 
About Us
Rural Insights connects policy, information, news and culture to raise topics and stories/information you might have not seen or overlooked. We bring you original writing from Rural Insights and other researchers, change makers, and storytellers, as well as our latest research and analysis.
Like Whispers?
If so, please forward it to your friends, and let them know they can sign up here or on our website: www.ruralinsights.org.
TWITTER: Follow us @ruralinsightsUP.
"WE BELIEVE YOU ARE SMART ENOUGH TO FORM YOUR OWN OPINIONS, AND WE TRY TO GIVE YOU SOME SOURCES TO DEVELOP YOUR OPINIONS."