Happy Halloween, Welcome to NMU's 17th President, Heating Bills Expected to Soar, and Eight Days Till Election Day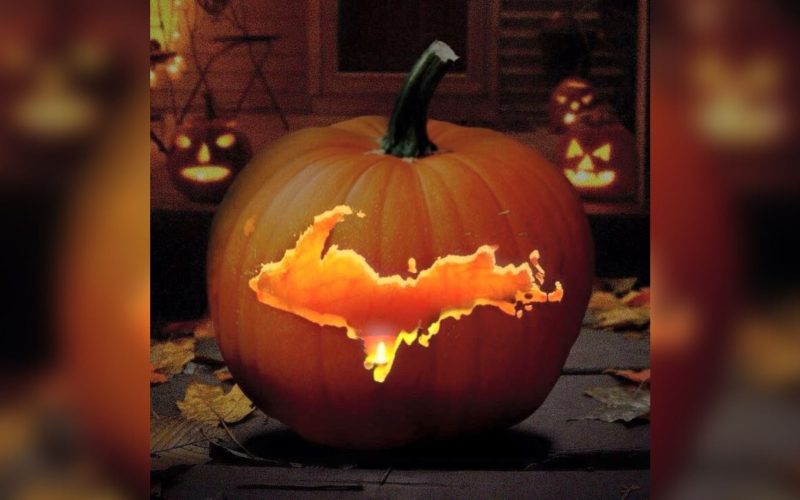 Happy Halloween
Trick-or-treating in costumes under the coats and hats for our small friends out on Halloween–will we have snow, ice or just cold, old weather? How about a nice Fall day of 65 degrees or more for our kids trick or treating. Enjoy regardless of the weather!!
Welcome to NMU's 17th President
Dr. Brock Tessman and his family were on campus and all over town recently. He was greeted by community members from all over the Upper Peninsula and from the NMU campus community. It was a good Yooper welcome and he did an amazing job wherever he went to visit with people. He will officially assume his presidency beginning in February 2023.
Dr. Tessman will have lots of issues to deal with when he returns. He will need to find a new permanent Provost and Athletic Director.  Other issues confronting the new president will be declining enrollment, declining state aid over the last decade, mental health/wellness on campus, and other issues not listed here.
In addition he will be working with three new NMU Board of Trustees members when he arrives. The Governor will most likely fill these three positions before the year's end if she is reelected, or if not reelected, they will be filled by the new Governor right after the first of the year. The board has only eight members, so three new members is a lot to deal with and get to know.
Trustees Seavoy, Mahaney and Morgan positions will be open effective December 31. Seavoy and Mahaney were appointed by a Republican Governor, so if the new Governor is a Republican they could be reappointed if they desire. Trustee Morgan (an NMU alumnus) is running for the State House seat in Ann Arbor. If he wins as expected he will have to resign, because one cannot serve in two branches of the government at the same time. He was appointed by a Democrat. So who wins this election for Governor will determine who gets appointed to fill these three positions.
There are many alumni who want more alumni appointed to the Board of Trustees, regardless of which Governor does the appointing. It is interesting to note that the University of Michigan Board Regents and the Board of Trustees of Michigan State University are primarily alumni of those institutions (both school's boards are elected in general elections in Michigan).
So the argument goes that if that is good enough for those two major universities why is it not good enough for the regional universities with appointed boards. NMU, like the other boards with  appointed  trustees does have some alumni appointed to their boards, but nowhere near what the U of M and MSU alumni on their boards. Time for a change?  What do you think are the benefits and downsides of having a majority board made up of alumni?  Let us know your thoughts.
Upper Peninsula and Statewide Heating Bills Expected to Soar
Observers say we could have up to a 28% increase in heating bills this winter. These anticipated heating costs are due to supply disruptions and most likely colder weather this winter. The Russian war against Ukraine isn't helping this situation here in our nation or in Europe where it could be worse than in the U.S.
Eight Days Till Election Day
Don't forget to vote, including for your local government boards. There are some very important elections all over the Upper Peninsula.
The World Around Us–Rolling Elections and Voting
Seems like today we do not anymore have election days but rather election months. This is due to early voter law changes in Michigan and across the country.
The 2020 election is the first time in American history where a majority of voters voted early and not in person, not on election day. The US Election Assistance Commission reports that just 30.5% of voters voted in person on Election Day in 2020, compared to 58.2% in 2018.
This trend is repeated around the Upper Peninsula, Michigan and the nation.
Might this be a permanent change in American voting life and practices?
Quotes That Make Us Go Hmmm
"Human beings have an infinite capacity to ignore things that are not convenient." Jan Karski.
"When someone shows you who they are, believe them the first time." Maya Angelou.
Talk To Us
Keep your raves, laurels, rants and darts coming. Send them to us at david@ruralinsights.org. We love to read them. 
About Us
Rural Insights connects policy, information, news and culture to raise topics and stories/information you might have not seen or overlooked. We bring you original writing from Rural Insights and other researchers, change makers, and storytellers, as well as our latest research and analysis.
Like Whispers?
If so, please forward it to your friends, and let them know they can sign up here or on our website: www.ruralinsights.org.
TWITTER: Follow us @ruralinsightsUP.