Happy Valentine's Day, A Balloon Over Houghton, Another UP Leader Reappointed, Thanks to Jeremy, and UP School Alumni in the Legislature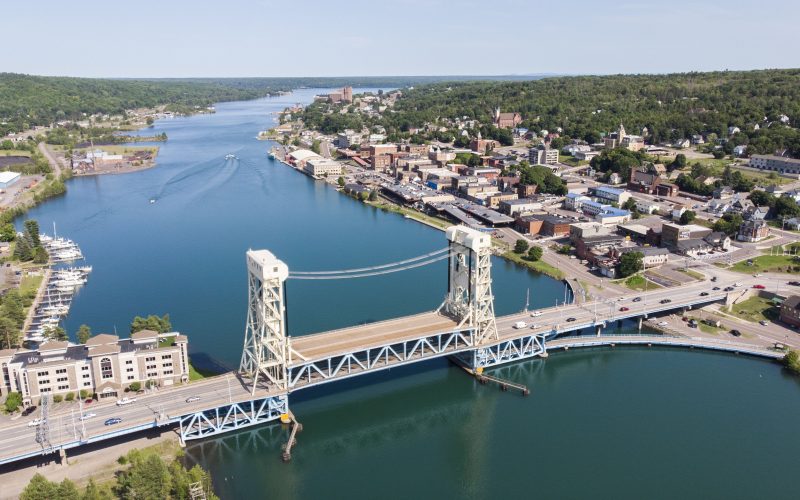 – INFORMED BREVITY –
This Week in RI
On Wednesday we will be reposting our podcast discussion with Brigitte LaPointe-Dunham, CEO of the Keweenaw Bay Indian Community, that we recorded November 2021. This was before she was appointed by Governor Whitmer to the NMU Board, and so we thought you might be interested in listening if you haven't yet!
Happy Valentine's Day
To all of our readers around the globe.
A Balloon Over Houghton
We were told of a rumor that there was a sighting of a large balloon over Houghton. It first appeared very high up in the sky and then descended slowly to a lower height so one could see it clearly. It turns out it was a green and gold balloon with the words "Go Cats" on it. Clearly not a balloon from China.
It landed in Houghton on its own. It had a large metal box attached to it  When the box was opened it contained a note from newly-arrived NMU President Brock Tessman and was addressed to Michigan Tech University Richard Koubek. The note invited Dr. Koubek to join Dr. Tessman in Marquette for a pasty and a beer. Dr. Tessman has been busy since his arrival in February visiting campus and UP communities. This invite may have been part of the outreach.
Remember this column is entitled Whispers, Noise and RUMORS. Yup this rumor turned out to be not true because it is totally made up by this author. Before I get scores of messages about the authenticity of this information, let me emphasize it is a joke and NOT TRUE. Smile.
Another UP Leader Reappointed By Governor
David Nyberg was reappointed by Governor Whitmer to the Natural Resources Commission. He is a born and raised Yooper and works at NMU. Congratulations.
Thanks to Jeremy
It occurred to us recently that all of us do not thank Jeremy Hosking enough, the Director of the Governor's Upper Peninsula Office. He is the Governor's on-the-ground contact person for every community in the UP. He handles constituent requests and he is the person that makes sure the Governor gets a good listing of UP talent to serve on state boards and commissions.
Jeremy is the Governor's eyes and ears in the UP. It is a very important job and a very difficult one. So thank you Jeremy for your service representing all of us in the UP and making sure that policy makers know what we need and think about what they are doing in Lansing.  Drop him a note and say thanks.
NMU, LSSU and MTU Alumni in the Legislature
Senator Ed McBroom, from Vulcan, State Representative Greg Markkanen, from Hancock, and Jason Morgan, from Ann Arbor are NMU alumni.
We are still searching through biographies of the new legislature for more graduates of NMU, MTU and LSSU. Send us names we might have missed. We will keep checking.
Veterans in UP
Please share this with every veteran in your family and in your community: if you are having a mental health or physical crisis you can call 988 and then press 1 to get immediate help. Remember 988 then press one.
Reach out and help a veteran. Don't just say thank you for your service–do something to help and give them this number 988 and press one.
Finlandia University Planning for Decline in Enrollment and the Future
FU President Tim Pinnow recently announced that FU's enrollment is now under 400 from a historical high of 650. He said they are talking with regional health care providers and agencies about starting a licensed practical nursing degree program. There is apparently a big demand for LPN's in rural hospitals and health agencies. FU is also talking with NMU about coordinating a shared teacher education program with them as well as some other degree programs.
As all of higher education is coping with a shrinking college age population and demand, this seems like really good planning and creativity by FU leadership and President Pinnow.
From the World Around Us
An average of 14,000 people per year have left Michigan since 2020. (US Census Bureau).
Quotes
"You are never too old to set another goal or to dream a new dream." CS Lewis.
"I won't insult your intelligence by suggesting that you really believe what you just said." William F. Buckley Jr.
Books Recommended By Our Readers
"Moral Man and Immoral Society: A Study in Ethics And Politics". Reinhold Niebuhr.
"In Search of Common Ground:  inspiring stories of Overcoming Hate in a Divided World." Bastian Berbner.
Talk To Us
Keep your raves, laurels, rants and darts coming. Send them to us at david@ruralinsights.org. We love to read them. 
About Us
Rural Insights connects policy, information, news and culture to raise topics and stories/information you might have not seen or overlooked. We bring you original writing from Rural Insights and other researchers, change makers, and storytellers, as well as our latest research and analysis.
Like Whispers?
If so, please forward it to your friends, and let them know they can sign up here or on our website: www.ruralinsights.org.
TWITTER: Follow us @ruralinsightsUP.
"WE BELIEVE YOU ARE SMART ENOUGH TO FORM YOUR OWN OPINIONS, AND WE TRY TO GIVE YOU SOME SOURCES TO DEVELOP YOUR OPINIONS."