Micropolitan Areas in the Upper Peninsula, Michigan Scores Poorly for Education Funding Gaps, and New Book Suggestions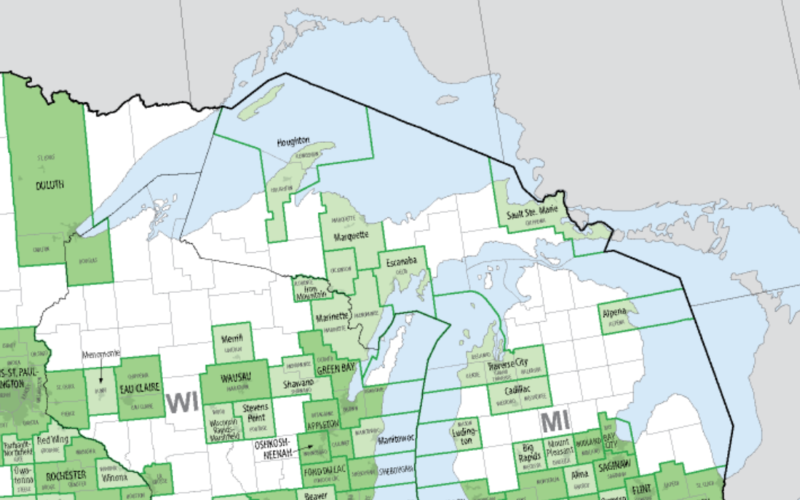 Rural Whispers, Noise & Rumors is a weekly column that gives you the inside scoop on the rural happenings in Michigan's Upper Peninsula.
Not All Urban Areas Are the Same AND Not All Rural Areas Are the Same
Note to policy makers and media outlets–you would not assume that the metropolitan areas of Detroit, Grand Rapids, Lansing, Muskegon are all the same with similar problems and similar advantages.
Yes, there are some similarities, but there are also many differences between these metropolitan areas.
Rural areas have many of the similar problems and benefits as urban areas, but they have unique and different issues from urban areas.
Also, rural areas have some similarities to each other but have different problems and advantages from each other.
There is lots of room for networking and coalition building between rural and urban communities.
The Upper Peninsula has a history of building coalitions with downstate urban areas to accomplish UP goals and needs.
An example of this would be the huge physical expansion of UP university campuses during the period of 1970 to 1995 that is largely due to a strong legislative coalition between the Detroit and Upper Peninsula legislative delegations.
Urban areas have metropolitan areas. The definition of a metropolitan area is often defined as a "region consisting of a densely-populated urban core and its less-populated surrounding territories, sharing industry, infrastructure and housing."
Metropolitan areas also have a high degree of economic and social integration with that urban core.
Rural areas, on the other hand, have micropolitan areas.
The definition of a micropolitan area, according to the federal government, is "one or more adjacent counties or county equivalents that have at least one urban core area of at least 10,000 population but less than 50,000, plus adjacent territory that has a high degree of social and economic integration with the core as measured by commuting ties."
Merriam-Webster Dictionary defines it as "being a population area that includes a city with 10,000 to 50,000 residents and its surrounding communities."
The Upper Peninsula has many areas that would meet the definition of micropolitan area. Chippewa (Sault Saint Marie), Delta (Escanaba), Dickinson (Iron Mountain), Houghton (Houghton) and Marquette (Marquette) counties come to mind.
Micropolitan communities are perfect for coalitions and coordination of services between communities. Micropolitan agreements often reduce costs to local governments and improve service to their citizens.
Lots of opportunities for their use. More to come on this from Rural Insights.
As Our K-12 Schools Prepare to Open for the Fall Semester
The Education Trust–Midwest in a recent report writes that "Between 1995 and 2015, Michigan had the lowest total education revenue growth of all 50 states. Michigan received recently a "D" for how well it targets funding to its high poverty districts relative to its wealthier districts."
This impacts rural and urban school districts, according to educational policy leaders. Funding difficulties are still a big issue in Michigan.
"Tragically, Michigan is already among the worst states in the country for equitable funding. An analysis by The Education Trust found that Michigan is in the bottom five states nationally for funding gaps between poor and wealthy districts," according to the Education Trust.
This report points out that what zip code you go to school in should not determine or limit a child's innate capacity to learn at high levels.
The report points out that rural and low-income students, as well as students in urban and suburban schools are no less talented than the children in other states–"they deserve equitable opportunities to succeed."
As the Governor and the Legislature announce state revenue levels and budget priorities for the Fiscal Year beginning October 2020 (FY20/21), this information might be useful and interesting to parents and taxpayers in the Upper Peninsula and statewide.
More coming on the Education Trust Report.
What's on Your Mind?
Tell us what you would like to see us research and write about in Rural Insights. Are there issues or ideas that you think are important to the Upper Peninsula that we should explore? We can't guarantee that we will research every issue or idea that you send us, but we will take a look and see what we can find out.
Let us know what you are thinking about. Send your ideas, issues and thoughts to david@ruralinsights.org.
Book Suggestions
Do you have a book to suggest to us and our readers? Please send us the title, author name and publication date. Send them to david@ruralinsights.org.
None of the book suggestions we will publish are endorsements of the book or the author, just suggestions for you to consider.
Recent suggested reads from subscribers:
"Upper Peninsula Beer. A History Of Brewing Above The Bridge." Russell Magnaghi. 2019.
Quotes (that make us go hmm)
At the end of the movie, Jack Palance holds one index finger up and says, "The main thing is to always keep the main thing the main thing." Jack Palance in the movie City Slickers, to Billy Crystal.
"For discovery of truth it is necessary to argue against all things and for all things." Cicero.