New Podcast Interview, U.P. Impacts from State Budget, New Marquette City Manager, U.P. Internet Advances, and U.P. University Vaccination Decisions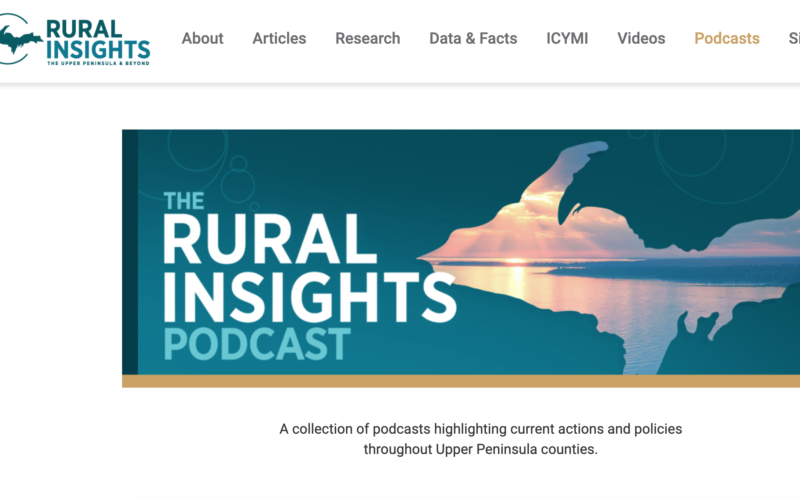 New Podcast Interview
We recently sat down with Sault Saint Marie City Manager Brian Chapman and Marquette County Administrator Scott Erbisch to talk about what is happening in the eastern and central Upper Peninsula and to discuss future challenges and opportunities.
We had a great discussion, and will be posting the interview to our Podcast and Video tabs this week.
Let us know what you think. More to come–watch for this and other episodes over the coming weeks.
State Budget Begins to Move Ahead–UP Impacts
Obviously lots of important funding items in the state budget proposals from the Governor and the Legislature that directly and indirectly impact the Upper Peninsula.
One item that Whisperers tell us they don't see is funding for the Governor's proposal for an Office of Rural Development. The state budget is a big one, so it could be hidden somewhere within the budget, but it is important to many in the Upper Peninsula.
Is it the budget or not? Where? How much? We are following up. More to come.
City of Marquette Has a New City Manager
The city of Marquette, the Upper Peninsula's largest city, has hired Karen Kovacs from downstate Milan as their new City Manager. Three City Commissioners–Davis, Mayer and Stonehouse–have been appointed to negotiate a contract with her.
By the way, we are told by Upper Peninsula local government leaders that one of the greatest challenges today in our local governments is finding enough qualified staff to fill staff vacancies at every level of local government. 
Upper Peninsula Internet Service Advances
Northern Michigan University's Rural Health Center and its Educational Access Network (EAN) partnered up with the Marquette-Alger and Gogebic-Ontonagon Community Action Agencies to bring internet access to people in their service areas who did not have adequate access up to this point.
Without this level of access, students and families would be unable to take part in school programs and services during this COVID-19 pandemic. Same is true for senior citizens who need these services to prevent more isolation. 
This is another example of Upper Peninsula organizations and people working together to improve daily life for its residents regardless of their economic or social status. Kudos to NMU and the Marquette-Alger and Gogebic-Ontonagon Community Action Agencies for their leadership.
Also note that the NMU Rural Health Center and its Director, Elise Bur, are new to the Upper Peninsula and are doing some real important work. We are excited to see what the future holds for their activities.
The NMU EAN leadership team continues to be rock stars in providing internet services to underserved communities. Thank you Eric Smith and your team for your leadership. 
Vaccinations and Returning University and College Students to UP Campuses
Some universities and colleges have made the decision on whether to require returning students to be vaccinated–and bring proof with them. Some Michigan campuses have already announced their decisions, and some have yet to make a decision.
We are looking at Upper Peninsula universities' and colleges' decision-making process and final decisions. The Upper Peninsula's largest campus, Northern Michigan University, has not yet finalized their decision. Whisperers tell us that the Board of Trustees and the Administration are still debating whether to require vaccinations or not.
In the end, it is the Board of Trustees at colleges and universities that have to make the final decision. It is a big, big decision that will impact the education and the public health of students, faculty and staff on each campus–as well as the surrounding communities. We should hope that the final debate and vote of each Board of Trustees will be open to public scrutiny and transparency.
It is important to note that Upper Peninsula colleges and universities deserve big kudos for their management of the COVID 19 pandemic on their campuses. They have faced very difficult and challenging public health and budget challenges.
This all involves decisions that are not easy nor simple but are very complex matters that require careful and attentive decision making. This next decision on student vaccination requirements may be the biggest and most challenging the Boards of Trustees have faced thus far in this pandemic.
By the way, the same can be said of Boards of Education that make these decisions for our K-12 districts throughout the Upper Peninsula. Also true for our outstanding local government leaders in the Upper Peninsula. 
Information From Our Neighbor to the South, North and East–Canada
Something a lot of us did not know is that the officially-recognized "symbol of the sovereignty of Canada" is the beaver (according to Canada's official website).
Mexico's official website says that their national animal is the Golden Eagle and the Jaguar.
The US is of course the Bald Eagle.
Which do you prefer? Why? If we had an "official animal" for all of North America what would you want it to be? Why? Let us know.
Quotes
"An appeaser feeds a crocodile hoping it will eat him last." Winston Churchill. 
"If I am to be insulted I must first value your opinion." Unknown.
Books
"The King of Confidence: A Tale of Utopian Dreamers, Frontier Schemers, True Believeres, False Prophet, and the Murder of an American Monarch." Miles Harvey.
The books we list here are recommendations from our readers. We do not endorse the books or the authors. We only publish them here because one of our readers thought the book was worth telling their neighbors and friends in the Upper Peninsula to consider reading.
Do you have a book you would like to recommend to us? Please send us the title and author, to david@ruralinsights.org.