Rural Whispers, Noise & Rumors: August 10, 2020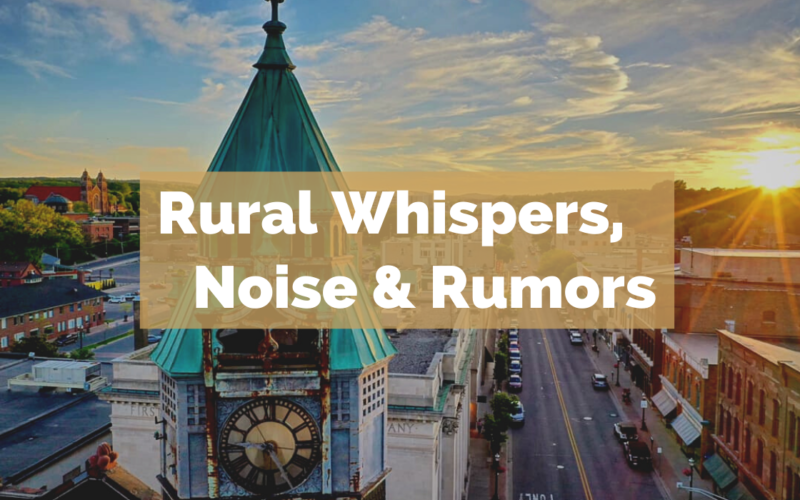 Update on Corporate Property Tax Abatements: Local reporter Jackie Jahfetson recently wrote that when Wisconsin's WE Energies shut down its power plant in Marquette it had a big impact on Marquette's tax revenue.
The article shows how changes in local tax revenue due to property tax abatements and/or tax reductions due to Dark Store tax exemptions can impact operating revenue for a local government. When that happens, it must cut services or find new sources of revenue. Losses of revenue impact services to local individual taxpayers.
According to Ms. Jahfetson's article: "Taxable value decreased when the plant shut down, city of Marquette Chief Financial Officer Gary Simpson said, noting that in 2015 the taxable value for the property was about $112.4 million.
Now, the current taxable value is nearly $10 million. For property tax revenue, Marquette's portion in 2015 was $1,654,698; 2020, $149,171, Simpson added."
A key question being raised by many policy makers and public administrators is where does local government get replacement revenue or what public services does local government cut due to these losses in revenue.
More on Apollo Investment/Ownership in UP: According to a Whisperer, Apollo, pre-ownership of LifePoints Health Care, had an entry into the U.P. economy. It dates back to when International Paper in Iron Mountain peeled off their coated/supercalendered division and Apollo formed the privately-held Verso Corporation here in the Upper Peninsula.
They went through a series of changes to the company operations and eventually took Verso Corporation public. After taking it public, Verso/Apollo filed for Chapter 11 bankruptcy. They then acquired New Page paper company from Cerebus Corporation in Delta County.
NMU COVID-19 Testing: NMU is requiring all faculty, staff and students to get a COVID test provided by the university at the Northern Center. If you are going to be on campus you need to get tested.
That requires the testing of thousands of people to get tested in a very short period of time. Reports are that the process has been very orderly, efficient and easy to get through.
Large numbers of students will arrive on campus very soon for the start of the Fall semester on August 17th.
Michigan Revenue Estimating Conference: If you are concerned about funding for your local schools, universities, local government or any other state government program, you might want to check out the Michigan Revenue Estimating Conference coming up in August.
The Michigan legislature is about to discuss the proposed budget bills for Fiscal Year 20/21. The next step in the process is the convening of the statutory-required Revenue Estimating Conference, which will meet in Lansing on August 24th at 3pm. You can listen in via an internet broadcast–go to michigan.gov for information on connecting.
It is projected that Michigan will have over a $3 billion deficit to deal with in this budget. This number could change at the conference if the state has received more or less tax revenue in recent months. You will recall that recently the Legislature and the Governor had to resolve a budget deficit for the FY 19/20 of $2.2 billion.
The Michigan Departments of Management and Budget and Treasury, the Senate and House Fiscal Agencies will present revenue data/information to the legislature at this conference. Also the University of Michigan Quantitative Economics office.
When this conference is over, the Governor and the Legislature will negotiate on the total amount of state revenue dollars to be distributed via the legislative appropriations process. Then the legislature will debate and vote on the various budget bills. These bills when finalized will be sent to the Governor for signature or veto.
This process in recent years was completed by June 30, but due to COVID-related state revenue tax losses the appropriations process has been delayed until now to allow for more up-to-date state revenue numbers for FY 20/21.
More on this later as the budget numbers and program funding unfolds in August and September. The state's new fiscal year begins October 1, 2020 for FY 20/21.
Tips, Story Ideas, Your Story and More: Our readers are always smarter than we are in given areas. On any given day there are other people doing a better job than we are. Each of them represents a better input. We at Rural Insights try to put all the inputs together for our readers. We all learn from each other and these inputs.
Commenting and Contacting Us: If you prefer to not leave your comments and suggestions in Comments Box provided after each story, please feel free to contact us via email at david@ruralinsights.org. We read each and every one of them. Your comments, ideas and tips are important to us.
If you would like to write something for us, please send it to us. We cannot promise to print everything we get, but we will read it and consider it for publication. Please include information on how to contact you if we want to discuss with you what you send us.
We are also interested in reading stories about how growing up in the Upper Peninsula impacted you: your value system, your family life, your professional life, etc. Tell us what it meant to the development of you. We look for approximately 300 to 1,000 words.
We can't promise to publish everything, but we promise to read everything you send in and consider it for publication in our upcoming series called Rural Voices.
Book Suggestions: Do you have one to suggest to us and our readers? Please send us the title, author name and publication date. Send them to david@ruralinsights.org.
None of the book suggestions we will publish are endorsements of the book or the author, just suggestions for you to consider.
Recently-suggested reads from subscribers:
"Secret Upper Peninsula: A Guide to the Weird, Wonderful and Obscure" by Kate Usitalo.
"The Conservative Sensibility" by George Will. 2020.
"Another Sunday in Horton Bay" by GT Long. 2020.
Quotes (That make us go hmm):
"I can't ask you to go out and comfort the afflicted; that would be considered eccentric. But perhaps you can afflict the comfortable." John Kenneth Galbraith.
"If liberty means anything at all it means the right to tell people what they do not want to hear." George Orwell.