Rural Whispers, Noise & Rumors: August 3, 2020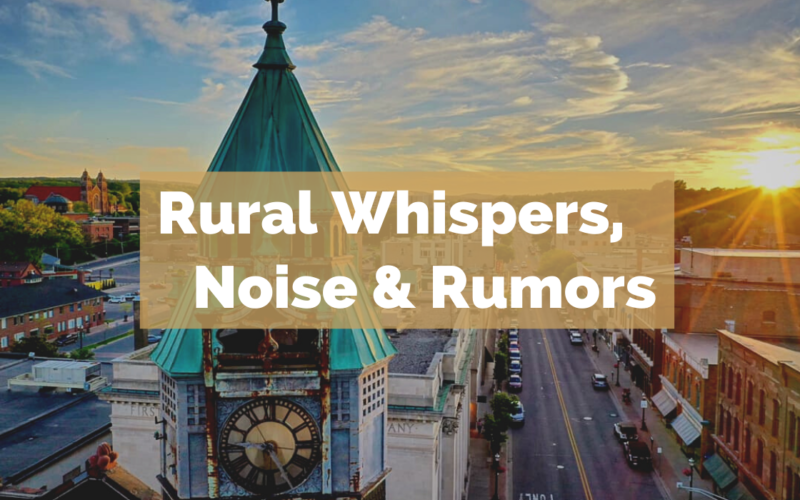 Tomorrow is Primary Day in Michigan–What's happening in the UP?
Tuesday, August 4th is primary day in Michigan.  
Below is a report on Upper Peninsula state legislative primary races. There are many local elections, including mileage issues, in addition to these legislative races throughout the UP.
The Upper Peninsula's 107th State House District has a really busy primary. The incumbent is Lee Chatfield (R-Levering) and he is also the Speaker of the House. He is finishing up his third term and is term-limited.
This is the only UP seat that is wide open–all other incumbents are seeking reelection and are not term-limited. The 107th includes the UP's Chippewa and Mackinac counties, as well as the cities, townships, and counties below the bridge. This seems to be the state legislative race in the UP to watch. 
In the 107th District, four Democrats are vying to be on the general election ballot, and seven Republicans are competing to be the Republican on the general election ballot.
In other UP House districts, the primaries are rather limited:
108th District: No primary in either party.

109th District: Two Republicans are competing to be the general election candidate to run against incumbent Sara Cambensy. There is no Democratic primary in this district.

110th District: Three Democrats are competing in the primary to be the Democrat to oppose incumbent Republican Greg Markkanen in the general election.  
There are no state senators up for election in 2020.  
In the United States House of Representatives primary election there are two Democrats, Dana Ferguson and Linda O'Dell, competing to run in the general election against incumbent Republican Jack Bergman.
The Michigan 1st Congressional District is geographically one of the largest in the United States. It stretches from the Upper Peninsula's Keweenaw County down to Mason (Manistee) County in the lower peninsula. Lots of miles and several media markets in this district.  
The 2018 primary election had a record-high number of votes cast. Statewide voter turnout was up by more than 27%, with over 2 million votes cast.
In 2020, observers will be watching how the new, more accessible absentee ballots will impact voter turnout. Will more voters take advantage of the easier absentee ballot rules? Will there be a record number of absentee ballots cast?  
General election candidates for the Michigan Supreme Court, State Board of Education, University of Michigan regents, Michigan State University Board of Trustees and Wayne State University Board of Governors will be chosen at the conventions of the various political parties in August. Their names will appear on the November general election ballot.
92 days until the November 2020 general election.  
Absentee Ballots In Michigan
Reports from state election officials are that over 1.9 million voters have requested absentee ballots in 2020. Compare that to 2016 when Michigan voters requested approximately 540,000 absentee ballots.  
At the end of July, voters were returning their completed ballots to local election officials at triple the rate as compared to 2016.  
NMU's Upper Peninsula Internet Service/EAN
We reported recently that there seemed to be increased concerns about the internet service from NMU around the UP. We said at the time that the NMU folks who handle this issue are among the best technology experts in the nation, and that meant they would find the cure/solution to this problem during this COVID era.
We have heard this past week from Whisperers that their complaints have been immediately handled by NMU technology staff and they are assisting people in correcting their service problems. One common solution is that many folks need an outdoor antenna versus the indoor ones they are using. 
Tips, Story Ideas, Your Story and More
Our readers are always smarter than we are in given areas. On a given day, there are other people doing a better job than we are.  Each of them represents a better input. At Rural Insights, we try to put all the inputs together for our readers. We all learn from each other and these inputs. 
Commenting and contacting us: If you prefer to not leave your comments and suggestions in comments box provided after each story, please feel free to contact us via email at david@ruralinsights.org. We read each and every one of them. Your comments, ideas and tips are important to us.
If you would like to write something for us, please send us your ideas. We cannot promise to print everything we get, but we will read it and consider it for publication. Please include information on how to contact you if we want to discuss with you what you send us.
We are also interested in reading stories about how growing up in the Upper Peninsula impacted you: your value system, your family life, your professional life, etc.
Tell us what it meant for the development of you. We look for approximately 300 to 1,000 words. We can't promise to publish everything, but we promise to read everything you send in and consider it for publication in our series called Rural Voices.
Book Suggestions
Do you have one to suggest to us and our readers? Please send us the title, author name and publication date. Send them to david@ruralinsights.org.
None of the book suggestions we publish are endorsements of the book or the author, just suggestions for you to consider. Two recently-suggested reads from subscribers:  
Economic Dignity – Gene Sperling, 2020.
Hunter's Moon–A Novel in Stories – Philip Caputo, 2019. (These stories are set in our Upper Peninsula. Caputo is a Pulitzer Prize winner).
Quotes (that make you go 'hmm')
"It always seems impossible until it is done." Nelson Mandela
"Leadership is about solving problems, mentoring, and stepping forward when everybody else is running away." Shawn Engbrecht, author of Invisible Leadership, Transforming Risk into Opportunity, 2018.