Rural Whispers, Noise & Rumors: July 13, 2020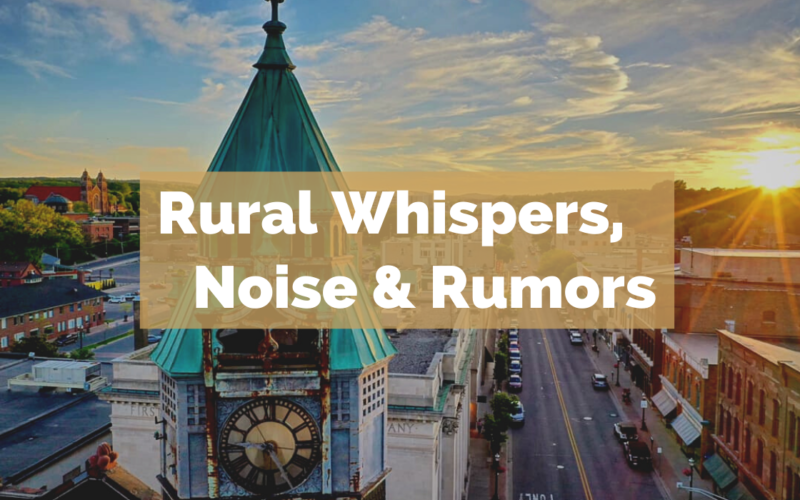 Manufacturing and Job Growth in Dickinson County Strong: According to Lois Ellis, Executive Director of the Dickinson Area Economic Development Alliance, manufacturing continues to be a vibrant part of the region's economy. One statistic she left with us was the Dickinson County's Systems Control Corporation added about 110 jobs this year alone. Dickinson County has one of the strongest manufacturing presences in the Upper Peninsula. Other area manufacturers are growing also. More to come.
New Veteran Service for UP Veterans—Suicide Prevention: According to local Marine veteran Jesse Sherman, a program called "Together With Veterans–Rural Veterans Suicide Prevention Program" will be announced soon. It is a veteran-led program. It will be funded by the Department of Veteran Affairs Office of Rural Health. Suicide is among the leading causes of death nationally. Suicide rates for non-veterans are lower than for veterans. Statistics are showing that rural veterans are at an increased risk. "Rural veterans are about 20% more likely to die by suicide than non-rural veterans," according to Jesse Sherman. Every day approximately 20 veterans commit suicide. 
Crowded Beaches Last Weekend—Wait Until Students Return to UP Universities in August: Last weekend we saw pictures in the UP, including Marquette, of local beaches jammed with young people not anywhere close to practicing social distancing or wearing masks to protect each other from COVID-19. Similar situation on beaches in Texas, Florida, New York and in many states across America.
Imagine what this picture might look like in August when 17,000-plus university students return to the Upper Peninsula university campus towns—large numbers of which will come from locations outside of the Upper Peninsula. What will our beaches look like? Better social distancing being done and students practicing the art of wearing a mask? What will be the controls on these students on their campuses and in our campus communities? Will our COVID numbers jump higher at that point?
Lots of concern from our community leaders throughout the UP. This week several Division 1 universities announced they would not have any football or other intercollegiate sports until January 2021. That is a big change in direction. No Fall football will cause a lot of discussion and angst. So what about Division II athletics in the UP? Will we have Fall football and other sports at NMU, MTU and LSSU? We will hear about that soon.
Parents Worry About Their Children's Return to School Post-Labor Day: K-12 parents nationally and in the UP are concerned about whether their local schools will open this Fall. Governor Whitmer says she is not making a decision now, but says we must see a decline in COVID cases and will base her decision on science, not politics. 
Noise around the peninsula is asking: If kids don't return to classes after Labor Day what do parents do with their kids? Kids at home means many parents can't go to work without some alternatives on child care and education services. Data shows that parents have safety concerns but they have economic concerns also. Same for K-12 teachers who will have to be the classrooms with all these returning students. They have safety concerns for themselves and for their students. Parents are talking about the scarcity of child care options in the Upper Peninsula and the costs of that child care—if you can find child care options.
Rural Insights recently published a study of the costs of childcare in the Upper Peninsula. The average monthly cost, per child, in the UP is $752. One child in child care (because their local schools are not open due to COVID) can often exceed monthly home rental payments or mortgage payments. A huge strain on families that are often already in difficult economic situations due to COVID related business layoffs, furloughs, etc. 
Don't Forget To Check Out Rural Insights Twitter, LinkedIn, and Facebook: Sign up on each to see more of our posts and to keep track of what is being published on www.ruralinsights.org. Lots of new content and information on these social media platforms from Rural Insights. Send us your ideas for stories and tips on what is happening in your communities. 
Quotes (Something to Think About): 
"Who controls the past controls the future. Who controls the present controls the past." George Orwell.
"When you don't have a proper safety net system, income system…people feel there is a collective political will to take control of our destiny and take control of economic forces and markets. It's a complex system." Commenting on world wide inequality issues including in the United States, Thomas Piketty, author of Capital in the 21st Century. (2014).