Rural Whispers, Noise & Rumors: July 27, 2020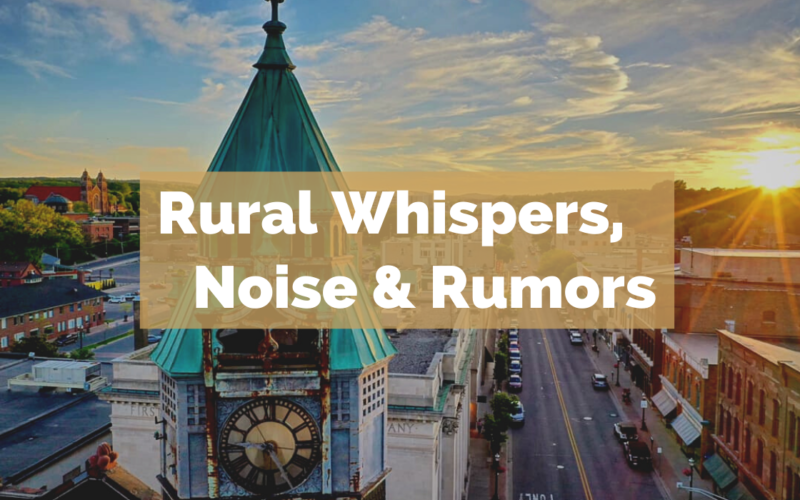 Upper Peninsula to Get First Marriott Hotel: Driving into Marquette on US 41 on the corner of Front and Lakeshore Boulevard, you see a construction project that seems to have been going on for a while.
Weather, COVID-19, etc., have had its impact on this project and other construction projects, but have no fear–it is going to open this Spring. This project will be one of Marriott's Fairfield Inn and Suites hotels. It will be the only one in the UP.
This project has deep Upper Peninsula roots. The owners of this project are UP and northern Michigan investors.
They are led by Mitch Irwin, who grew up in the eastern UP town of Rudyard, where he still has family. Mitch Irwin was the State Senator for the 37th Senate District that includes Sault Ste. Marie, eastern UP counties and other parts of lower northern Michigan.
Mitch served in the legislature from 1979 to 1990, and in the early 2000s he was the Director of the Department of Management and Budget and the Michigan Department of Agriculture. 
An interesting note is that Irwin's son Jeff is now also a state senator, representing the Ann Arbor area. Jeff was born and spent early years being raised in Sault Saint Marie. 
The hotel will be managed by North Michigan Hotel Management of Traverse City. Irwin has been involved in hotel development for 25 years. His investment group has Marriott-branded hotels in the Lansing area, Traverse City and Gaylord. All the investors are Michigan residents. 
Irwin told us that "my initial interest in this project was because former Marquette Mayor Tom Baldini pushed us to take a look at the Marquette waterfront." This project is a big investment in the Marquette area waterfront development and community. 
So this Spring, Marquette and the Upper Peninsula will have its first Marriott/Fairfield Inn added to the list of excellent hotels in the region.
Dark Store Tax Reductions: Walmart Supercenter in Houghton just filed for a major tax reduction. Like many other big box stores, "it petitioned the Michigan Tax Tribunal to lower its taxable value by 40% through the 'dark store' theory," according to the Houghton Daily Mining Gazette.
Local government officials estimate that this request would cost the City of Houghton, Houghton County, and area local schools about $120,000 per year. The "dark store" theory, in which a building is valued at the same level as it would be if vacant, has been the subject of a long legal battle in Escanaba, where Menards sought to have its taxable value lowered because of deed restrictions and other factors.
The requests to the Michigan Tax Tribunal are not all big box stores, but include local businesses looking to cut their taxes. More to come in Rural Insights on this tax issue that is costing UP local governments, schools and libraries hundreds of thousands of dollars in tax revenue. 
Who is Leon Black, and Why is He Important to the UP? Upper Peninsula, meet Leon Black. He is the Chairman and CEO of Apollo Global Management Inc., "one of the world's largest alternative investment managers" and hedge funds. They do leveraged buyouts and private equity investments. Some estimate it's managed assets over $200 billion.
So why should any of us in the UP care who Leon Black is?
Because he and the Apollo Global Management Inc. own Lifepoint Corporation. Lifepoint is a for-profit health care corporation. Lifepoint owns 84 hospitals–largely in rural areas in 30 states across America, including in the Upper Peninsula.
They own hospitals in Marquette, Ishpeming and Portage. They have relationships with OSF hospital in Escanaba and clinics in Baraga, Munising and Newberry. David Dill is the CEO and President of Lifepoint. Apollo acquired Lifepoint in a deal valued at $5.6 billion. 
All of this is important because we should know who ultimately makes major financial and operational decisions about health care in many communities in the Upper Peninsula.
Many of us think of a nonprofit organization versus a for-profit organization when we talk about health care. In the UP, we are served primarily by a for-profit health care corporation.
Does that make any difference to the size, scope, quality and availability of health care here in the UP? Does it mean anything to how we deal with our personal physicians and availability or quality of medical specialists in our area?
The UP is also served by other for-profit health care providers and some by nonprofit health care providers.
The bottom line is health consumers should know more about health care where they live and work. In future months we will provide more data and facts about health care and health care providers in the UP.
More to come about all this in future Rural Insights editions. 
A Veteran Historical Marker Goes Missing: What happened to the Barracks Boys Historical Marker? For years, this official Michigan historical marker paid tribute to the NMU student veterans called the Barracks Boys.
According to NMU Historian Dr. Russ Magnaghi, "after WWII, NMU bought Army surplus housing which was used by veterans who came to campus."
These members of the "Greatest Generation" came to NMU to get their degrees after ending their WWII service. 
Whisperers tell us that the historical marker was taken down during the renovation of the former NMU University Center, now the Northern Center. Seems it was not put back in its place after the Northern Center opened.
Is it someplace else on campus? Has anyone seen it around campus?
We are going to take a look around campus this week. It would be great to get this important historical marker and tribute to NMU veterans put back in its place on campus, if it is not already. 
Quotes (that may make us go hmmmmm):
"The only thing new in this world is the history you haven't read yet." Harry Truman.
"Worry about your character, not your reputation. Your character is who you are, your reputation is who people think you are." John Wooden.