Whispers, Noise & Rumors: May 11, 2020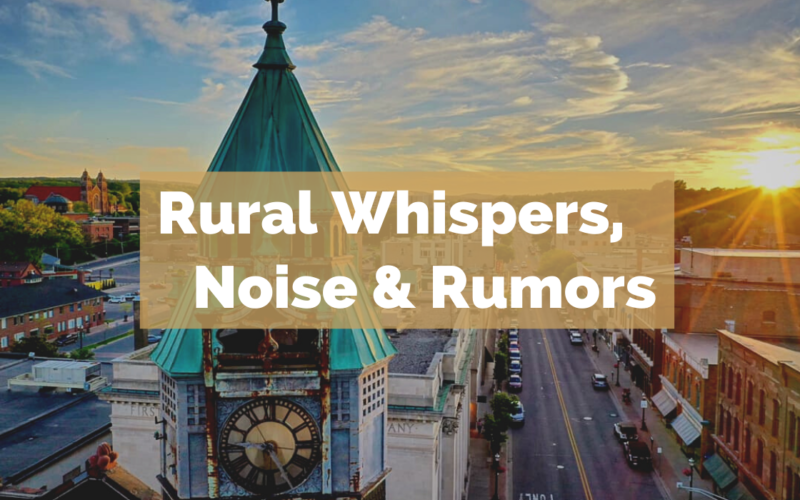 Rural Whispers, Noise & Rumors is a weekly column that gives you the inside scoop on the rural happenings in Michigan's Upper Peninsula.
MARQUETTE & UP SUMMER FESTIVALS: With the cancellation of the Marquette July 4th Fireworks, Art on the Rocks and the other downtown festivals, local restaurants, hotels and tourist attractions are expecting to lose millions of dollars in revenue. Think of all those vendors who come up for the Beer Fest and Art on the Rocks, etc., who stay for days in local hotels and eat downtown at local restaurants. We measure international and national economies by their GDP—Gross Domestic Product. So exactly what is the loss to our Marquette Gross Domestic Product with the loss this year of these downtown festivals? How about the other festivals all across the UP? More to come here on this local GDP issue.
STATE REVENUE ESTIMATING CONFERENCE THIS FRIDAY, MAY 15: The Michigan Departments of Treasury, Management and Budget and the Governor are expected to present to the legislature data on state revenue from state tax collections for this fiscal year and next. This report is statutorily required each year. Media reports are reporting that Michigan tax revenues are down 43% from a year ago April. These numbers, if accurate, are an indication of the loss of economic activity and tax revenue in Michigan due to the coronavirus pandemic. Whisperers are expecting reports of large budget reductions for this fiscal year to be reflected in soon to be released Executive Orders cutting current fiscal year budgets. Most expect those cuts to be even more drastic for the next fiscal year that begins October 1, 2020.
Businesses Opening and Calling Workers Back to Work this Summer: As our state debates this topic and as the state government begins issuing guidelines on who and what opens when, and how they open, families will be talking about the cost of childcare for their children who are home and not in school. The cost per month for full time childcare per child in the U.P. averages around $746 per month. Houghton County is the highest per child cost at $856.75 with Menominee with the lowest monthly cost of $650. For many folks that is equal to a monthly car payment or home mortgage—more if you have more than one child needing childcare while you go to work. The statewide average is about $823 per child per month. Look here soon for more information and data on childcare costs in the U.P. and its availability. Hint—very difficult to find childcare at any reasonable price.
PUBLIC UNIVERSITIES OPENING CAMPUSES FOR FALL CLASSES: More and more public universities across America and in Michigan are announcing plans to open their campuses this Fall for in-class sessions for students. This includes the U.P.'s three public universities—Northern Michigan University, Michigan Technical University and Lake Superior State University. That means thousands of students will be back in these college towns across America spending money and enjoying the local communities where their campuses are located. Some national whisperers are asking what public health experts these universities consulted before deciding to open their campuses. Northern Michigan University has a leg up in that area since their Provost is a nationally-known public health expert. Provost Keri Schuiling has her PhD from the University of Michigan, home of one of the nation's leading public health programs. Schuiling brings a strong relationship with the U of M public health experts to NMU .
INVESTING IN PUBLIC HEALTH: Interesting fact/information that the state only spends 1% on Public Health in the state budget. That has been the case prior to the current Whitmer Administration and continues into this fiscal year. As a comparison, the state spends 4% of its budget on corrections and 4% on higher education. Of course, all of this is before we see expected state budget cuts in the next few months due to loss of state tax revenue stemming from COVID-related economic issues.
RURAL VOICES: Over the coming months Rural Insights will be featuring many rural voices with expertise, knowledge and fact-based opinions on topics of importance to the Upper Peninsula and rural communities. They will offer a perspective on rural issues with a voice that has experienced rural life. Watch for more features from Rural Voices.