Smart Brevity, University Enrollments Drop Statewide, Student Loan Repayment, MDOT Responds Re: Paint and Ice, and "Don't Say Gay" Legislation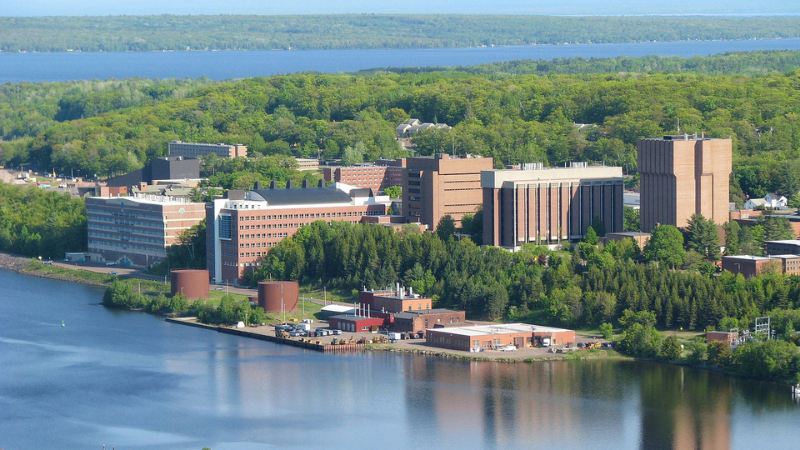 This Week in Rural Insights
This week we will feature a podcast with Cheyenne Marlin of the University of Michigan's UP Scholars program.
This is a fascinating scholarship available for UP high school students who are interested in attending the University of Michigan. It is a great financial opportunity. Tune in.
Smart Brevity
Each week in Whispers we try to use "smart brevity" to get our readers some information in a brief format so that if you are interested in more detail you can explore as you wish.
Smart brevity means good data, good facts and also good opinion backed up by good facts and data. 
University Enrollments Drop Statewide and in Upper Peninsula, Except…
Michigan Tech. MTU is one of only three Michigan universities in the last decade that showed an overall enrollment increase–along with U of M and MSU.
MTU is the only Upper Peninsula university to do so. Central Michigan University has had a 44% enrollment decrease in the same period. All the other Michigan universities showed declines in enrollment over the decade.
The Upper Peninsula's LSSU fell by 5% and NMU by 2% in the same decade. 
Are we seeing a permanent decline in higher education enrollment statewide? In the UP?
Student Loan Repayment
Speaking about higher education, there was an announcement from the federal government this week that will impact tens of thousands of people with student loan debt. The feds will extend the pause on federal student loan repayment until the end of August.
Mackinac Bridge MDOT Spokesperson Responds to RI Mention on Paint and Ice Last Week
Last week we reported that one of our readers said that there seemed to be many more bridge closures this year due to ice and that they could not remember so many in past winters. They raised the issue that some experts were saying that was due to the change from glossy to flat paint on the bridge.
James Lake of the MDOT North Region Office responded to us and said: "We have many different types of paint on the bridge and of many different ages. We have water based, solvent based, flat and glossy….Just like the items on land get iced including glass windows, vehicles, buildings, trees and blades of grass. Everything gets coated with ice during these storms."
That is the position on this issue from the Michigan Department of Transportation. Anyone else?
NMU Presidential Search Update From Search Committee
Dr. Chris Greer, the chair of the NMU Presidential Search Committee, contacted us about our comment last week about the delayed timing of the search.
She said that even with the delay, they hope to have a list of presidential candidate finalists for the Board of Trustees to consider in late summer, and hopefully have a finalist for the Board to vote on at its September meeting.
Thank you Dr. Greer for your update.
All of this also depends on there being a good pool of candidates to consider and that the finalist will be able to exit a current position on this timetable. With that said, this is good news. 
"Don't Say Gay" Legislation
–

Except in Upper Peninsula

A candidate for the State House of Representatives in lower Michigan has promised to introduce the so-called "Don't Say Gay" Florida legislation if elected in Michigan.

One of our readers suggested that this will be a problem in the Upper Peninsula's community of Gay, which is also the home of the Gay Bar and Grille. Hmmmmm. 
Cora Anderson Post Office Naming in UP
There is a bill in the US Senate to rename the US post office in Baraga County after Michigan's first female state representative–Cora Reynolds Anderson. She was also the first native American woman to serve in any state legislature in the nation.
She was born in L'Anse. She was elected in 1925. The bill is SB 3884 and is authored by Michigan's U.S. Senators Stabenow and Peters. 
By the way, the Michigan State House of Representatives Office Building in Lansing is named after Representative Anderson.
Facts
The average price of a new vehicle is up 13% in the past year in the United States. The price for used cars in the past year is up 29%–if you can find one to buy.

The Upper Peninsula's Iron County ranks 33rd out of the country's top 300 counties with high poverty rates and COVID-19 rates. Following them on this list are Baraga and Ontonagon counties. The data was compiled from 3,200 counties by the Poor People's Campaign, the U.N. Sustainable Development Solutions Network and Howard University.

Only half of Americans eligible for a first booster shot have received one, according to the CDC, despite the benefits third shots brought during the Omicon wave.
Quotes
"The best doctors in the world are: Sun, Rest, Exercise, Modesty, Self Respect, and Good Times." Charlie Chaplin, who lived to be 88 years old.
"Let all men know thee, but not know thee thoroughly." Benjamin Franklin. 
"We will chase perfection, and we will chase it relentlessly, knowing all the while we can never attain it. But along the way, we shall catch excellence." Vince Lombardi.
Books Recommended By Our Readers
This week's book recommendation from a reader is a movie and not a book. It is a movie about Ukraine and is on Netflix: "Winter on Fire." It was released in 2015. It is about Ukraine's fight for Freedom. "It uses actual footage of a three-month long, difficult united revolution of the Ukrainian people against an unpopular autocratic decision by then President Ykanukovych to join up with Russia."
It is said that it provides a great recent historical review of events that will help viewers understand today's conflict between Ukraine and Russia.
Talk To Us
Keep your raves, laurels, rants and darts coming. Send them to us at david@ruralinsights.org. We love to read them. 
About Us
Rural Insights connects policy, information, news and culture to raise topics and stories/information you might have not seen or overlooked. We bring you original writing from Rural Insights and other researchers, changemakers, and storytellers, as well as our latest research and analysis
Like Whispers?
If so, please forward it to your friends, and let them know they can sign up here or on our website: www.ruralinsights.org.