Tom Baldini Mikva Challenge Winner Gets National Award, Gogebic College Searching for New President, State Revenue Estimate Down, & NMU's New Master's Degree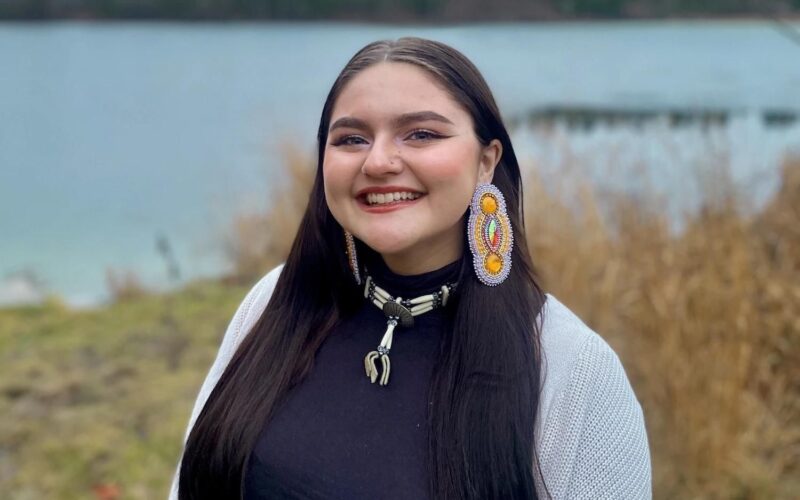 – INFORMED BREVITY –
Tom Baldini Mikva Challenge Project Soap Box Winner Gets National Recognition and Award
This Marquette High School graduate went on to Michigan State University and is Roxy Sprowl, who was just named MSU's 13th Udall scholar. She is one of 55 students from 46 colleges and universities from around the nation to get this honor. 384 students applied from 172 colleges and universities across the nation.
Ms. Sprowl is an Ojibwe from the Red Cliff Band of Lake Superior Chippewa Indians. The Dean of MSU Honors College and the College of Arts and Letters said Ms. Sprowl is "an exceptional scholar who embodies the values of Anishinaabe leadership."
Before she went on to MSU she was a Tom Baldini Mikva Challenge Project SoapBox award winner.
Gogebic College Searching for New President
The Board of Trustees at the college just announced that they are going to do a national search for a new president, and they are talking with alumni and community members about what type of person they would like to lead the college in the future. Bay College in Escanaba just completed a national search and appointed a new president last month.
State Revenue Estimated to be Down for FY 2023 and 2024
The importance of state revenue and state budgets to the Upper Peninsula local governments, schools, universities, non profits, etc., cannot be overstated. State fiscal observers say citizens statewide need to pay attention to these numbers as the state begins to finalize its upcoming fiscal year budgets.
The non-partisan Senate and House Fiscal Agencies are estimating that state revenue will be down $714 million in FY 2023 and down $1.5 billion (SFA estimate) and $2.4 billion (HFA estimate)  in '24, compared to January 2023 estimates.
"The multitude of tax cuts, coupled with mandatory income tax rate reduction, has scaled back the size of the once $9 billion surplus by $2.4 billion, according to the House Fiscal Agency." (Gongwer, 5.18.23).
If you are concerned about your local school or local governments budgets you might want to check in with your State Senator or Representative about where these deficits are headed and the impact on your community.
NMU Created New Master's Degree
The online degree is called Administration of Outdoor Recreation and Nature-Based Tourism. With emphasis on outdoor recreation and outdoor tourism, this new degree seems very relevant to what is doing throughout the UP. This online degree is "aimed at people who want to work at an administrative level in the field of recreation, outdoor recreation, and nature-based tourism." (NMU)
From the World Around Us
Snap by the Numbers:
Readers have commented on how much money folks on SNAP (food stamps) get or don't get. We thought we would take a look at the numbers.
Family of four gets about $930 a month to feed their family. That's $232.50 per person a week to feed four family members. Family of two gets $516 a month to feed their family, and one person getting SNAP benefits gets $281 a month.
Poverty in Michigan:
"Twenty-three percent of Michigan residents 18-24 live in poverty," according to a report from the Michigan League for Public Policy.
Drug Deaths:
A startling statistic is that every eight minutes one American dies from Fentanyl.
Quotes That Make Us Go Hmmm
"A body of men holding themselves accountable to nobody ought not to be trusted by anybody." Thomas Paine.
"Every country gets the government it deserves." Joseph de Maistre.
"I'd rather die on my feet than live forever on my knees." Emiliano Zapata.
Talk To Us
Keep your raves, laurels, rants and darts coming. Send them to us at david@ruralinsights.org. We love to read them. 
About Us
Rural Insights connects policy, information, news and culture to raise topics and stories/information you might have not seen or overlooked. We bring you original writing from Rural Insights and other researchers, change makers, and storytellers, as well as our latest research and analysis.
Like Whispers?
If so, please forward it to your friends, and let them know they can sign up here or on our website: www.ruralinsights.org.
TWITTER: Follow us @ruralinsightsUP.
"WE BELIEVE YOU ARE SMART ENOUGH TO FORM YOUR OWN OPINIONS, AND WE TRY TO GIVE YOU SOME SOURCES TO DEVELOP YOUR OPINIONS."