Tourists, Tourists, and More Tourists, Governor's Growth Commission, Baraga County Veteran Services, Back to School in the UP, New Education Department, & More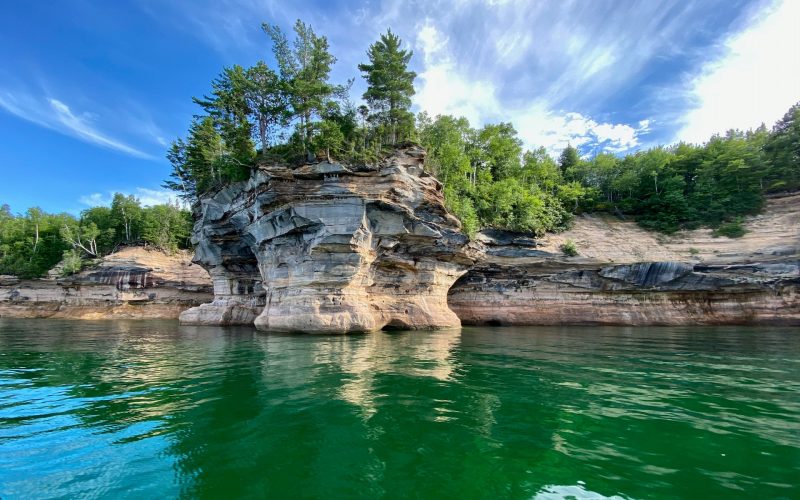 – INFORMED BREVITY –
Tourists, Tourists, and More Tourists
As we head into the end of the tourist season and into Labor Day, we are still seeing big crowds of tourists all over the Upper Peninsula. Reports continue of high hotel occupancy rates in UP hotels and busy restaurants.
We recently drove downstate and saw license plates from Ohio, New York, Quebec, Minnesota, Jalisco, Wisconsin–and more. Lots of traffic in both directions and long lines at the Mackinac Bridge. Good news for economic development and small businesses revenue. Still a few weeks left to enjoy the beautiful UP summer weather.
Governor's Growth Commission–"Growing Together"
Governor Whitmer continues to appoint members to the Commission's Task Forces on various topics. Two UP members were appointed to the Higher Education Task Force: Dave Nyberg, NMU Executive Director of Business Engagement, and Richard Koubek, MTU President. Both excellent appointments.
We have not seen any other UP names on the other Task Forces being appointed. More to come we are sure. The Governor's UP Czar, Jeremy Hosking, is working hard on all this and is widely respected in Lansing and in the UP.
Baraga County Veteran Services
Baraga County Memorial Hospital is now offering in-house Veterans Affairs Assistance. If you are a veteran in Baraga go check in out and see what they can do for you. Another great new UP service for veterans.
Back to School in the UP
Thousands of K-12 students will return to school in the next couple of weeks. This year there is funding to make sure ALL students get free breakfast/lunch at school. No more pay to eat and lists of who did not pay. Also increased K-12 funding on the way to all schools from the Governor And the legislature.
UP colleges and universities are getting ready to open their campuses to new and returning students in the coming weeks. These campuses are big economic drivers in the UP and their students and families spend lots and lots of money in our communities.
This is a good time for all of us in the UP to say thank you to classroom teachers and education administrators for all that they do to provide a quality education to our children and adults in K-12 and higher education. Thank you all.
A New Education Department for Michigan?
Michigan has a new state department called the Department Of Lifelong Education, Advancement and Potential (miLEAP). It was created to "streamline lifelong education in the state from pre-K, to higher education, to workforce development."
The constitutionally created State Department of Education is asking the Attorney General for clarification on the powers of the new Department vis a vis the Department of Education.
Seems like the Department of Education is not happy with the creation of the new Department and its powers.
Unhappy at Work
Feiler Research reports that their survey shows 70% of Americans are unhappy with their job/work. 75% plan to look for a new job this year, according to Feiler. Let us know what you think about this. Are you going to look for a new job? Unhappy at work? Quiet quitting?
World's Largest Holocaust Museum Being Built
Nope not in the UP, although that would be great. It is being built inside one of the planet's most popular video games, Fortnite. According to Axios PM, "the virtual building, called Voices of the Forgotten Museum, will let players walk its halls to read plaques describing the genocide against Jews in Nazi Germany. They will also see photos of resistance fighters and heroes who sheltered Jews." (Stephen Totilo, Axios PM, 8.7.23).
One of Best Midwest Holocaust and Genocide Collections
Right here in the Upper Peninsula. The Olson Library on NMU's campus has one of the best collections in the midwest on this topic. Really worth checking it out. Quite an amazing collection. Check it out online or in person. Any of the helpful librarians over there can point you in the right direction.
Quotes That Make Us Go Hmmm
"Enough is plenty." Old Italian saying.
"Every fall begins with a lean." Old Hasidic proverb.
Talk To Us
Keep your raves, laurels, rants and darts coming. Send them to us at david@ruralinsights.org. We love to read them. 
About Us
Rural Insights connects policy, information, news and culture to raise topics and stories/information you might have not seen or overlooked. We bring you original writing from Rural Insights and other researchers, change makers, and storytellers, as well as our latest research and analysis.
Like Whispers?
If so, please forward it to your friends, and let them know they can sign up here or on our website: www.ruralinsights.org.
TWITTER: Follow us @ruralinsightsUP.
"WE BELIEVE YOU ARE SMART ENOUGH TO FORM YOUR OWN OPINIONS, AND WE TRY TO GIVE YOU SOME SOURCES TO DEVELOP YOUR OPINIONS."