Two of the UP's biggest employers battle with workers, school board elections as political battlegrounds, surge in Gen Z civic engagement, and is university tuition a tax?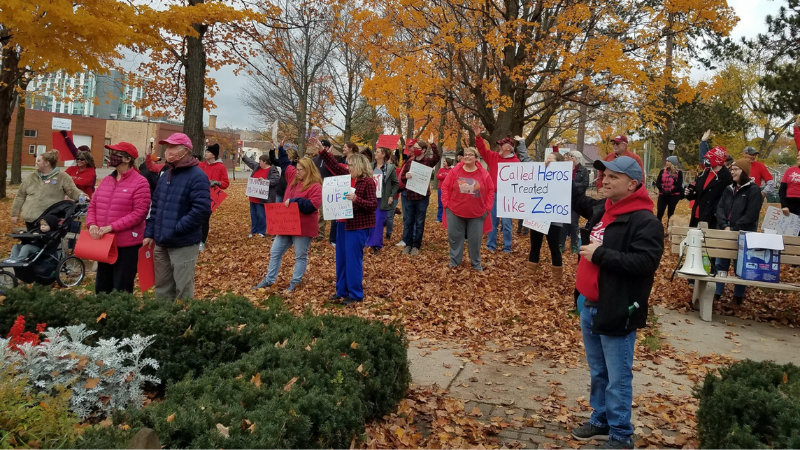 Photo courtesy of Upper Peninsula Regional Labor Federation.
This Week in Rural Insights
This Wednesday morning we'll be publishing a piece by Marine Corps veteran and current NMU student Clay Postlewaite analyzing a recent study by the RAND Corporation on the willingness of Americans to pay more taxes for better veteran care.
Be sure to check out Rural Insights Wednesday morning!
Two of the UP's Biggest Employers Battle with Labor/Workers
Techs and nurses at UP Health System – Marquette are in negotiations with Lifepoint, and the faculty at Northern Michigan University are in negotiations with the Board of Trustees.
Both groups of employees are holding rallies and demonstrations to air their grievances with management. NMU faculty are now working without a contract, and have been for over 100 days.
The 600 nurses from UPHS have a contract that expires May 31, 2022. Things do not appear to look good on the labor front in the central Upper Peninsula, according to many Whisperers. 
Interesting Question Nationally and In the UP
Is change coming too quickly for some folks? Is the change causing more uncivil discourse and division?
Or is change not coming fast enough? Where does that all lead us to in the coming years? Your thoughts?
School Board Elections as Political Battlegrounds
Lots of national debate and media attention on this topic. We have heard reports from around the UP about this issue surfacing in local school board meetings and upcoming school board election campaigns.
In Michigan there will be over 1,000 open school board seats in the 2022 school board elections. 
"It seems like there are some groups that want to take an issue and use it as a recruitment tool. I think both parties right now see the school board space as the closest to the people and may be a good launching pad for their members to move up in the ranks," noted Don Wotruba, Executive Director of the Michigan Association of School Boards and Yooper in the Michigan Advance publication,10/22/21. 
From the teacher union perspective is Doug Pratt, the Director of Public Affairs at the Michigan Education Association: "We're seeing people choose not to run for reelection because of this animosity, the threats and bullying that's happening. These are people who want to speak up and be part of decisions about their student's education and their community." Michigan Advance, 10/22/21.
A Surge in Gen Z Civic Engagement and Coming of Age
A recent study by Tufts University shows that 66% of college students voted for a US President last year, which is up 14 points from 2016. That increase is larger than increases in other voter groups at large.
That could have an impact on not just national elections but on local elections as well. These voters could become a major impact in voter turnout and vote results. 
All this matters a lot in local elections including school boards, city, county etc. In the UP we are seeing the election of younger citizens to city and county commissions, school boards etc.
Yooper Squads? More to come? What will the 2022 elections bring in the possible election of more Gen Z citizens?
Are Gen Z voters becoming of age? 
What Is a Tax? Is University Tuition a Tax? Some Interesting Thoughts and Questions
"A tax is a compulsory financial charge or some other type of levy imposed on a taxpayer by a governmental organization in order to fund government spending and various public expenditures. A failure to pay, along with evasion of or resistance is punishable by law." Wikipedia.
Not a perfect definition of a tax, but it will do. Close enough. 
Many, if not most, taxes require a public vote by the people or a legislative body–from cities, counties, school boards, state and federal income taxes and other taxes. All of these taxes carry with them a very, very public debate by taxpayers. 
Public university tuition looks, sounds and works like a tax on citizens (students/parents) as in above definitions. Some say if it walks and sounds like a duck, it is a duck.
Tuition is compulsory if you want to take classes–you have no choice. This tuition/tax is used to fund government (university) programs and spending just like oher levels of government. If you do not pay the tuition you cannot take classes–you can't use the government/service of university classes.
So some Whisperers have said to us, should there not be more time for public comment by students and their families before the imposition of a tuition/tax? Is there enough public comment and transparency, they ask?
Like K-12 school mileages, should there be some form of public vote by these taxpayers?
Should the state government be more involved on a statewide basis in setting tuition at state universities?
Is it time for a statewide higher education system with a statewide governing board?
Are the secret societies of the public university boards of trustees not the right place for tuition setting?
Should we not allow these boards of trustees to use constitutional escape clauses to get around the Open Meeting Act? 
All interesting questions. While many of these above questions from Whisperers might require constitutional/statute changes, they are nevertheless important questions and worth debate and consideration. Your thoughts?
Books Recommended By Our Readers
"The Long Game: How To Be A Long Term Thinker In A Short Term World." Dorie Clark. 2021
Quotes That May Make Us go Hmmm
"The most important political office is that of a private citizen." Louis Brandeis.
"As you age, you either become your best or worst self." Steve Martin.
How Are We Doing?
We are eager to have your thoughts about this newsletter and our articles, podcasts, videos and research. What should we be covering in this newsletter and in Rural Insights that we aren't currently? What are we getting wrong? Please send them to david@ruralinsights.org.
Like Whispers?
If so, please forward it to your friends, and let them know they can sign up on our website: www.ruralinsights.org.
WE REPORT, NOT ADVOCATE.
 FACTS, DATA, INFORMATION AND 
 RESEARCH.