Upper Peninsula Student Wins MSU Award, Soo Wins Main Street Funding, and Rural Insights Student Research Presented At Conference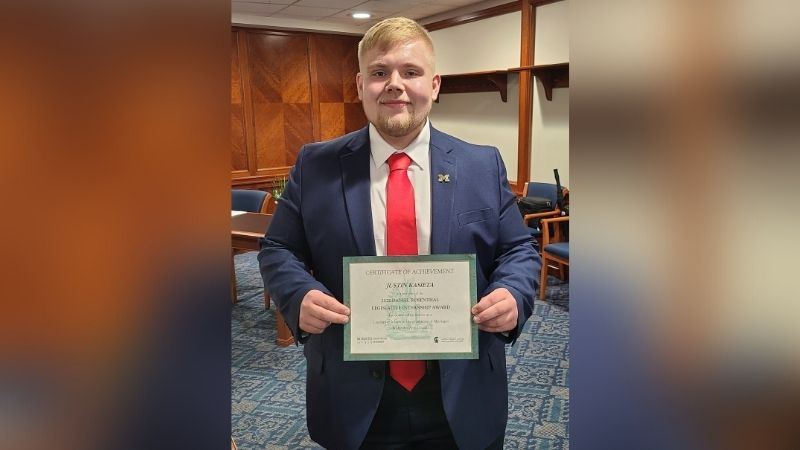 This Week in Rural Insights
On Wednesday we will be publishing a new paper by Michael Broadway and Joslin Brown that examines some of the unique challenges surrounding Keweenaw National Historical Park's development in Calumet, and the impact it's had on the area.
Upper Peninsula Student at U-M Wins MSU Award
A University of Michigan student who hails from the Upper Peninsula just won the prestigious 2022 Rosenthal Legislative Intern Award. It is awarded by Michigan State University, for outstanding legislative performance by an intern. 
Justin Kasieta is a graduate of Marquette Senior High School. He is a U-M junior pursuing an interdisciplinary Bachelor's degree.
Kasieta completed his internship in the office of UP State Representative Greg Markkanen (R-110 District).
Quite an accomplishment. Congrats.
Soo One of Eight Statewide To Win Michigan Main Street Funding
Sault Saint Marie was one of eight Michigan communities to be awarded part of $160,000 to support downtown development and improvement. Governor Whitmer said in awarding these funds with MEDC that "vibrant downtown areas are critical to creating jobs, attracting new investments, and helping local businesses build a foundation for long-term success." 
The Soo DDA Director Tony Cutler said that "Historic Downtown Sault Saint Marie is a place many have still yet to discover! This opportunity to partner with the MEDC in the Vibrancy Grant will help strengthen our brand and commitment to enhancing our downtown."
No other UP communities were recipients of this award.
Michigan Tax Revenue For Fiscal Year
"Net income tax revenue for March came in at $1.3 billion. This was up 185.5% from March 2021 levels, and was $889.7 million above what was expected for this month" (Gongwer News Service).
Rural Insights-Sponsored Research By Our NMU Student Researcher Presented At Prestigious Economic Conference
Max Steele, a senior NMU economics major, did research for us that was recently presented at the Association for Private Enterprise Education Conference in Las Vegas. His research for us was entitled "A Ten Year Recovery Analysis of GDP in Michigan's Upper Peninsula." It examines the Upper Peninsula and its economic recovery after the great recession. You can find it on our website—www.ruralinsights.org.
Max is still doing research for us and has a couple more papers we will be publishing soon. He is doing research with NMU's Dr. Weronika Kusek on food deserts in the UP. Watch for both of their work on our website soon.
Congrats to Max Steele. We are proud of your work and dedication to research.
Facts
In 2020, 6.1 million people filed for jobless benefits in a single week—the most ever. In April 2022, 166,000 filed in a single week, which is the single lowest in 55 years. (Economist Neil Irwin, Axios and Department of Labor).

According to a recent poll by Quinnipiac:

82% of Americans think Putin is a war criminal.

74% think the worst of the Ukraine war is yet to come.

64% of all Ukrainian children have fled their homes since Russia invaded seven weeks ago.
Odd News
Failed assassin John Hinkley Jr. is planning to perform at a concert in New York City this summer for $20 a ticket. Huh? What? Really? 
Quotes That Make Us Go Hmmm
"The sad truth is that most evil is done by people who never make up their minds to be good or evil." Hannah Arendt.
"Power is never given; it is taken." Speaker Nancy Pelosi, U.S. House of Representatives. 
Books and Movies Recommended By Our Readers
"Freezing Order: A True Story of Money Laundering, Murder and Surviving Vladimir Putin's Wrath.". By Bill Browder—who is also the author of NY Times Best Seller Red Notice.
Talk To Us
Keep your raves, laurels, rants and darts coming. Send them to us at david@ruralinsights.org. We love to read them. 
About Us
Rural Insights connects policy, information, news and culture to raise topics and stories/information you might have not seen or overlooked. We bring you original writing from Rural Insights and other researchers, changemakers, and storytellers, as well as our latest research and analysis
Like Whispers?
If so, please forward it to your friends, and let them know they can sign up here or on our website: www.ruralinsights.org.