Video Feature, UP's International City, Finlandia Partnership, Permanent Daylight Savings, Upcoming Concert, & K-12 Testing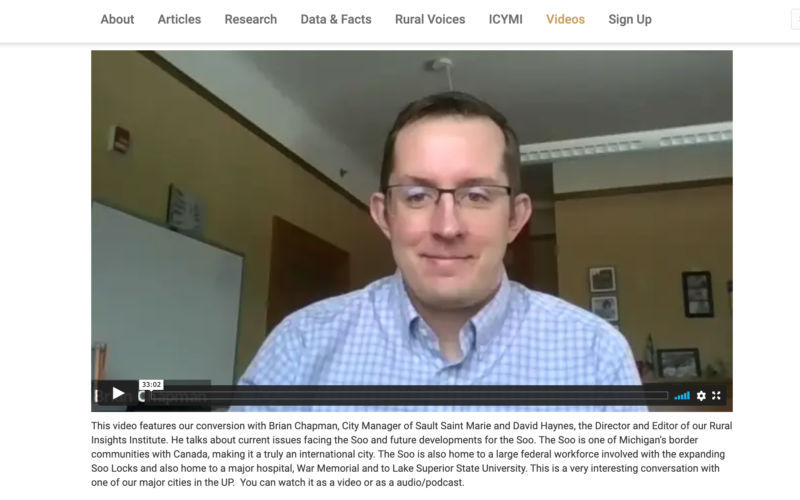 New Video Feature on Rural Insights Website
We have added a new feature called Videos in the tabs at the top of our website. Take a look.
We added a few of the videos we have done in the past and this week we did a video with the City Manager of Sault Ste. Marie. More below.
We will be adding more video interviews in the coming weeks and months. In our recent survey of our subscribers/readers we heard from many of you that you would like us to feature some video discussions with people in the Upper Peninsula and others around the nation with information that is important/interesting to people in the U.P.
In the coming months we will also be adding a Podcast tab at the suggestion of folks who took our survey.
Send us your ideas and suggestions for videos and podcasts and we will attempt to get it done.
Sault Ste. Marie as the Upper Peninsula's International City
The Soo shares a border with the Soo, Canada (Ontario). These two vibrant cities are connected by an international bridge that brings the people of the two countries/cities  together.
Both of these cities add to the economic, cultural and social value of the other. Soo, Michigan has a large number of federal employees who work at the Soo Locks for U.S. Customs and Immigration.
It has an outstanding state university (Lake Superior State University) and an excellent comprehensive hospital and health care system (War Memorial). And add to that the hundreds of state employees who work at state offices and in the state prison system. 
The Soo has been named the Command Center for the new rocket launch system in the Upper Peninsula that was recently announced.  
Sault Ste. Marie City Manager Brian Chapman will tell you about all the above and lots more in a video we did with him this week. He has a lot of important and interesting information to share with you.
Go to our Video tab and take a look at it.  
Finlandia University Announces New Partnership to Create an On-Campus Health Clinic
The new partnership is with the Upper Great Lakes Family Health Center and will provide an opportunity for students to get health services right on campus.
We are told that the Health Center will offer basic care as well as telehealth services for the students. Northern Michigan university also has an on-campus health clinic that is owned by the University, that is independent from any other health provider.
This may be the future on many campuses here in Michigan and across the country.
Permanent Daylight Savings Time in the Upper Peninsula Might Be in Our Future
A bill has been introduced in Lansing that would make daylight savings time permanent in Michigan.
Thirty-two other states have the same kind of bill in the works. These various state bills will only take effect if the federal government allows a bill to become law to allow this change.
The Michigan legislation actually just states the intent of the Michigan Legislature to go over to the permanent daylight savings time.
The Beaumier U.P. Heritage Center and Hiawatha Music Co-op are Collaborating
They will be presenting a special "Live from the Fold" concert on Thursday, February 11 at 7 p.m.
"Songs of Labor" will be a virtual concert featuring Robert Jones and Matt Watroba. The concert will be free to the public, though donations will be appreciated.
The public will be able to access the concert via either the Beaumier Center's or Hiawatha's Facebook pages on February 11.
"Songs of Labor" is part of a series of events connected with the Beaumier U.P. Heritage Center's current exhibition on the labor history of the Upper Peninsula.
The exhibition is not currently open to the general public due to COVID-19 restrictions, but this program will be an excellent introduction to the history of labor for all ages.
K-12 Standardized Testing – Effective or Not effective?
The Michigan Department of Education invited school districts to  apply for a federal waiver from having to administer its annual standardized test.
Interesting to know more about why and what the impact will be on students. We've been asking around K-12 education about what they think the effectiveness is of the annual standardized tests.
How does it impact rural students, and is the impact different from other students in urban and suburban school districts? We hope to have more on this in future editions. 
We are interested in hearing from K-12 educators on both sides of this issue. If you're interested in writing something for us, let us know at david@ruralinsights.org. Interested in hearing from you.
Quotes (that make you go hmmmm)
"All chaps and no pants." Lyndon Baines Johnson.
"You don't have to believe everything you think." Adam Grant.
Books (from suggestions by our readers)
"The Long Loneliness." Dorothy Day.
"The Second Founding." Eric Foner.
Do you have books to suggest to us and our readers? Please send us the titles, author names and publication dates. Send them to david@ruralinsights.org. None of the book suggestions we publish are endorsements of the book or the author, just suggestions for you to consider.