Whispers, Noise & Rumors: June 22, 2020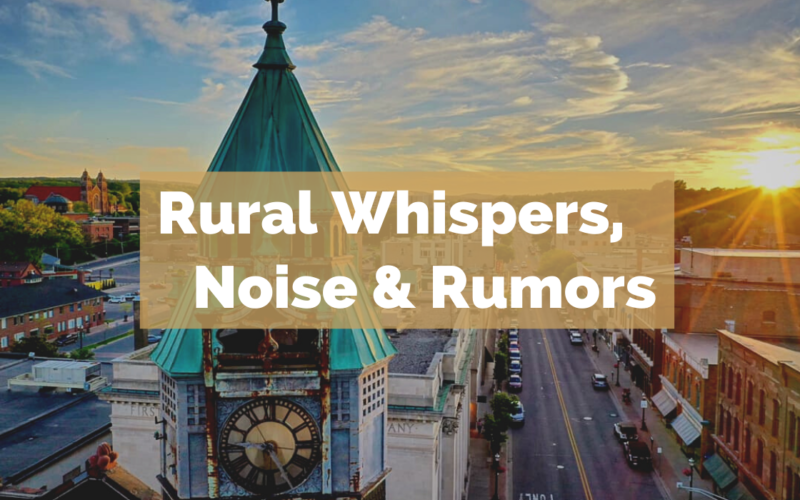 Legislature Passes Resolution on Budget Bills Progress: the Legislature in a message to taxpayers last week said that they are delaying the date by which the legislature is supposed to get the budget bills to the Governor.
Last year, lawmakers passed the budget bills to meet the requirement to get the bills to the Governor by July 1 for the next fiscal year that begins October 1.
The Senate passed a bill (SB 96) that would allow the legislature to not meet the July 1 deadline. The House is expected to do the same deadline extension.
Legislators said they needed to extend the deadline because of COVID-related issues and declining state tax revenues—they want more to time to investigate the state's fiscal situation and alternatives to balancing the budget. More planning time needed, they say.
Many public organizations such as public schools and universities have fiscal years that begin July 1 as opposed to the state's fiscal year beginning October1. This change means that these organizations will begin the school year with no definite state aid information about their operation funds from the state. This will, at a minimum, cause operational problems and lots of uncertainty for taxpayers and public organizations.
K-12 schools are facing Fall school opening challenges due to COVID, and this budget uncertainty will add to that pile of challenges. One question facing school administrators is where funds come from and at what levels to assure safe and healthy school opening/operations if they do not know how much aid the state will be providing.
What are the additional costs of COVID-related issues like social distancing in school buildings, school buses, lunch rooms, etc., etc. and will the state provide adequate funds to assist with these issues and at what levels? It looks like public schools will have to do their planning without knowing what the state will provide and what it will require/mandate for school opening.
Veterans: "Thank You for your Service, But:
Most veterans, including this Whisperer, appreciate it when Americans say "thank you for your service" to them. We have heard some Noise from veterans that the message is not met with action. They suggest when you look at how many veterans are appointed by to public boards and commissions the thank you messages are not met with "we need the voice and experience of veterans to lead our organizations in the public square." So Rural Insights has begun looking at what is happening with this issue in the Upper Peninsula. Six percent of the residents of the UP are veterans, while downstate that number is in the 3%+ range.
So watch for more info from Rural Insights on this soon. Send us your local experiences with veterans being appointed to local boards and commissions. Also let us know of any local organizations that give veteran preferences in hiring public employees—or in private and non profit organizations.
Wall to Wall People At Marquette Beaches, Wait Until: This past Thursday, on a very hot summer day hundreds of people flocked to the Marquette beaches. Crowded with not a lot of social distancing and masks, according to several Whisperers. Same was true in Houghton and Sault Saint Marie—and other communities in the Upper Peninsula we hear.
Summer is here in the UP and folks know that the weather could change real fast in Michigan and especially in the UP—so they went to enjoy it while they could. So with COVID concerns not in evidence on the UP beaches what will the beaches look like when university students return to campuses in August? Will we have social distancing and masks on the beaches? More crowds? Let us know what you think.
We all are looking forward to the announcement of plans by county public health and university officials about the strategy for the safety and COVID-prevention plans for returning university students—on and off campuses. Most UP university campuses have large numbers of students returning to campus from communities outside the UP—close to a majority of students are from outside the UP on some UP campuses.
Whispers Correction: Recently we published that the Upper Peninsula has 113 zip codes. A very wise and old Whisperer corrected us—there are 170 zip codes in the Upper Peninsula. Our apologies and thanks to our wise Whisperer.
Quotes (Something to Think About):
"Art of politics is making the necessary possible." (Charles Maurras)
"Ignorance is not a virtue." (Author unknown)
"If you have to tell them who you are, you ain't." (Joe Louis)