Whispers, Noise & Rumors: June 8, 2020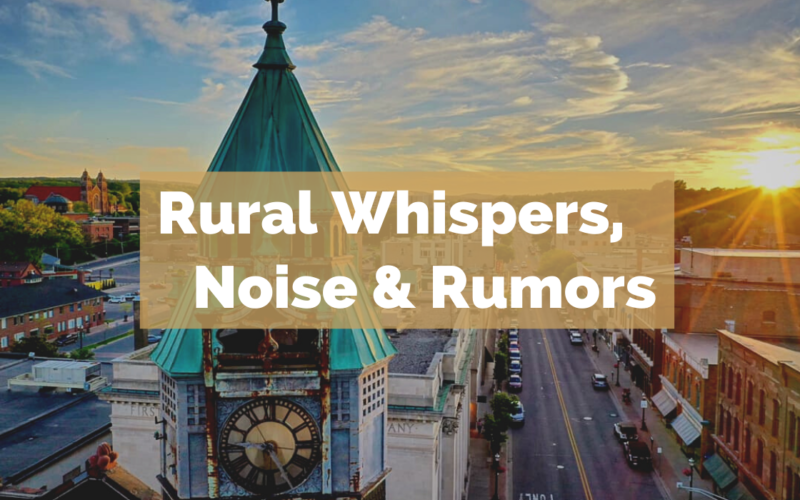 Students Returning to UP Campuses in August: Current plans are for all three public universities in the UP to hold on-campus, in-class sessions for the Fall semester that starts in August. Good news that the Marquette County Health Department and NMU are working together to plan on how to best plan for this–both in town and on campus. Same in the Soo/Chippewa County.
Estimates are that approximately 10,000 students will be returning from downstate and out of state to these counties/cities, so lots of questions on how to handle this. Planning and coordination will help prevent increases in COVID-19 cases. Kudos to all involved.
Universities are economic pillars in the communities of Sault Saint Marie, Houghton and Marquette. Students and staff are an important part of the restaurant and hospitality industry as well as to the housing rental/sales market. Students and their parents spend thousands of dollars in these communities.
Athletic events also bring people to each town spending money, with visiting fans and athletic teams staying in local hotels. A recent story in the mid-Michigan City Pulse said "As MSU goes, so goes the local economy." MSU, of course, has 50,000 students, so their impact is much bigger–but the three public universities in the UP have a huge impact on their local economies as well.
Is it time for an economic study on how big and important an economic impact this will have in Houghton, Marquette and the Soo? Maybe. Would be very informative for future regional economic planning.
Years and years ago Marquette's Sawyer Air Force Base had a huge impact on the Marquette economy. Local folks will remember that the base sometimes would pay their staff with silver dollars or two dollar bills to remind the local community of how important they really were to the region. An economic study would give us all some facts and data as to how important the universities are to our Upper Peninsula.
Same is true of the health care sector. Maybe the study should be of both sectors in the UP.
Soo Locks Expansion/Construction: The first phase of construction will be over $922 million. That is a major boost to the eastern UP economy. It will also mean that possibly hundreds more public and private sector jobs will emerge after construction is completed, and a big impact on Michigan and the regional economy. More to come in Rural Insights in coming weeks. 
Copper Country WiFi Hotspots: This week's news of a collaborative effort to provide more internet service to the Copper Country is really important news for residents. According to the Portage Health Foundation, "WiFi hotspots are located all around the Copper Country. From Alston to Calumet, there are currently 10 locations up and running; organizers hope to have at least 30 over the next few months."
Executive Director Kevin Store said that "hopefully this might serve as a bit of a model for rural communities as multi-sector collaboration, and trying to have a larger conversation about connectivity in a rural area and the role that it plays–not only for the overall health of our community but just the overall quality of life and access to the information, communication, and resources needed in rural communities." (Peter Curi, UP Matters). 
The availability of internet services, technology and hardware is a major issue in rural areas across America, as well as in the Upper Peninsula. Seeing this community-collaborative effort is encouraging and worth watching. Maybe its successes will be copied in other UP communities.
Airport Service In The UP: With airlines announcing what appears to be cuts in service to smaller airports and hubs across the nation, attention has turned to what will happen to our airline service in the UP.
Will we still have air service at the same levels in Marquette, Houghton, Iron Mountain, Escanaba and Sault Saint Marie? Will we see consolidations of airports to deal with these reductions in service? No solid news yet on this, but we will have more on Rural Insights in coming weeks. 
Good news is that the federal budget included almost $10 billion to be given to eligible airports. Marquette's Sawyer Airport got $18 million of that and Houghton received $1.098 million, Iron Mountain $1.085, and Escanaba $1.076. 
Quote: "When human lives are endangered, when human dignity is in jeopardy… Wherever men and women are persecuted because of their race, religion or political views, that place must–at that moment–become the center of the universe." Elie Wiesel. 
Quote: A Golden Rule Thought. "As the world gets more deeply intertwined, everyone's behavior–the values that each of us bring to this interdependent world–matters more than ever.  Do unto others as you wish them to do unto you, because more people in more places in more ways on more days can now do unto you and you unto them like never before." Thomas Friedman.