Whispers, Noise & Rumors: May 18, 2020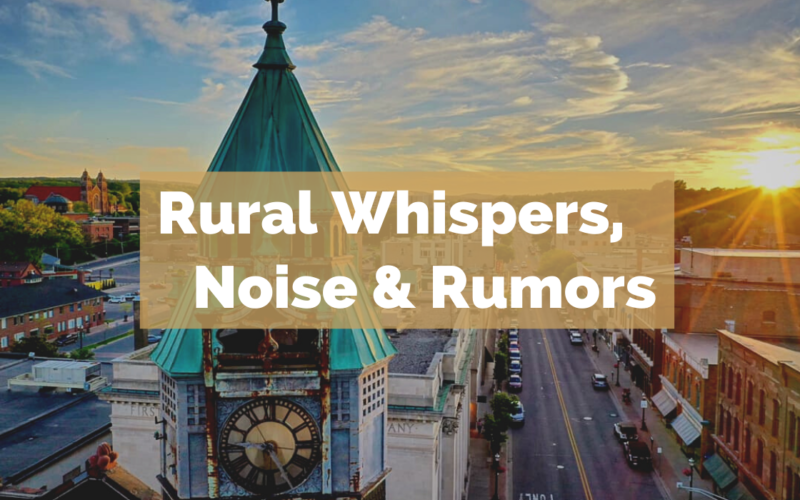 Michigan Senate Fiscal Agency Revenue Estimates: This past week the SFA announced that they estimate that in our current fiscal year (which ends on 9.30.20) the state General Fund will show a $1.4 billion deficit and the School Aid Fund will show a $1.2 Billion deficit by the end of this fiscal year. They estimate that for the next fiscal year (FY 2021/22) the General Aid Fund will jump to a $2.7 billion deficit and $1.3 billion in the School Aid Fund. They will be updated these numbers on May 15th (see below). These numbers mean that the legislature and the Governor will have to agree on what needs to be cut in the current budget and in next year's budget during the next few months. Obviously a huge impact on rural areas and urban areas throughout Michigan. Local governments have very few options available to them to raise new or additional revenue. Same for local school districts. Often because of this, local budget cuts become the only option after state budget cuts. Maybe this will drive a statewide discussion of local income taxes, commuter taxes and fee increases versus local budget cuts. Local and school government budget cuts are on the way and will have big impacts on our local lives and work lives. Every community in the Upper Peninsula and statewide will be impacted.
State Revenue Estimating Conference: The Governor, the Department of Management and Budget, and the Department of Treasury last Friday issued their estimates of revenue losses for this fiscal year and next fiscal year. State revenue losses this fiscal year and next will now approach $6.28 billion according to state fiscal experts and economists.
"Today's numbers came amid a 'drastically altered economic outlook' that sees a national and state economic recession from COVID-19 and the government's societal shutdown response to slow its spread. House Fiscal Agency (HFA) economist Jim Stanell said Michigan has been hit harder than the national average, ending 10 straight years of slow economic expansion. He called the sharp decline in the second quarter the state's largest since 1946." (MIRS News Service, 5.15.20)
Michigan's Gross Domestic Product (GDP) in the 2nd quarter of this fiscal year has been cut 29.3% according to state officials. They predicted that the state fiscal situation won't return to 2019 (Q4) until 2022 (Q4).
Michigan legislators and the Governor's team will begin looking at budget cuts for the current fiscal year and the next fiscal year (beginning 10.1.20) immediately. The deliberations may take months to find acceptable resolution between the two branches of government. Meanwhile, local governments, school districts, higher education and human services are all bracing for large budget cuts and discussing where to cut and alternative funding sources.
Meanwhile Governor Last Week Announces Cut of 64% of State Employee Workforce: Gov. Whitmer said these cuts could save $80 million by state employees taking two days of furlough per pay period through July 25th. This furlough would directly impact 31,000 employees. Not included in the furlough plan are state employees in law enforcement, veterans homes, the prison system, and professions working on the frontlines controlling the COVID pandemic. Look to see upcoming cuts coming from local governments throughout the state, including the UP. The UP is home to a veteran home, several state prisons, scores of state law enforcement employees and frontline employees. However, the UP is also home to many, many other state employees working throughout the region and will have a direct impact on local economies in the UP. Furloughs mean less people available to people who need help and services at time when they most need it. The truth is that Michigan is required by law to balance its budgets each year, unlike the federal government. Noise around the UP is asking what will the local government layoffs look like throughout the UP and what will the higher education/university staff reductions be when announced. All will have an impact on local economies. How much and when are the key questions. More to come later.
Veterans Enrolling at UP State Universities: Recent whispers indicate that NMU is a leader in recruiting veterans to their campus. NMU is showing 170 veterans enrolled while the same University of Michigan with the same veteran enrollment of 170 but with 44,000+ students to NMU's 7500+ students. Meanwhile, at downstate Grand Valley State University with 25,000+ students they had 141 veterans enrolled. MTU had 25 veterans enrolled and LSSU had 29 enrolled according to last data report. Kuddos to NMU's Mike Rutledge and Welles Rutledge. We need expanded outreach to veterans at all Michigan universities and colleges. More to come on veterans and higher education in the UP and throughout Michigan.
Rural Voices: Peggy Noonan, journalist/columnist, wrote that "we are all from our original zip code." We carry with us where we are originally from. We carry the values, strengths, weaknesses and beliefs from our original zip codes. In the Upper Peninsula we have approximately 183 zip codes in our rural communities and while we share many values, etc., we have different experiences, beliefs and values if our zip code is from Ironwood, Escanaba, Marquette or any of the other UP zip codes. We are all of the UP but we experience life differently in different zip codes. We are going to regularly present views in Rural Voices by folks who have lived and live in different zip codes in the UP. Tell us what you think. Send us your thoughts to us at david@ruralinsights.org.
President Abraham Lincoln Quote During A National Crisis: "We need enlightened leaders and public [who are] creating together sane and inclusive policies, and strengthening our vital institutions at home and abroad." Seems like good advice for all of us at the federal, state and local levels. Amen. One of the Upper Peninsula local community strengths is that we try to work together while also trying to do what is best for all of us.
Tips, suggestions for articles, data and research: Send them to us at david@ruralinsights.org.