Whitmer for Congress, Donor Dollars at Finlandia University, UP Child Care Solutions, An Idea From a Reader, & Dark Store Exemption Legislation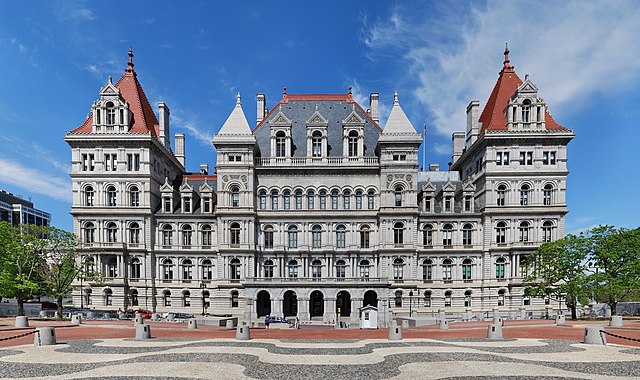 – INFORMED BREVITY –
Good Morning to everyone in the Upper Peninsula. Today is Law Day in the United States and Workers Day in nations around the world. However you celebrate it, enjoy the day and have a great first week of May.
Whitmer For Congress
Nope, not Big Gretch, not The Honorable Gretchen Whitmer nor Governor Gretchen Whitmer. Not her daughters. Not her husband. But yes, Liz Whitmer Gereghty, her younger sister. Not in Michigan but in New York state, in the 17th Congressional District. (Katonah/Lewisboro News.)
A political dynasty being born, like the Kennedy or the Bush families..???
An Answer on What Happens to Those Donor Dollars at Finlandia University
"The Attorney General of Michigan has an interest in dissolutions in higher education in Michigan, especially in the case of Finlandia, they're always interested in what happens to the restricted endowment dollars. The endowments, when the university dissolves, my understanding is, will revert to the state. And then the state will allocate those funds based on the universities that have transitioned students and faculty out," according to Patrick O'Keefe. (Keweenaw Report. 4.24.23).
Child Care Solutions in the UP
We have written a lot in this newsletter about child care availability and costs in the Upper Peninsula. Some would say it is a real problem and others would say it is a crisis. NMU is working with a private company, Wee Care, to help identify and develop in-home child care providers in the Marquette area. They are having success.
Also, they report that the Michigan Tri-Care Child Care program may be able to help some UP families. Families with a household income between 201% and 325% of the federal poverty level may qualify to have two-thirds of their child care costs paid through the program. The actual dollar amount for poverty level is family of two at $19,720, family of four is $30,000 and it goes up from there for each additional family member. Check with your employer.
If you know of other developments in your community in the UP to help assist with this child care crisis please let us know and we will let our readers know.
An Idea From a Reader
Provide reserved parking spaces for veterans at all public buildings. They wrote that it will require some sort of car window tag that the veteran could get from local, state or federal governments. Thoughts? Ideas to improve and expand this idea?
If you have an idea to help citizens of the UP as they lead their daily lives let us know. We will consider sharing some as we receive them.
Will Local Income Taxes Help Local UP Governments With Their Revenue Problems?
The Michigan "dark store exemption" in the tax code has been taken advantage of by big box stores all over Michigan. It has had its biggest impact on local government revenue in the Upper Peninsula, costing millions and millions of dollars. Often this has caused cuts in local government services, K-12 school districts and local public libraries. The legislature is once again considering legislation that would amend the "dark store exemption," but thus far no action has been taken to get the bill to final passage.
Now there is talk by local government leaders and policy experts that there should be an amendment to the Michigan public act that restricts a local income tax to allow local governments with smaller populations to get approval for a local income tax. Also some communities want authority to implement commuter taxes. So far all talk, discussion, debate and no action.
The prestigious and non-partisan Citizen Research Council of Michigan has a report out this year that notes, "As of 2018, property taxes accounted for nearly three-quarters of all local government collections in Michigan and almost one-third of public revenue collected by state and local governments."
This report certainly adds facts to the debate about local government revenues and possible need for local government income taxes and/or local commuter taxes. You can find more detail on this report at www.crcmich.org.
From the World Around Us
"In Northern Michigan's Benzie County, where the Sleeping Bear Dunes are located, they are trying a creative idea to help with their local housing problem. Sixty-percent of their homes are occupied by vacationers in summer, driving up the cost of houses beyond what many middle wage earners can afford. Local officials there are leveraging federal money to build 1,200 square foot houses that will be sold for less than they cost to build, $175,000."
Quotes That Make Us Go Hmmm
"Manners are of more importance than laws. The law touches us but here and there, and now and then. Manners are what vex or soothe, corrupt or purify, exalt or debase, barbarize or refine us….  They give their whole form and color to our lives. According to their quality, they aid morals, they supply them or they totally destroy them." Edmund Burke.
Books Recommended By Our Readers
"How Private Equity Runs–and Wrecks–America." Gretchen Morgenson and Joshua Rosner. 2023.
Talk To Us
Keep your raves, laurels, rants and darts coming. Send them to us at david@ruralinsights.org. We love to read them. 
About Us
Rural Insights connects policy, information, news and culture to raise topics and stories/information you might have not seen or overlooked. We bring you original writing from Rural Insights and other researchers, change makers, and storytellers, as well as our latest research and analysis.
Like Whispers?
If so, please forward it to your friends, and let them know they can sign up here or on our website: www.ruralinsights.org.
TWITTER: Follow us @ruralinsightsUP.
"WE BELIEVE YOU ARE SMART ENOUGH TO FORM YOUR OWN OPINIONS, AND WE TRY TO GIVE YOU SOME SOURCES TO DEVELOP YOUR OPINIONS."