A Place Where Everyone Belongs: Imagination Factory Children's Museum and Community Center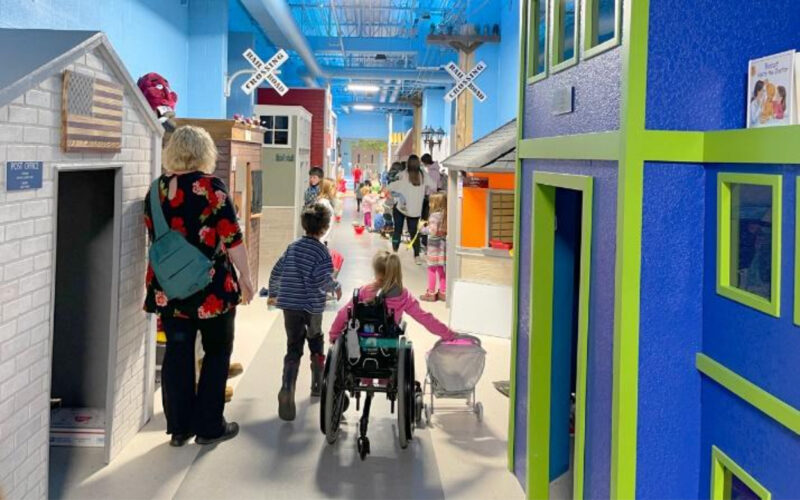 In 2018, Barb Reisner, Jonathan Ringel, Cherie Fila and other Great Start Pediatric and Family Health Committee members began evaluating the need and value of a children's museum in Iron Mountain and surrounding areas. What would happen over the following three years would bring a glimmer of an idea to fruition.
The Imagination Factory Children's Museum held its grand opening on September 4, 2021. From 2018 to 2021, the Our Place Community Center-Imagination Factory Children's Museum Board of Directors formed a 501(c)3, created action team committees, selected a location, raised funds, secured sponsor exhibits, and maintained a volunteer building team of 70 community leaders.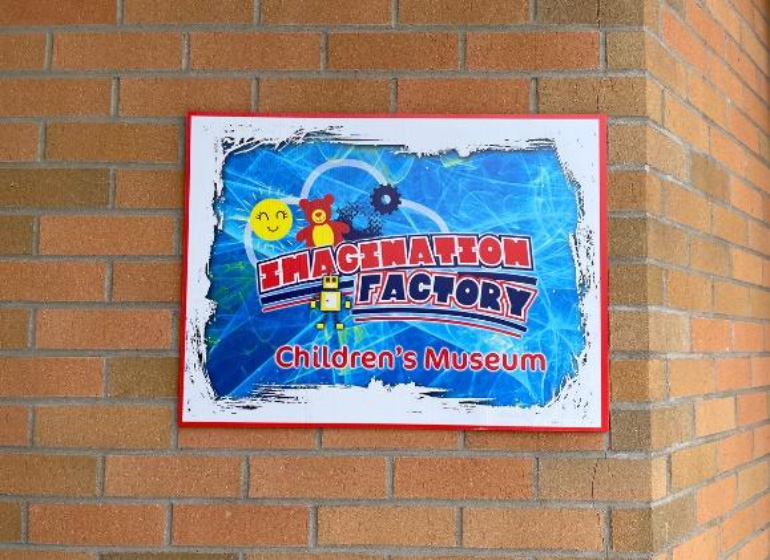 "We wanted to create a place where everyone belongs," remarked Barb Reisner, Executive Director Team Leader of the museum. "While many of the museum activities are designed for children ages birth to 8 years old, secondary level students, parents and individuals of all ages will have fun experiencing interactive learning, creative play and a sense of community."
In January 2020, the nonprofit signed a lease with the Iron Mountain Public Schools to occupy unused space in Iron Mountain's former Central Elementary and Middle School building. The 4,500 square foot space allowed for three exhibit rooms, four activity areas and meeting spaces – a perfect fit for the museum's plans.

The Imagination Factory core leaders focused on the theme of Imagination, transforming the former classroom environment into interactive and creative play areas. Environment, industry and health are the three exhibit room themes, with each theme room expanding to include 7-10 exhibits in each exhibit room.
In addition to the theme rooms, the hallway area features Tiny Town, where 11 buildings showcase community businesses and storefronts, giving children the opportunity to connect and role play with familiar local business themes seen across the community.
One of the unique qualities of the Imagination Factory Children's Museum is how the entire museum mirrors various elements of the community. For example, local businesses sponsor exhibits that incorporate their business sector, products, and services. This alignment allows children and their families to experience interactive play and learning by focusing on local businesses and organizations, government, city planning, tourism, physical fitness, academic skills, early literacy, and other valuable learning experiences.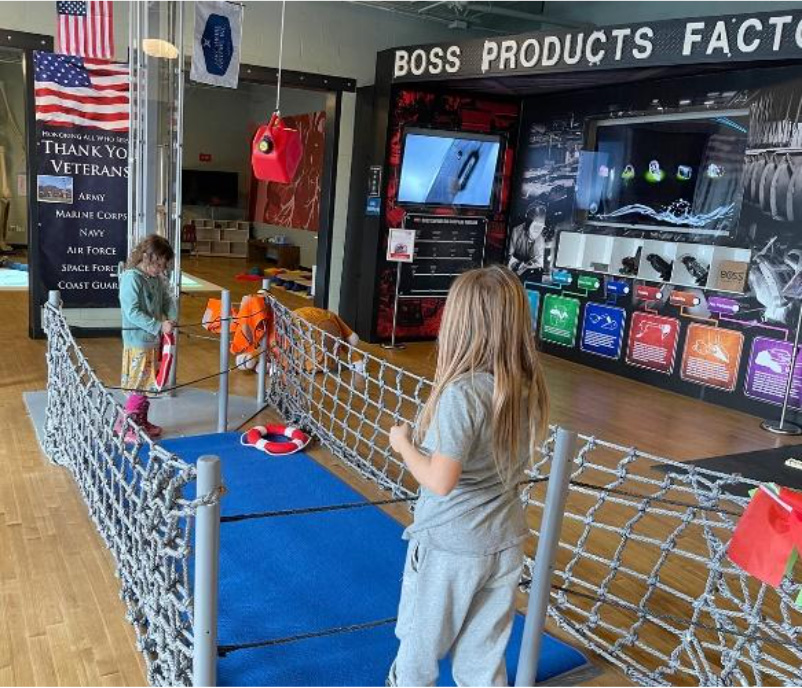 "The museum's most significant value is that it is another place for kids to learn through interactive play," according to Board of Director President John Estes.  "We often ask children if they had fun and what they learned today."
Our Place Community Center-Imagination Factory Children's Museum leaders consistently prioritize not duplicating the services and programs of other organizations within the area. The museum's primary mission is to provide a place where guests can have fun, learn, value reading, meet new friends, and take time to enjoy family. Executive Director Team Members Cherie Fila and Dian Miller have been instrumental in purchasing and coordinating Tiny Town play items, toddler play stations, and vetting exhibit interactive play features. Fila is the early-on coordinator at the Dickinson-Iron Intermediate School District, and Miller is a former elementary school principal.
Our Place Community Center
The museum also serves as a community center, offering the Youth Advisory Council, Kiwanis Key Club, and all young adults 13 and older opportunities to get involved. Twenty-five student leaders from four school districts volunteer their time each month.
Each Saturday morning, the Dickinson-Iron Great Start Collaborative and Great Start Parent Coalition host children's activities at the museum. Talking is Teaching, a Michigan Department of Education and Great Start initiative, is a national leading early literacy program promoted at the museum. Parents and grandparents are invited to learn the importance of conversations and taking time daily to talk, read, and sing together. The museum supports consistent family engagement as a way to meet with parents each week and to promote the museum as a safe place for kids to learn and play.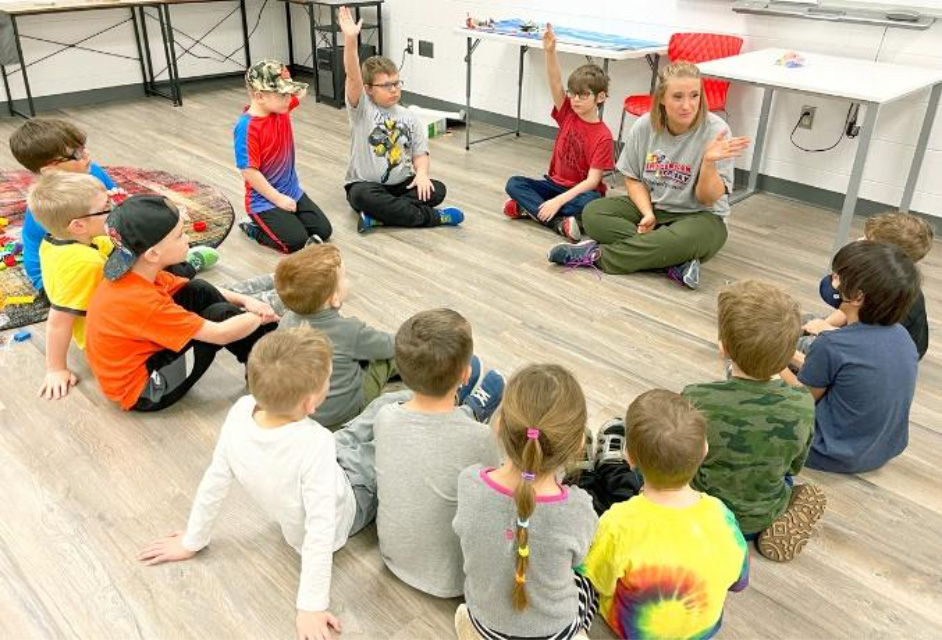 "Getting children and families involved from a young age, while their brains are still developing, enhances social and emotional well-being, self-awareness and positive relationships, often resulting in bullying and drug prevention," says Reisner. "The engagement of toddlers, preschoolers and their parents during visits to the museum has been incredible. It is so affirming to our mission to see parents and caregivers actively playing with the children during their visits and not sitting back and watching."
It Takes a Village
None of this would be possible without support from the community. The museum and community center nonprofit has received donations from more than 300 donors through private contributions, individual donations and support from local businesses.  "The generosity of the community and the teamwork to make the museum possible have been truly inspiring," remarks Ringel.
Starting in July 2021, the Gus Macker 3on3 basketball tournament became the Imagination Factory Children's Museum's annual fundraising event. The 2021 event attracted more than 8,500 spectators, 300 volunteers, 200 teams, and 82 sponsors. The signature fundraiser will be held on July 16-17, 2022, with more information available on the Iron Mountain's Gus Macker website.
The museum is operated entirely by volunteers and is open on Wednesdays 9am – 2pm, Fridays 11am – 2pm, Saturdays 10am – 3pm, and Sundays from 12noon – 4pm (CST).  For updates, please check the Imagination Factory-Our Place Community Center website.   
Group visits and birthday parties are welcome. For additional information, please contact Barb Reisner at barb@ourplacecc.org.
Barb Reisner
Barb is a powerful advocate for early literacy, family engagement, leadership development, bullying prevention, and drug prevention.  She serves as the Executive Director Team Leader for the Imagination Factory Children's Museum and Director of Great Start in Dickinson and Iron Counties.  Barb holds an M.Ed in Education from the University of Wisconsin-Whitewater and an M.S. in Educational Psychology from UW-Milwaukee and has served in a variety of educational roles, including teacher, school counselor, coach, and college instructor.
Jonathan Ringel
Jonathan is the CEO of the Northern Lights YMCA serving Delta and Dickinson Counties, a key leader on the Executive Director Team of the Imagination Factory Children's Museum, and serves as the Great Start Parent Coordinator.  Jonathan is passionate about creating desirable places to live and work and economic development opportunities that lead to prosperous communities. Jonathan earned an M.S. in Urban and Regional Planning from Eastern Michigan University and a B.S. in Land Use Planning and Management from Northern Michigan University.