Brother Versus Brother: How Two Civil War Veterans of Opposing Sides Came to Marquette
When speaking of the American Civil War, the term "Brother versus Brother" has become a catchphrase for the title of a US History book chapter or a show on the Discovery channel, but it was an agonizing truth in thousands of cases, particularly brothers (and other family members) from one of the four so-called "Border States," in which men enlisted in the armies of both the Union and the Confederacy.
One of these brother-versus-brother conflicts—which ended up happily—has made a mark here in Marquette. The weekend before Memorial Day this year, the NMU Student Veterans of America group, of which I am the staff advisor, sponsored a veteran tombstone cleaning at Holy Cross cemetery, and during the event I became aware of the Byrne Brothers.
Samuel and Robert Byrne were born in 1842 and 1845, respectively, in Baltimore, Maryland, one of the 4 border states which remained in the Union but did continue to allow slavery (the other 3 being Delaware, Kentucky, and Missouri). They were both the sons of Peter Alexius Byrne, a first-generation Irish American, cabinet maker, who was training his sons to enter the business when the American Civil War began on 12 April 1861.
The limitations of my research did not divulge why Samuel decided to enlist in the 1st Battery, Maryland Artillery, Confederate States of America Army, while his brother Robert went to Philadelphia and enlisted in the 118th Pennsylvania Infantry Regiment, in which he served in both companies G and I—but under the alias of Robert Burke.
Irish immigrant and Irish American attitudes regarding slavery were varied, and they served in large numbers in both armies (my undergraduate senior thesis documented the clandestine communication between the Irish in both armies to plan to use their new skills to return to Ireland and rebel against the British, giving birth to what became the Irish Republican Army, but that is another story).
The Official Records of the War of the Rebellion indicate the brothers may have faced each other at some of the war's largest battles: Antietam, Fredericksburg, Mechanicsville, Mine Run, and also the largest of all, Gettysburg. Both brothers did survive the entire war despite seeing so much combat, with Robert being wounded in the arm at Gettysburg, a wound he applied for and received a pension for in November of 1891, despite having had to employ attorneys to clear up the alias and then which company (G or I) he had been a member of during the battle.
After the war, both brothers returned to Baltimore, but in 1872 Samuel came to Marquette and became very successful in the real estate business. He also worked as Marquette's city assessor for several years, was elected as Justice of the Peace in 1893, and the last few years of his life were spent as a municipal judge in Marquette. He died in 1920. During his life here in Marquette, Samuel had eight children with his first wife Laura, who died in in 1886. He remarried Margaret nee Whitty here in Marquette and had one more child. He lived on the 800 block of Front Street.
It isn't exactly clear why Robert decided to move to Marquette, but he was clearly here in 1882 as his daughter Mazie was born here. He most likely came at the request of his brother to join him in the real estate business, which he did until assuming the position of Marquette City Treasurer, a post he held until his death in 1826. Robert and his wife Mary nee Meyer (of Baltimore) had six children. He was very active in the Grand Army of the Republic (GAR), which was America's first veterans service organization, and he served as the local chapter's "quartermaster." He was apparently what we would call a workaholic today according to his friends, and he actually passed away at his desk in the treasurer's office.
In 1913, when former president Theodore Roosevelt was in Marquette for his libel suit trial, he was asked to meet with Marquette's surviving Civil War as well as Spanish-American War veterans (in which Colonel Roosevelt was awarded the Congressional Medal of Honor in 2001, making him one of only two fathers and sons awarded the nation's highest award for heroism; his son was awarded the same medal for his courage on D-Day, the anniversary of which I am writing this story).
A very noted photograph, seen below, was taken at the home of George Shiras, with members of the GAR, and Colonel Roosevelt made certain that the one exception be made, and that Samuel be allowed in the photo.  The Byrne Brothers are in the top row, far right, Samuel being furthest right.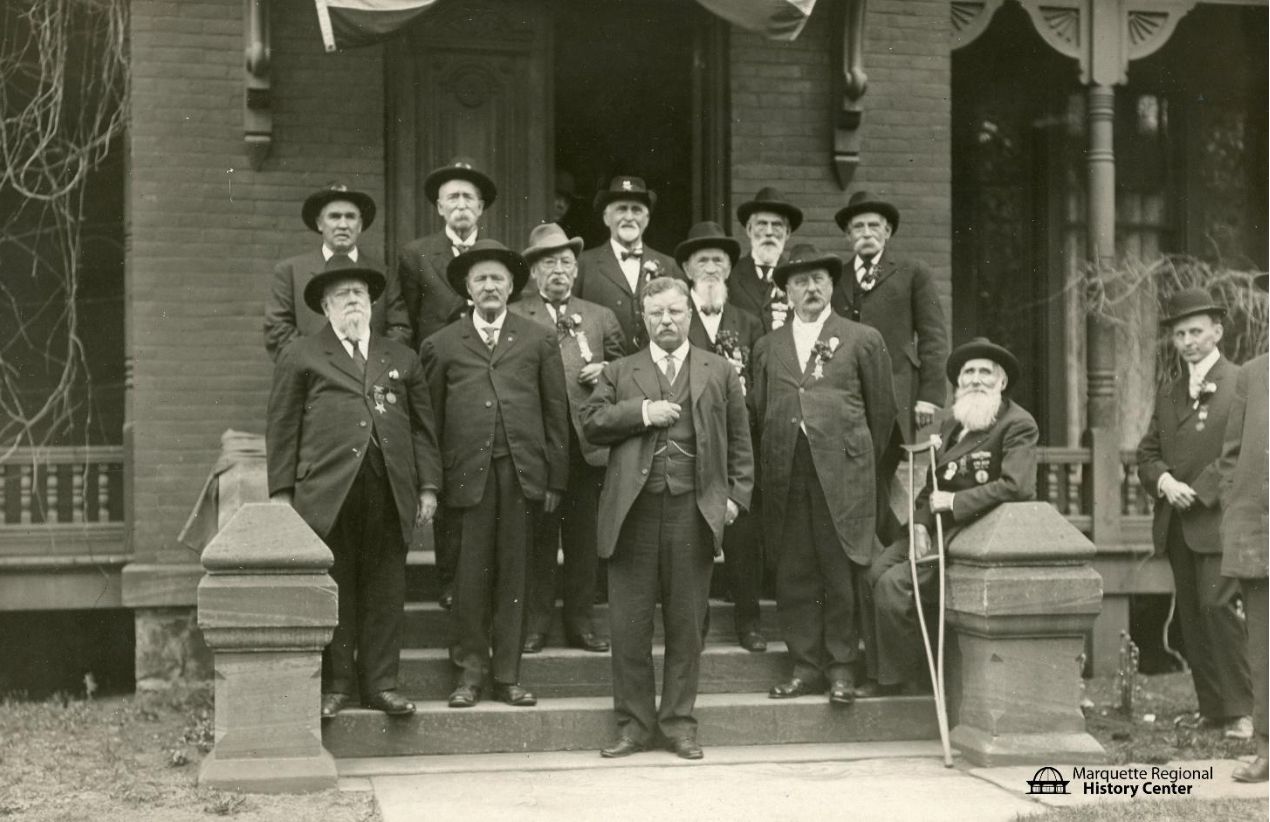 Photograph shared with permission from the Marquette History Center
As stated earlier, this story of brother versus brother had a happy ending, both for the Byrne brothers and the city of Marquette. Pictured below are the Byrne Brother's tombstones, located in Marquette Holy Cross cemetery with GAR and Confederate war veteran markers visible.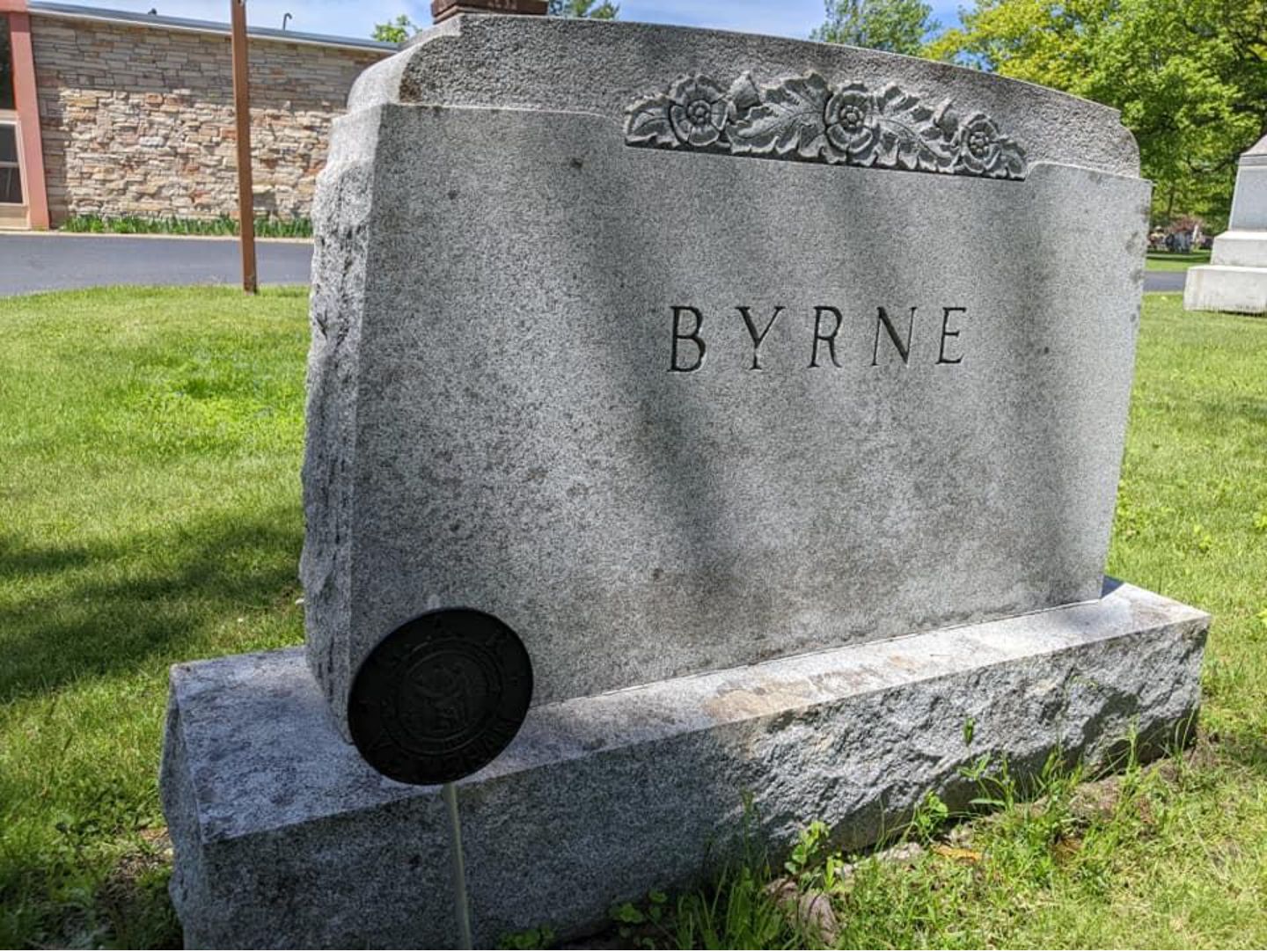 Photo by Author
Robert Byrnes tombstone with GAR marker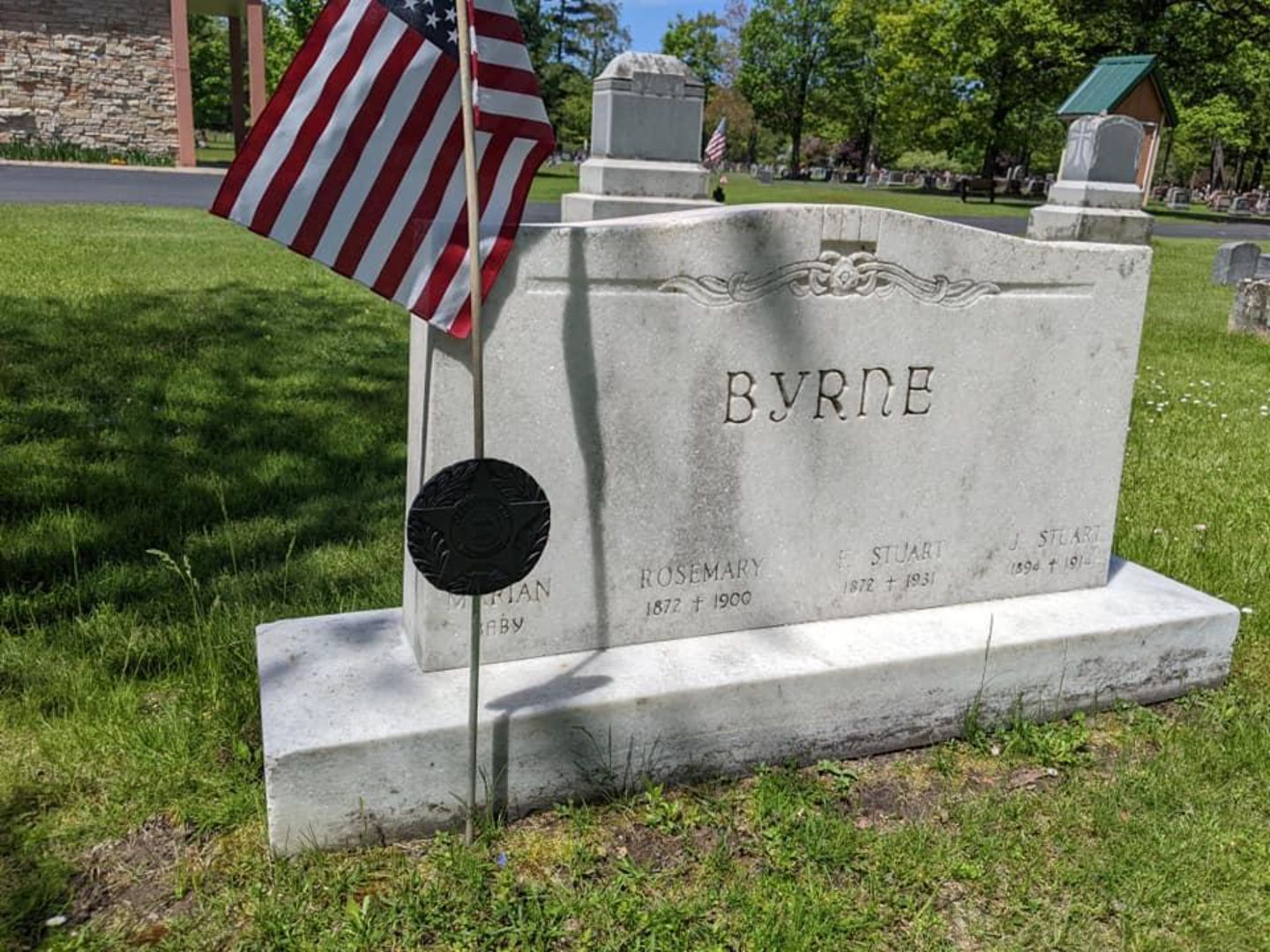 Photo by Author
Samuel Byrne's Family Tombstone with CSA Veteran Marker (he is buried in front of the family stone with a flush name stone)
Sources
Special thanks to the Marquette History Center for providing most of the documents to the author.
Department of the Interior. Bureau of Pensions. Request for Civil War Pension, November 14, 1891; with attached attorney requests for information.
No Author, Robert P. Byrne Public Servant for Many Years." The Daily Mining Journal, February 22, 1928
No Author, "Samuel P. Byrne Died Saturday." The Daily Mining Journal, April 19, 1920.
United States. War Department. The War of the Rebellion: A Compilation of the Official Records of the Union and Confederate Armies. Washington , 1894.