Celebrating Dickinson County Achievements – Seven Things to Feel Good About in 2020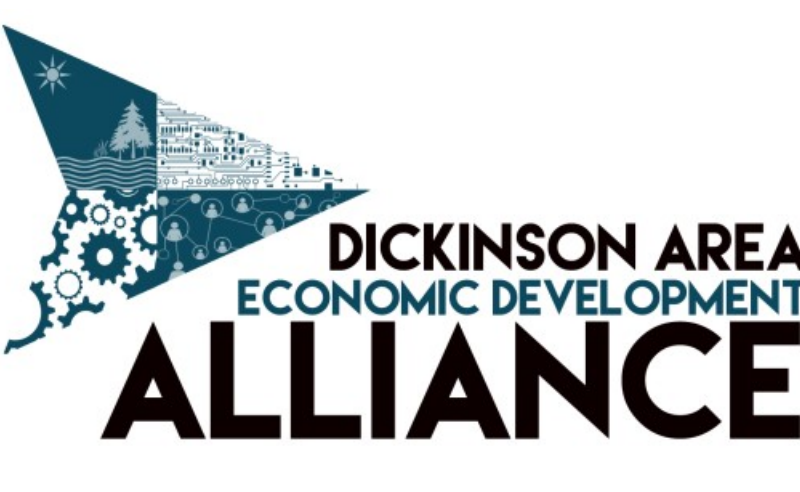 While many would like to forget 2020, we want to focus on the good things that occurred last year. We certainly acknowledge that the pandemic caused a great deal of disruption, pain, and suffering–both personally and business-related for many. We are sure we can all agree that it feels great to be moving into a new year with the hope of defeating the pandemic in 2021.
This past year was not all bad, however. We are grateful for the positive developments in 2020 that provide our community with a sense of progress and hope for a brighter future, despite all the challenges of 2020.
1. Record Support for Loyal to Local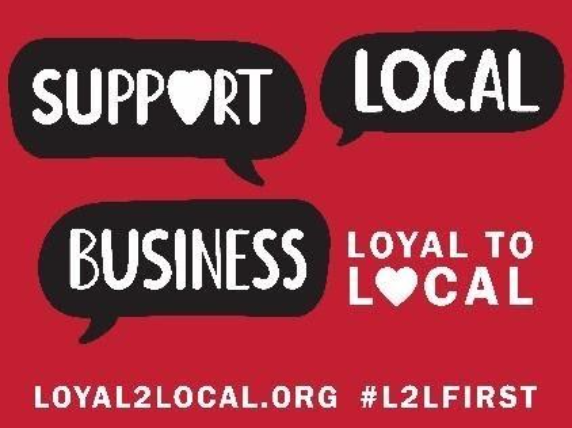 As the pandemic took hold in our area, there was a renewed attention and preference for supporting local businesses and organizations. We saw an uptick in our Loyal to Local program participation and increased awareness among consumers in the region. Our Loyal to Local membership increased by 10%, now totaling 123 local entities – surpassing the total number of participants in the first two years of the program.
According to Loyal to Local participants, their customers stepped up. They supported local businesses by purchasing gift cards and staying local whenever possible. Large employers in the area also recognized the need to support all things local and purchased gift cards in bulk from many area businesses, using the cards as seasonal gifts for their employees. The outpouring of support has helped sustain local businesses during a most challenging time.
2. Pine Mountain Ski Jump Investment
The Kiwanis Ski Club's $3 million renovations of the Pine Mountain Ski Jump has been transformational for the facility.  The investment sets the stage to boost future events' total economic impact in Dickinson County.  The Club recently announced the cancellation of the 2021 Annual Continental Cup Competition; however, we all look forward to 2022 when the FIS World Cup event takes place at the state-of-the-art complex.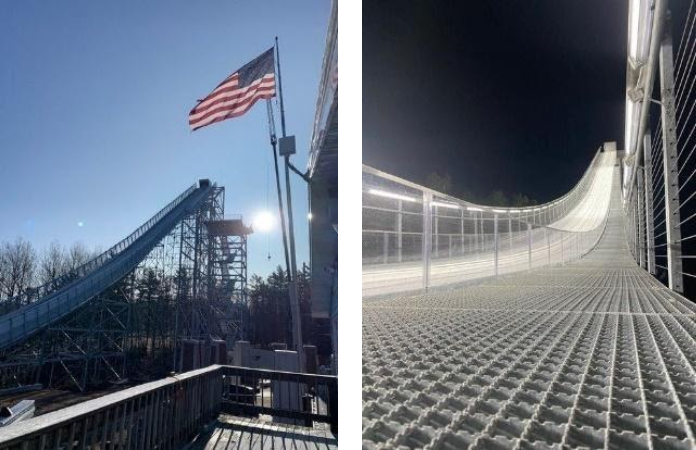 3. Dickinson County Housing Market Assessment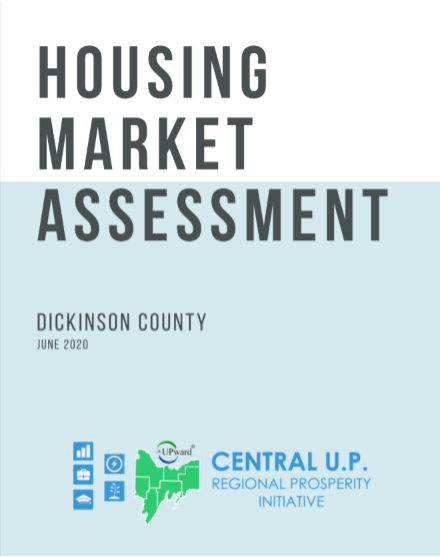 Ask any local employer, and they will tell you of the difficulty in finding available housing when relocating new employees to our area.
  After many local discussions, we collaborated with the Central Upper Peninsula Planning and Development Regional Commission (CUPPAD), who researched and released the 2020 Housing Marketing Assessment for Dickinson County in June.
Key findings highlight opportunities for real estate developers and property owners.  The results of this study show there is a significant demand for rental housing – specifically studios, duplexes, and 2+ bedroom units to support families with children. The market may also support smaller owner-occupied units such as condominiums or townhomes. The study also shows an appetite for upgrading or redeveloping older homes – especially near downtown areas.  The full report is available on our website under the Live and Work tab or here.
4. Downtown Iron Mountain Housing Projects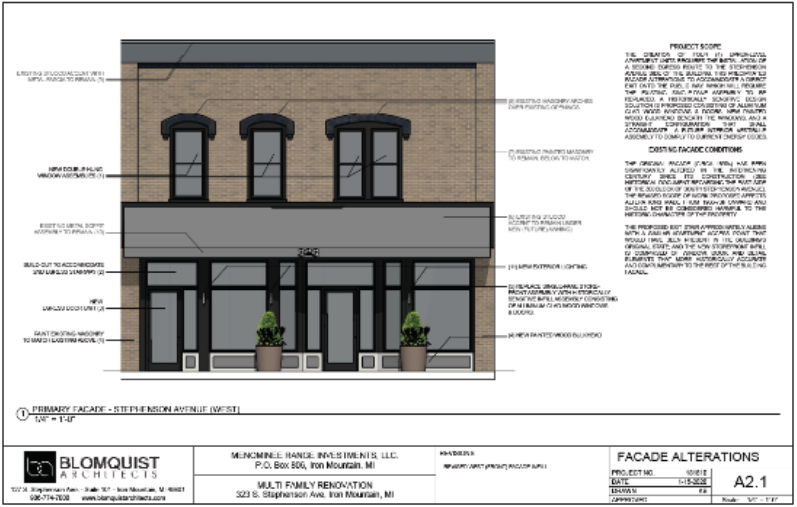 MRI Properties and Eden Property Collection are two new commercial developers that have made significant strides in reinvesting in Downtown Iron Mountain. Some exciting projects that began in the Fall of 2020 include developing residential apartments in historic buildings.
MRI Properties is revitalizing 2,900 square feet of a historic downtown building that has not been fully utilized in 50-75 years. The investment will turn the vacant upper level into four high-end apartments. MRI Properties is also bringing the building up to code, increasing downtown property values across the board.
Eden Property Collection is developing modern living spaces in one of Upper Michigan's most iconic landmarks. The Sandstone Studios is a 7-unit building with one-two bedroom living spaces ranging from 580 square feet to 745 square feet with a shared 2,600 square foot rooftop terrace. Its location offers all the energy and convenience of living downtown. Eden Property Collection has also invested in buildings in downtown Norway and the Menominee waterfront.

5. Our Place Community Center – Imagination Factory Progress
The new Our Place Community Center – Imagination Factory is pushing forward to build the first children's museum in Iron Mountain, despite the cancellation of many fundraising events planned for 2020. Located in the building that formerly housed Iron Mountain's Middle School, the museum will feature more than 30 interactive exhibits and a Way to Grow Garden, a Gathering Place, and a Youth Empowerment Room. 
In May 2020, Lake Shore Systems installed their exhibit modeled after their real-life vessel replenishing system. Visitors will have the chance to transfer supplies from one ship to another. The remaining building renovations are targeted to be completed in January 2021, with additional exhibit installations being completed through March 2021. The Imagination Factory Children's Museum plans to open its doors in May 2021.

6. New Development Coming to the Former Timbers Motor Lodge Property
If you have driven through Iron Mountain, you have passed by the former Timbers Motor Lodge property on US2. The former hotel has long been vacant. Local developer, Eden Property Collection, purchased the Timbers property in late 2019 intending to demo, flatten, and redevelop the property. Demolition took place in late 2020. The group has not yet announced what the future holds for the prominent site in the heart of Downtown Iron Mountain. It is a welcome sight to see the dilapidated structure gone and the site readied for new investment.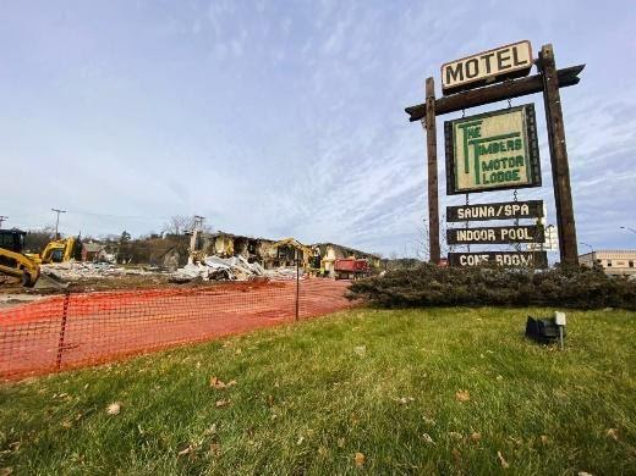 7. County Land Bank Authority Progress
In the fall of 2019, Dickinson County established a Land Bank Authority through the efforts of the county Treasurer.  Throughout 2020, the group worked to approve by-laws and policies.  Just before the initial pandemic closure, the Land Bank Authority along with other local entities hosted an educational workshop about the use of Land Bank tools to help all imagine the growth possibilities.  Finally, in the fall of 2020, the Land Bank Authority exercised its right to purchase tax-reverted property, acquiring two parcels in the City of Iron Mountain measuring a total of 1.77 acres.  The group hopes to spur interest in development of housing units on the property that will help add new options to the limited housing stock in the area.
Encouraging For Our Community
These seven bright spots are very encouraging for our community.  All of these efforts and developments have contributed to the overall strength and resiliency of the Dickinson County economy.  As the year unfolds and we navigate towards a full recovery from the negative effects of the COVID-19 pandemic, we are grateful for the positives that have lifted us into a position for future success. Cheers for a brighter and prosperous New Year for all.