Changes in the UP Economy: 2017-2021
Among the many statistics used to describe a country's economic performance is the Gross Domestic Product (GDP).
An increase in GDP, generally speaking, is a sign that the economy is doing well. It measures the total market value of the goods and services produced within a territory. Goods are considered things that people make, grow, or extract from the land, while services are actions that people do for someone else, such as a dental check-up or computer repair.
This article examines recent changes in the Upper Peninsula's GDP in the aftermath of Covid-19 to determine which sectors of its economy are growing and which are underperforming.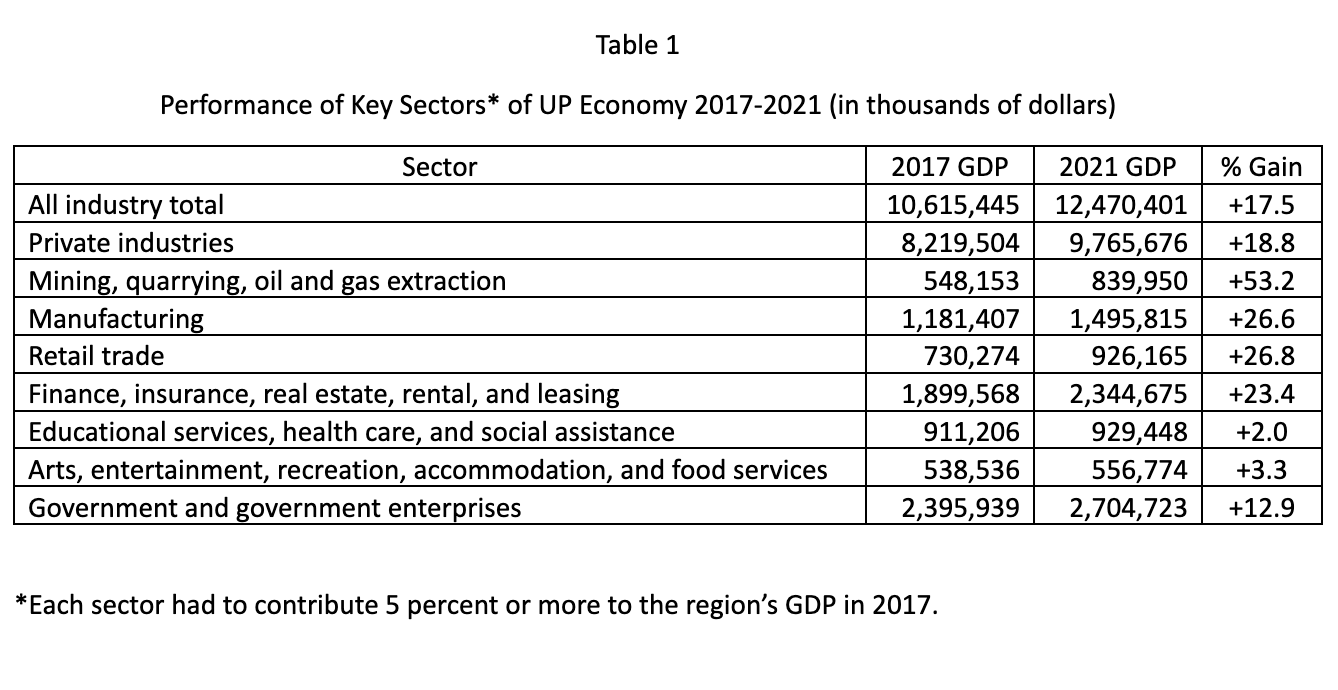 Key Sectors
The GDP data for each of the 15 UP counties were combined, and the major sectors in terms of their contribution to the UP's GDP in 2017 are summarized in Table 1. The largest single sector is government services, at 22 percent. This is a high figure relative to other Michigan counties; the corresponding figure in Ottawa county, in southwest Michigan (with the same population as the UP), is 9 percent. The UP's high figure attests to the numerous federal, state and local government employees in the region.
The next largest sectors are finance insurance, real estate, rentals and leasing (18%), manufacturing (11%) educational services, health care and social services (9%) and retail trade (7%). Together they accounted for over two-thirds of the region's GDP in 2017. Other important contributors include mining (5%) and the arts, entertainment and hospitality sectors (5%). 
Growth in GDP
Between 2017 and 2021 the UP's GDP increased by 17.5 percent, which exceeded the state's figure of 12.2 percent. The region's higher growth rate belies the common narrative about rural areas lagging behind urban areas. Among the region's key sectors – mining, manufacturing, retail and finance, insurance, real estate and leasing – all exceeded the UP GDP growth rate. Increasing commodity prices for iron ore and nickel are responsible for the 53 percent rise in the value of mining's output, while an expanding economy is behind retail and manufacturing's increase. Growth in the real estate sector is driven by rising real estate values. 
According to an analysis of Marquette and Northern Coastal Marquette County conducted for the state's 2022 Housing Plan, the limited housing supply has driven up home values. As a result, the rental and leasing sector's contribution to GDP increased. The importance of this sector to the region's economy cannot be underestimated: in Alger County, another north shore location, it accounts for 22% of the county's GDP, while in Ontonagon, on the west end of Lake Superior, it accounts for 38%. Tiny Keweenaw County has the highest percentage at 44%.  
'Eds and Meds'
Educational and health care services along with the arts, entertainment and hospitality sectors experienced minimal growth. In the past, many rural communities have pursued a so-called 'eds and meds' economic development strategy, relying upon a steady income from higher education and the health care sector to support local businesses. But declining student enrollment and consolidation in the health care sector means that this is no longer a viable strategy.
The announced closure of Finlandia University in Hancock is illustrative. In 2011 over 600 students were enrolled at the institution, but a decade later the number dropped to just over 400. With no students this coming fall, and the loss of an annual payroll of $1.6 million for instructional staff, Finlandia's closure is sure to have a negative impact on the Hancock area. In Marquette County, efforts to balance NMU's budget in line with falling tuition revenue resulted in a $7 million reduction in its operating expenses from 2020 to 2021, mostly in the form of lower instruction and student support expenditures.
Declining student enrollment and consolidation in the health care industry are nationwide issues. Rural hospitals typically have greater shares of poor and elderly residents, which drives up the number of patients insured by Medicaid and Medicare, whose reimbursement rates are lower than commercial insurance. With less income, hospitals often end up cutting services and laying off people. In Sault Ste. Marie, Chippewa County War Memorial Hospital imposed a 10 percent pay cut on employees, in 2014 and again in 2018 as well as eliminating 80 jobs. In 2021, the hospital announced a merger with MyMichigan Health.
The Federal Reserve Bank of Philadelphia has an online tool for measuring how different regions are dependent upon 'eds and meds,' according to which the Upper Peninsula, with its 11 higher education institutions (before Finlandia closed), and 21 hospitals, is overly reliant on these sectors compared to the country as a whole. 
The hospitality sector was hit hard by Covid, and its 2021 output is only up by 3 percent from 2017. There are two notable exceptions to this pattern: Alger and Ontonagon counties. Alger is home to Pictured Rocks National Lakeshore, which saw its attendance shoot up by over half a million from 2017 to a record 1.3 million visitors in 2021. On the UP's west end, Porcupine State Park's visitor numbers more than doubled between 2017 and 2021 to exceed 600,000. Increased tourist numbers resulted in a 30 percent gain in Ontonagon's arts, entertainment, recreation, accommodation, and food services' output. 
Conclusions
First, the good news: the UP's rate of GDP growth exceeded the state's figure. The bad news is that historic mainstays of the economy, 'eds and meds' and the hospitality sector, experienced minimal growth. Tourists are particularly fickle. A year after Pictured Rocks record visitation in 2021, numbers fell by close to 400,000. Fewer visitors mean less money for tourist-related businesses.
Looking ahead, it is critical for the region's future to expand other sectors beyond resource-based industries and real estate. 'It is an ill wind that blows nobody good,' since rising housing costs have translated into a large increase in the rental and leasing sector's GDP but also made finding affordable housing difficult which will, in all likelihood, hamper economic development efforts over the long term.