I (Might Be) Leaving on a Jet Plane: Flight Delays in the Upper Peninsula
"All my bags are packed and I'm ready to go." The opening line of a popular song from the 1960s came to mind over the recent Christmas holiday when thousands of flights were cancelled or delayed due to winter storm Elliott.
The storm originated in the Pacific Northwest and tracked across the northern tier of the country, bringing blizzard conditions and over two feet of snowfall to Marquette. It was the fourth named winter storm of the year; memorably, October's winter storm Betty dropped 18 inches of snow on Negaunee.
These events, and personal experience, prompted this article's consideration of the degree to which flight delays in and out of Marquette have increased due to weather conditions, using data from the US Department of Transportation's Bureau of Transportation Statistics. These data show scheduled arrival and departure times along with the cause of any delay (either carrier or weather-related); a flight is considered delayed when it arrived 15 or more minutes later than its scheduled time.
A weather delay according to the Federal Aviation Administration "is caused by extreme or hazardous weather conditions that are forecasted or manifest themselves on point of departure, enroute, or on point of arrival."
Flight Arrivals and Departures
Marquette is currently served by two regional carriers that feed passengers into the major airport hubs of Chicago and Detroit. This analysis considers the period from 2019 thru September 12, 2022 (the latest date for which comparable data are available). The total number of flights to and from Marquette has fluctuated over the past four years, with the biggest drop occurring in 2020 when Covid caused passenger numbers to plummet.
Flights increased in 2021 as passenger demand recovered from the effects of the pandemic and then dropped again with the withdrawal of service to Minneapolis-St Paul in early 2022 (Table 1). Fewer flights have translated into lower passenger numbers, falling from a peak of 117,000 in 2019 to 91,000 in 2022.
Weather delays are more likely on inbound (42,439 minutes) than outbound flights (36,574 minutes), reflecting the fact that hub airports such as Detroit, Minneapolis-St Paul and Chicago have thousands of arriving and departing flights a day, thus any severe weather event at the airports will produce compounding delays. At the time this paragraph is being written, snowfall in the Chicago area has led to 7% of departing flights being delayed, according to Flightaware. Six hours later the figure was 29%, illustrating how delays cascade over time.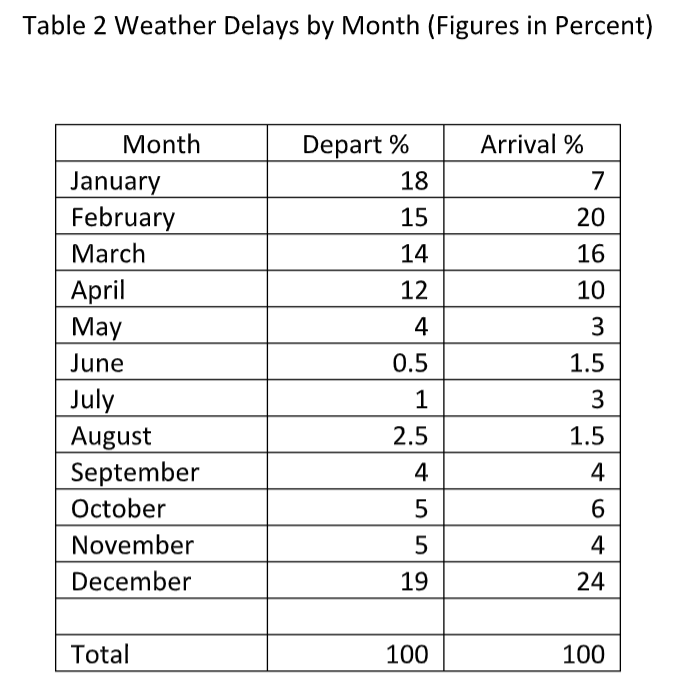 The December-April period accounted for 77 percent of delayed inbound flights, and 78 percent of departing flights (Table 2). For arriving flights during the winter months, the average delay amounted to 288 minutes, for departing flights 261 minutes.
In determining whether delays are increasing, it is important to control for the number of flights, since more flights increases the probability of delays. In 2019, 1,412 inbound flights produced 15,812 minutes of weather-related delays or 11 minutes per flight, the equivalent figure dropped the following year and rose to an all-time high in 2022 (Table 3). Average delays for departing flights are lower than arrivals, reflecting the fact that most departures occur early in the morning, which reduces the likelihood of delays, however, they too reached an all-time high in 2022.

Despite the recent upturn in average delays, it is important to also consider whether the frequency of flight delays is increasing. Between January 1 and September 12 2022, only 7% of flights arrived late due to weather-related problems, while 5 percent of departures were delayed (Table 4). These figures do represent small increases over previous years. In sum, there is some evidence that both the frequency of weather-related delays and the average time of such delays has increased. At the same time, it is important to acknowledge that the likelihood of flight arrival and departure weather-related delay are highly concentrated in the winter months.
Let's Fly Away
The ability to fly in and out of Marquette is important for local residents, businesses and tourists. When Delta announced the ending of its Minneapolis flight, local community leaders were quick to demand the airline reconsider its decision citing the importance of such connections for economic development in Marquette and the Upper Peninsula in general.
A year later the flight has yet to be restored. The analysis of nearly four years of flight arrival and departure data reveal another challenge for the community: increasing weather-related delays. Unfortunately for Marquette, Chicago's O Hare airport has the dubious distinction of being among the most heavily-delayed airports in the country.
In 2018, passengers spent a collective 1,133 years delayed on departure at the airport, while Minneapolis St-Paul ranks in the top 5 major US airports for delays during the winter months. Moreover, climate change and its association with extreme weather events raises the possibility of further increases in delays. 
Perhaps it's time to consider providing an alternative to flying and driving for UP residents, particularly in light of efforts to reduce carbon emissions. In Minnesota, community leaders have lobbied for the Northern Lights Express, a proposed passenger train service between Minneapolis and Duluth, making the 150-mile journey in two and a half hours.
After twenty years of advocacy the plan is close to implementation. In Michigan, state and federal funds have been allocated towards improving a state-owned rail link between Traverse City and Ann Arbor, with the ultimate objective of establishing passenger rail service.  These investments suggest that a passenger link from Marquette to Green Bay and on to Milwaukee is possible, yet acquiring funding and securing collaboration between two states make it unlikely.
In the meantime, flyers in and out of Marquette during the winter will need to pack some patience along with their belongings and remember to check with your airline carrier before leaving for the airport.