Iron Mountain VA Medical Center Opens $12M Addition to its Community Living Center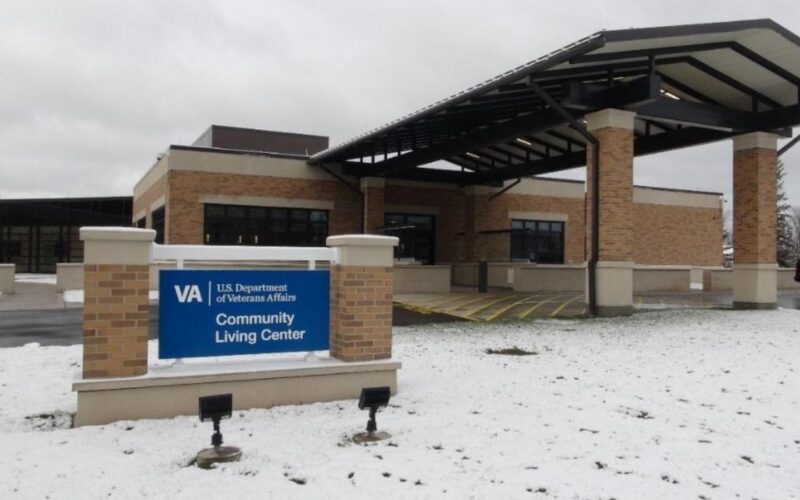 In the entrance of the Community Living Center at the Oscar G. Johnson VA Medical Center are the words, "The price of freedom is visible here." The residents who live here are Veterans who honorably served our country and willingly wrote a blank check that could have been the price of life itself.  
Some of these Veterans served in combat theaters and have scars, both visible and unseen.  Some make the 40-bed Community Living Center their home while others spend time here for rehabilitation.  
These Veterans served to protect our freedoms, and now it is our turn to serve them and provide them the best care we can.  
In keeping with that pledge, the VA medical center dedicated the newest addition to its facility on October 28 with a ribbon cutting ceremony.
The $12.1M project adds 12,300 square feet to the Community Living Center and renovates nearly 4,000 square feet of the existing facility. The project specifically provides eleven more single-occupancy rooms, allowing all our residents to have their own rooms.  This includes four spacious and accommodating hospice rooms with walk-out garden views.  
The new addition also creates a more homelike environment with more space for dining and recreation, as well as a barber shop and living room area.
I invite you to view the video of the ceremony highlights and interior views of the new addition.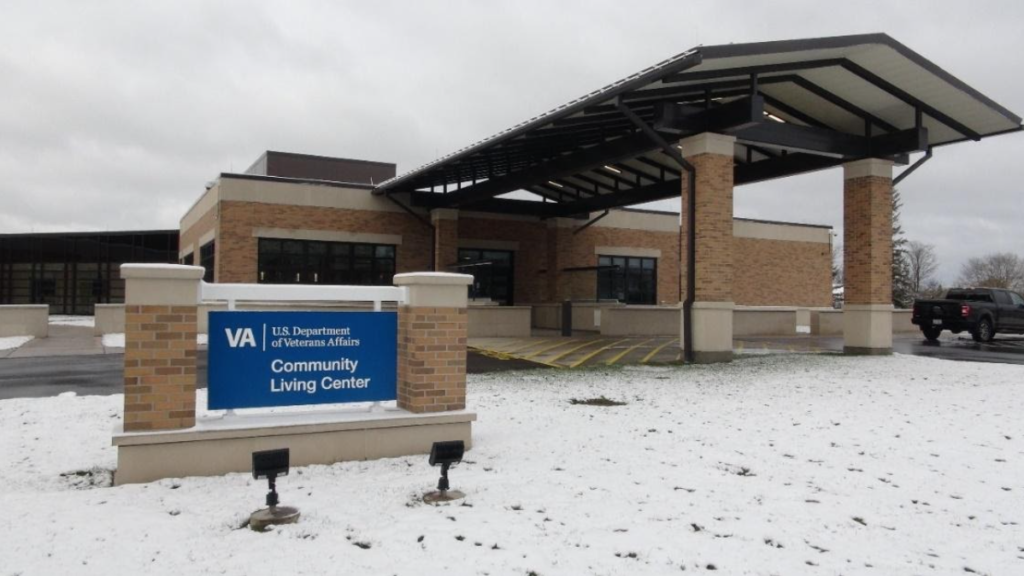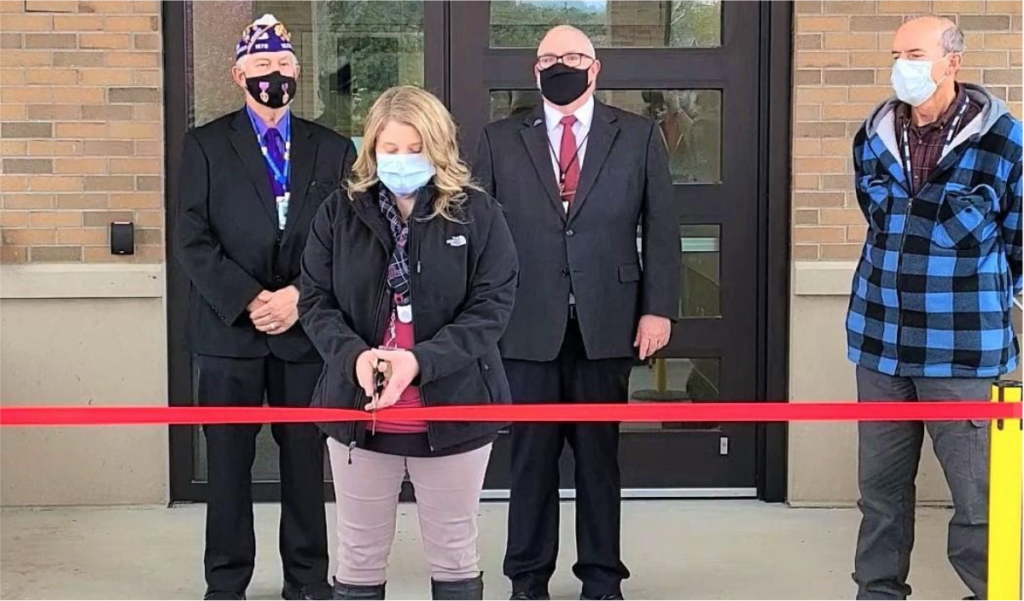 The Oscar G. Johnson VA Medical Center recently opened a new addition to their Community Living Center (CLC). Cutting the ribbon to open the new space is Daniella Denboer, CLC nurse manager; looking on are, from left to right: Dale LaPalm, past Commander of the local Military Order of the Purple Heart chapter; Paul Seim, Associate Chief, Inpatient Nursing and Patient Care Services; and Mike Seda, Engineering Technician.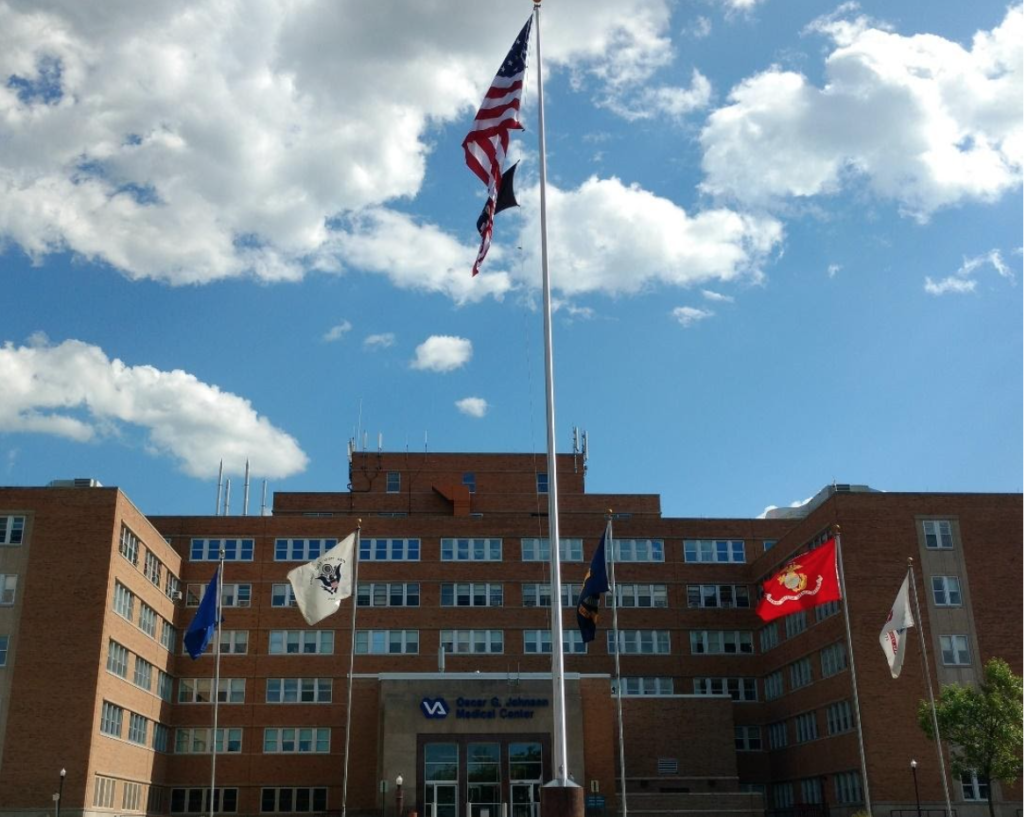 About the Oscar G. Johnson VA Medical Center
The Oscar G. Johnson VA Medical Center (OGJVAMC) is located in Iron Mountain, MI, and is celebrating 70 years of serving Veterans this year. The facility oversees six Community Based Outpatient Clinics (CBOCs) located in Ironwood, Hancock, Marquette, Sault Ste. Marie, Menominee, MI, and Rhinelander, WI. In 2021, OGJVAMC will be opening a new CBOC in Gladstone, MI. It also operates a Rural Health Outreach Clinic in Manistique, MI.  
The facility was named the Oscar G. Johnson VA Medical Center to honor a local WWII Veteran and Medal of Honor recipient. Mr. Johnson was a Foster City, MI, native who was honored for singlehandedly repelling six major counterattacks in the mountains of Italy in 1944. 
OGJVAMC and its CBOCs/Rural Outreach Clinics annually serve over 20,000 Veterans over 98 percent of whom are living in rural or highly rural areas making the facility the most rural VA Medical Center in the nation. OGJVAMC has the largest geographic patient service area east of the Mississippi River, encompassing fifteen Michigan counties and ten counties in northern Wisconsin. It is home to approximately 57,000 Veterans, over 26,000 of whom are enrolled in VA's health care system. 
OGJVAMC employs more than 760 staff at its main facility and community-based outreach clinics and is one of the largest employers in Dickinson County, MI.  
OGJVAMC is a primary and secondary level care facility with 17 acute care, general medicine beds. The main facility has an Urgent Care Center and collaborates with larger VA Medical Centers in Milwaukee and Madison, WI, as well as local community health facilities to provide higher-level emergency and specialty care services. OGJVAMC also provides rehabilitation and extended care, including palliative and hospice care, in its 40-bed Community Living Center. 
OGJVAMC provides ambulatory and acute health care in areas of audiology, diabetes, dentistry, geriatrics and extended care, general medicine, home-based primary care, mental health, neurology, oncology, optometry/ophthalmology, palliative/hospice, physical and occupational therapy, prosthetics, podiatry, post-traumatic stress disorder (PTSD), psychiatry, radiology, sleep studies, speech, spinal cord injury (SCI), substance abuse, surgery, urology, weight management, and women's wellness. 
OGJVAMC is a leader in rural health care delivery in VHA and employs state-of-the-art telehealth audio visual technology.  Telehealth has greatly improved access to specialty care for rural Veterans by bringing these services closer to the Veterans' homes. OGJVAMC currently supports telehealth for primary medical care and 63 specialty care areas, including many of the services noted above. 
Highlights:
Awarded the "Best Experience Award" in July 2019 and February 2020 in the small level facility category. OGJVAMC was one of twelve selected finalists as a top performer in both patient experience and employee experience.

Consistently rated as 1 of 8 VA hospitals in the top 10% of all VA hospitals in terms of patient satisfaction since 2012.

Ranked 1

st

in "Employee Satisfaction" (out of 128 VA's)

Ranked 3rd "Best Place to Work" (out of 128 VA's)