NMU Educational Access Network Has Big Impact on Rural Education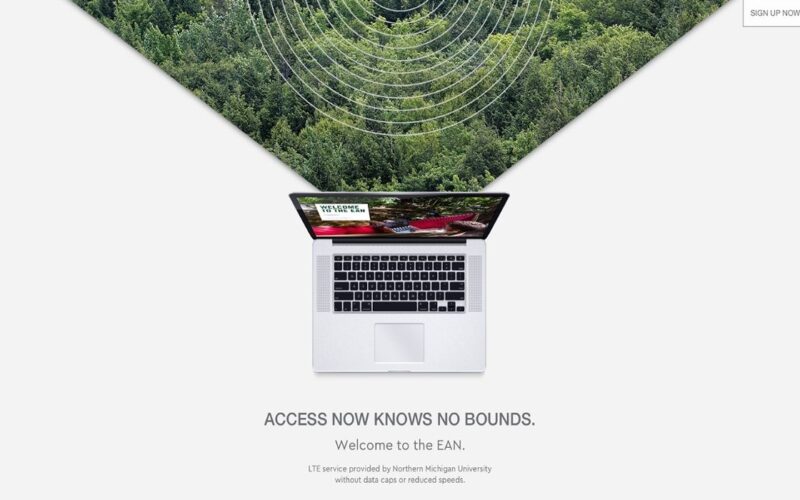 Imagine, for a moment, life without the internet. For some of the Upper Peninsula's most rural residents, the lack of affordable broadband is a harsh reality blocking access to a host of services that educate, inform and enrich.
The issue has been so severe that in 2008, Northern Michigan University (NMU) launched the nation's first educational WiMAX broadband internet service to aid its off-campus students with their studies.
Twelve years later, that effort has matured into NMU's Educational Access Network (EAN), a carrier-grade, LTE data-only broadband system serving 113 U.P. communities and their schools, over 7,000 families and nearly 8,000 University faculty, staff and students.
The need for broadband designed specifically for education has never been greater. COVID-19 has forced most schools into hybrid instruction models that combine flipped classrooms, remote learning and face-to-face instruction.
With Chromebooks and iPads now standard-issue for most K-12 students, broadband is the essential link that connects them with their online classrooms. The Internet has become a "must-have" for today's learner. Those without service fall into what is commonly called the "homework gap."
For many, school-appropriate internet is hard to come by in the remote, rural U.P.
Satellite broadband can be an option, but connections are often slow, expensive and usually come with a data-cap and long-term contract. For some families, the problem is more fundamental as unfiltered internet service can expose children to not-so-subtle dangers lurking online. 
The EAN is helping to address this homework gap around the Upper Peninsula.
NMU has partnered with area schools, townships and cities to build a wireless network infrastructure that delivers appropriate, educational broadband to students and the rural K-12 families that frequently are "off-the-grid," or at least near its edge.
Working with community leaders around the U.P., NMU has identified some of the most vulnerable communities that lack broadband service. Using radio-frequency spectrum granted to NMU by the Federal Communications Commission (FCC), the University has built its EAN as an affordable service that offers a Child Internet Protection Act (CIPA) option, filtering website traffic in a way found at local public schools.
In addition, all EAN users gain access to "micro" or "nano" learning modules covering a variety of topics designed to promote life-long learning. From small business to health care topics, these short, bite-sized classes offer a different kind of learning as part of the EAN standard internet package.
Phase one completion of the EAN is slated for the end of 2020. While its impact on teaching and learning is still under review, early anecdotal reports show that the service makes a difference.
In the 900-resident town of Engadine, for example, a single tower provides internet coverage for a nine-mile radius centered on the town. A number of students, previously without service, now have off-campus access to their Google classroom assignments.
However, for some students, the availability of high-speed internet in this community is more profound. Korah Hopper, age 12, studies saxophone and for years shared dial-up internet with her five siblings and her dad.
Uploading her practice music sessions for teachers to review used to take hours. EAN, however, changed all of that and her story can be heard in this short news story produced by National Public Radio.
Likewise and 3-1/2 hours to the west near the town of Watersmeet, members of the Lac Vieux Desert Band of Lake Superior Chippewa Indians recently acquired Chromebook computers for their children as part of a one-to-one computing program in the Watersmeet school.
Although their computing program gave them access to devices, a number of students and families lacked broadband in their home.
Working jointly with Tribal leaders, NMU upgraded its wireless internet in the community, providing an initial 50 internet connections for remote-learning students. Early success with this initiative has brought NMU and the Tribe back together to explore expanding internet access to other regions of this Tribal community.
It's clear that while online pedagogy continues to evolve, high-speed broadband is now firmly entrenched as an essential tool in the learning process.
Eliminating the "digital divide" is likely one of the best ways to ensure that rural America does not get left behind as we help learners of all ages reach their potential.
NMU is proud to be a contributor in closing the homework gap, and believes that collaboration with individual communities interested in addressing this goal is beneficial to the entire region.