Norway Michigan: A Classic Community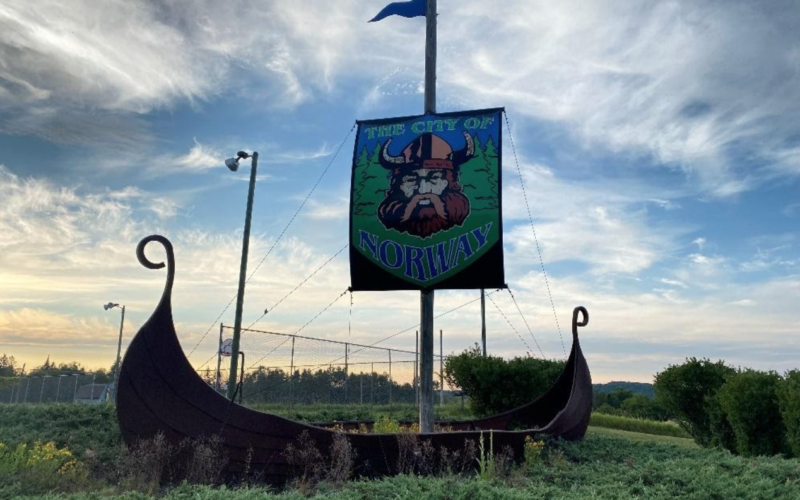 Photo credit: Mountain Media House
We had the opportunity to interview Norway City Manager Ray Anderson for this piece that highlights news and current happenings of interest in the community of Norway. We hope you enjoy it and learn a few things that might surprise you.
The City of Norway, population 2,774, is located in Dickinson County in Upper Michigan, along the Menominee River and the Wisconsin border. Norway honors the rich history of the Scandinavian people, as evidenced by the Viking ship replicas that mark the main entrances to town. This tradition is complemented by a city council that anticipates the future needs of its residents.
When we met with Ray for this article, his main priority was ensuring a successful State Little League Tournament for 8-10-year-olds at Norway's Marion Park complex. Sixteen teams from across Michigan were in town in late July, competing for the state title. The tournament is an opportunity to showcase the City's amenities and multi-use recreational areas to a broad audience of attendees.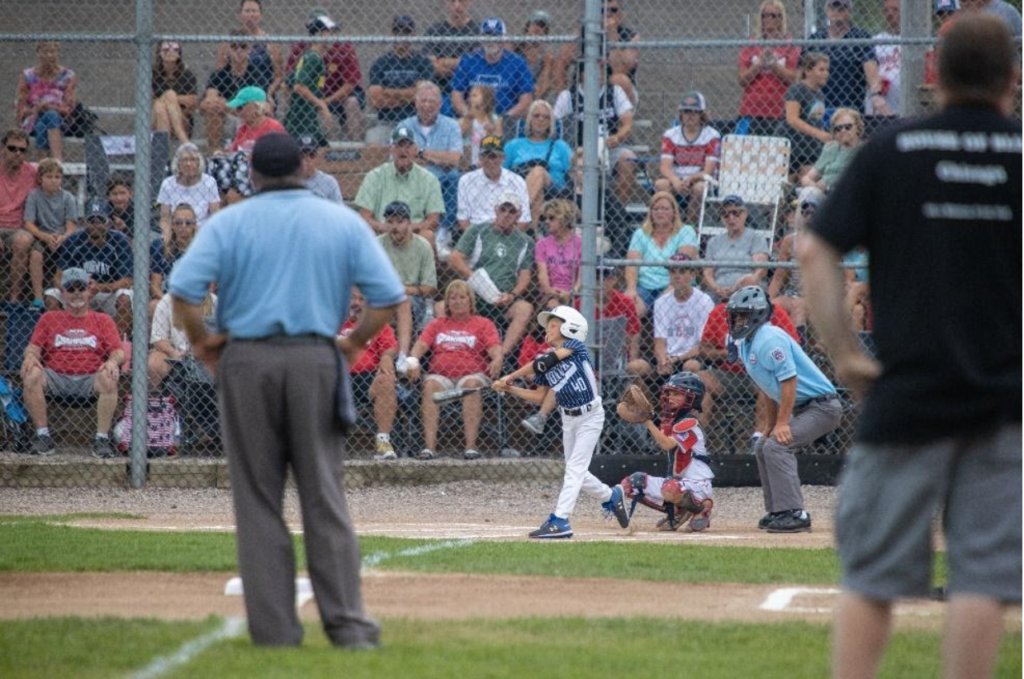 Photo credit: Mountain Media House
Little League fun aside, there is much to celebrate in this small town in Dickinson County.
Infrastructure keeps pace with trends
A priority of the City of Norway is working to encourage residential development on nearly 200 acres of City-owned property along Oak Crest Drive. The property is suitable for single-family, condominium, and duplex developments. The property has electricity installed, and the City is looking for a developer to provide water, sewer, and 1 Gig broadband fiber connections. This new community development will boast quick access to Marion Park, Piers Gorge Recreation Area, and the Oak Crest Golf Course, as well as the downtown corridor. 
Speaking of broadband, while Norway operates one of the oldest cable systems in the country, they have kept up with Broadband demand. They now offer 1 Gig fiber connections in addition to cable TV subscriptions while continually looking for opportunities to expand their broadband access to more rural areas.
The City of Norway operates a robust and green energy hydroelectric dam system on the Menominee River that produces 95% of the energy needed by the community. In fact, 108% of demand was produced last year. The City was able to sell the excess power through their energy partner – WPPI Energy. As a result, the electric system has a high level of reliability and peace of mind that the green power production maintains the area's clean environment.
Norway is also home to the only Level 3 electric vehicle charging station in the Upper Peninsula. The City recognized the changing infrastructure trend required by electric vehicles and installed the charging station in a prominent downtown location on Main St. in 2020. As demand increases, the City will expand with additional charging stations. 
Norway is known for its superior water quality, and it has been independently validated by the American Water Works Association and Michigan Rural Water Association. The City has twice entered the competition and won on both entries. The Norway Spring is a popular natural spring at the west entrance to the City for visitors near and far. Residents from neighboring communities and tourists alike fill their water bottles and containers with fresh, cool, and delicious spring water.
Outdoor activities surround the City
Getting out into nature in Norway is as simple as stepping out your door. A growing network of interconnected parks, trails, lakes, and rivers encircle the City proper and make access to year-round recreational opportunities fast and easy from all neighborhoods. Whether you are a seasoned runner, occasional walker, active biker, ORV, or snowmobile enthusiast, you will find many opportunities to get out and enjoy the trails and park areas.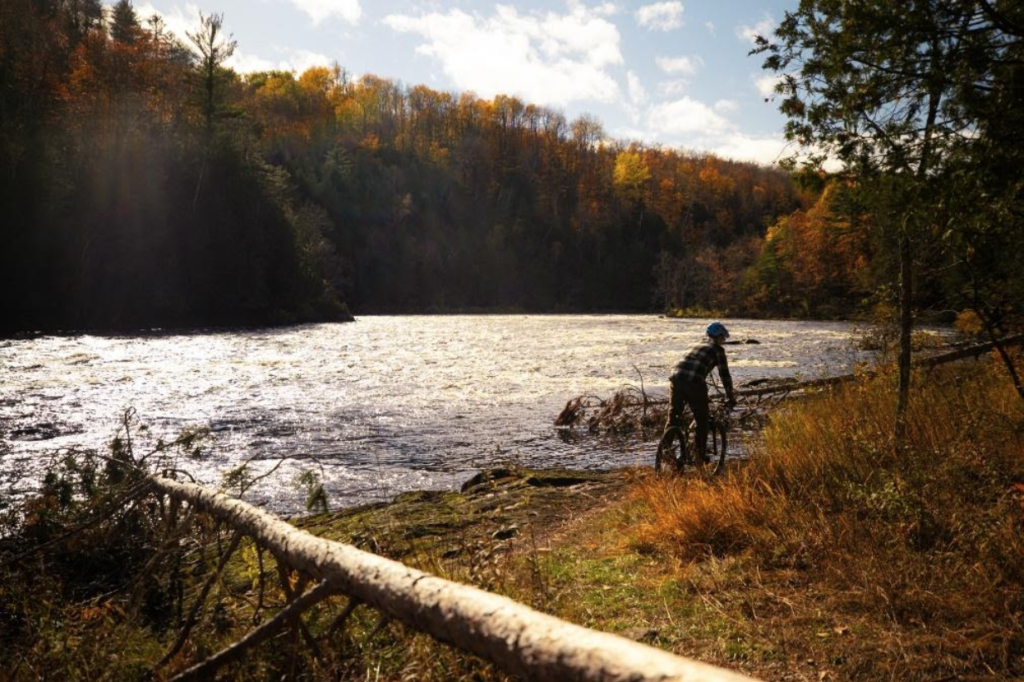 Photo credit: Mountain Media House
You can traverse the area by visiting Strawberry Lake Park, Hanbury Lake Park, Marion Park, the Norway Myr Wetlands, and the Norway Spring Park, all of which surround the town's center. In particular, the Strawberry Lake amenities are closest to downtown and appeal to all ages and abilities.
The City of Norway enjoys a robust partnership with the Dickinson Trail Network (DTN). It recently added 20 miles of new interconnected, non-motorized trails strategically around the community. 
The Ogee trails at Marion Park are for all ability levels and connect Marion Park to the Piers Gorge Recreation Area on the Menominee River. In October, DTN will host the Ogee Challenge at Marion Park, the first mountain bike race of its type to grace the area in more than 25 years. Recently, Norway and DTN collaborated to complete enhanced trail mapping to document trail locations for emergency services.
As we spoke, Ray joked that back in the mid-1990s a community engagement session identified the tagline, City of Trails, as a goal, but at the time, "there wasn't a foot of actual trail to speak of." Now, two decades later, Norway can fully represent that moniker.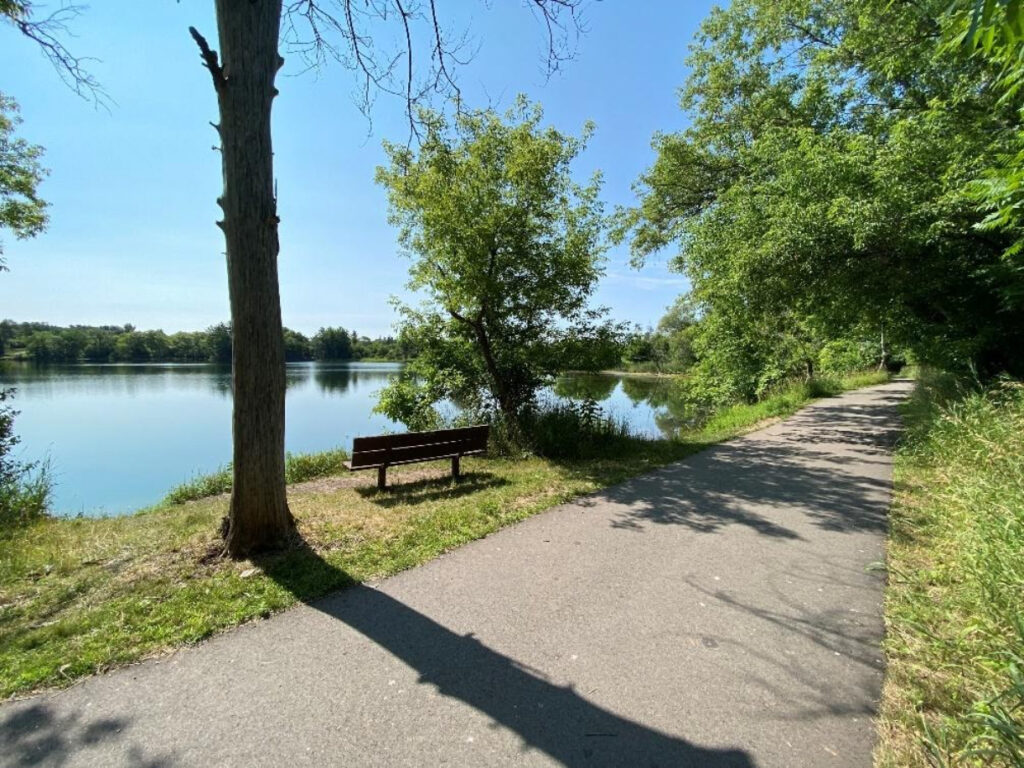 Photo credit: Mountain Media House
For those interested in motorized recreation, Norway welcomes ORVs, ATVs, and snowmobile users on city streets, making for easy mobility throughout the community and quick access to services such as gas stations and restaurants.
While parks and outdoor recreation are a major focus in the community and are easily accessible from all points across the town, they are not the only amenities.  
Smallmouth bass anglers know the section of the Menominee River that has one of the best fishing locations in the Midwest, drawing fishing guides and enthusiasts each season.  
Also along the banks of the Menominee River are four rustic campsites, which are in the process of being updated as part of a local area Eagle Scout's service project.
A strong sense of community and tradition
Each October, the Leif Erickson Fall Festival is held, honoring the town's name and celebrating all aspects of the Viking heritage. The festival offers many activities, including a parade, art and antique displays, musical performances, and the unique funeral pyre, boat burning on the Night of the Viking.
Ray regularly meets with K-12 students at Norway Public Schools to keep them engaged in what happens in their community. Students have provided input on issues such as recreational activities for youth and curfew initiatives. The City also educates students on topics that the city prioritizes, such as water conservation and green energy.
Norway boasts a classic downtown that holds all the charm you might expect to find. Its restaurants offer outdoor dining options and outdoor activities, such as beach volleyball nights.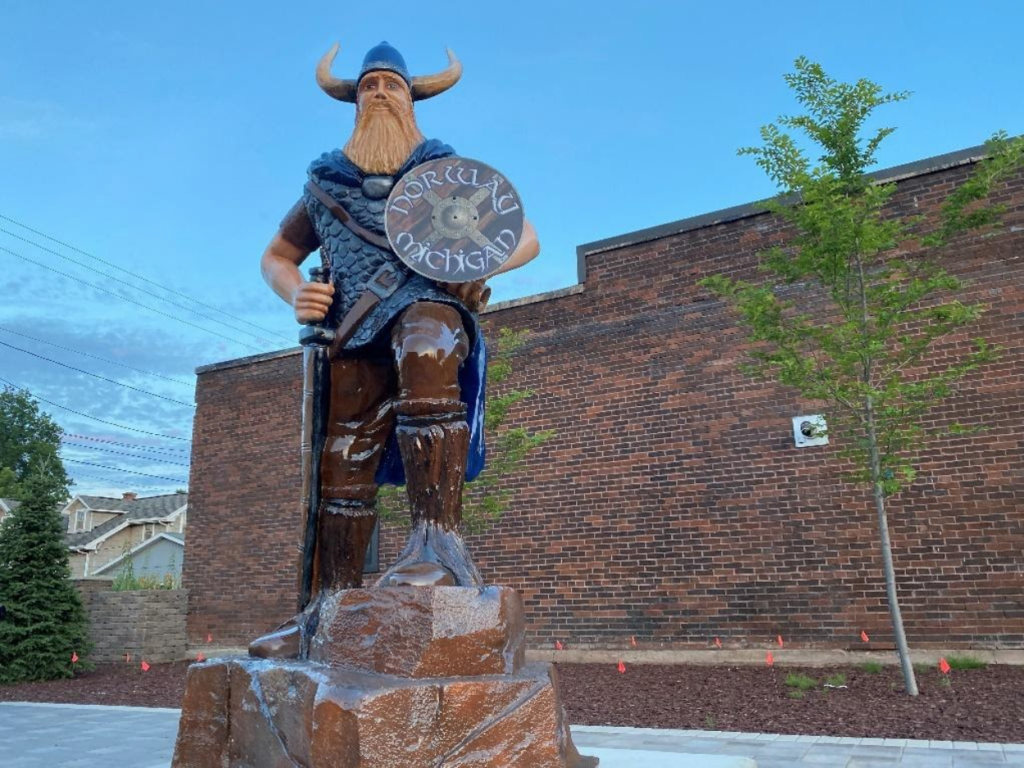 Photo credit: Mountain Media House
The Norway Band Shell on Main Street is your destination for live music on summer evenings. Norway has the longest continuously performing municipal band in Michigan. The City Band performs throughout the summer, led by Senator Ed McBroom. On Thursday evenings throughout the summer, Music in the Park features local and regional musical acts.
With its ideal gateway location, abundant natural attractions, and classic Main Street, Norway offers a distinct UP experience in Dickinson County, with plenty of options for families, adventure-seekers, and people of all ages to get outside and enjoy a classic small Midwestern town.