Rural Voices: Jon G. LaSalle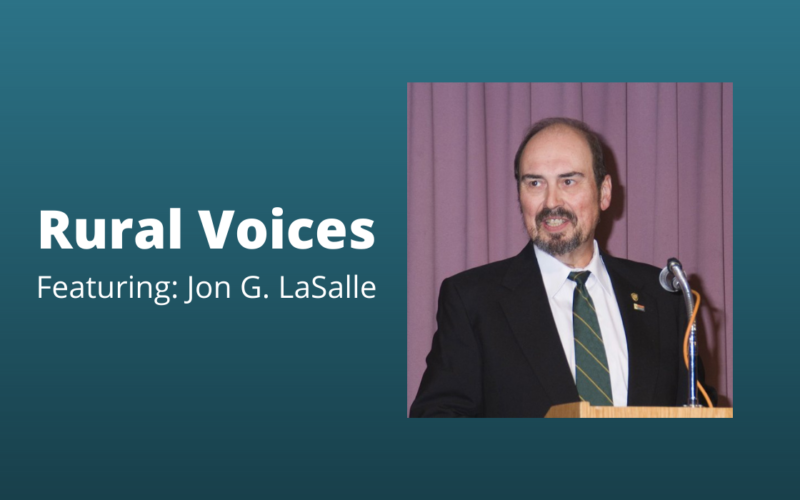 My name is Jon G. LaSalle and I was born on June 11, 1948 in a small town in Eastern Delta County by the name of Nahma (nay'-ma).
I was raised on our family's homestead near Fayette Historic State Park on the Garden Peninsula. I attended school in a two-room schoolhouse in Fairbanks Township called "Mud Lake School" that had K-4 in one room and 5th-8th grades in the second room.
This area is very rural and isolated–not getting telephones until 1961-62. The area economy was, and to some extent still is, dependent on farming, logging, commercial fishing, and construction. Some residents work at a combination of those occupations.
While growing up on the Garden Peninsula, there were a number of values that I learned to apply in my everyday life, and particularly, in my future work. My parents were always urging me to do the best I could when taking on a work assignment, from hoeing potatoes, playing high school football to earning a baccalaureate degree.
My people used a lot of "old sayings" as they called them. My Dad emphasized that "a job worth doing was worth doing well." Another value was persistence, as applied by not quitting a job or task until I learned about it, understood it, and accomplished what I started. They valued "hard work" and effort, making me understand that life was not easy and only hard work and my best effort would lead to success.
My folks urged me to forgive others for their transgressions and cautioned me that I should not be too quick to judge others, because often we do not have true understanding of circumstances. Living in a rural area where everyone knew everyone else, people tended to be accepting of others.
From an early age, I was taught the "value of a dollar" through the example of hard work exhibited by neighbors and my parents. My Dad was a Michigan Licensed Commercial Fisherman who had a crew of 4 to 8 people, depending on the season, and a large net shed where I hung around as a little guy.
The language in the net shed was Canadian dialect French, and I picked up a lot of words and phrases, many of them not welcome when I started school. But I did see these men work hard and wanted to be part of that experience.
When I was nine years old, a family relative, Bill, who was a dairy farmer, came to our house and asked my Dad if I could work for him, as he was starting to harvest his hay crop and was short handed. My Ma said, "No, he's too young," but my Dad quietly suggested to her that I would be safe enough and that I had to "learn the value of a dollar."
He asked me if I wanted to go with Bill and I said, "YES!"
That was my first job. Later, I would work in the woods during the school year after school and on weekends peeling cedar in winter and Aspen in the spring before the farmers began harvesting hay, wheat and oats.
Those experiences as a kid were the genesis of my relationship with work and the formation of my values.
While my folks allowed me to work on farms and "in the woods," it was always stressed to me that I had to get an education and had to get good grades throughout my schooling. My folks had a desire for me to "go to college" and perhaps pursue a profession, but in any event, they wanted me to work with knowledge skills over physical skills.
I was also an altar boy at our local Roman Catholic church, St. Peter the Fisherman parish. While I am not religious now, I did form a solid ethical and moral system by which to live with others that has served me well all of my life.
After graduating from Northern Michigan University with a baccalaureate degree, I started my apprenticeship as a Construction Ironworker at the former Mead Paper Company facility in Escanaba, building various structures and installing machinery.
It was during that time that I became involved with my union and was the first apprentice to ever be seated on the Bargaining Committee for our local union.
About halfway through my apprenticeship I decided to continue my education, and with my interest in trade unionism, pursued a course of study in Industrial and Labor Relations at the University of Minnesota. That experience gave me an academic perspective on Labor Relations and a lot of great tools that I used the remainder of my work life.
This move to graduate school was done with the permission and consent of my union and I finished my apprenticeship after I finished my course of study in Minneapolis.
Later, I was offered and accepted a staff representative job with the American Federation of State, County and Municipal Employees, AFL-CIO. I went on to work for the Michigan State AFL-CIO as an Upper Peninsula representative, and after that, I was hired by the Michigan Building and Construction Trades Council, AFL-CIO, where I finished my career after 21 years of service.
In 2004, I was inducted into the U.P. Labor Hall of Fame in recognition of my work representing labor, organizing workers, political organizing for unions, and work helping to organize the Labor Movement to better represent our members. Two years after that, in 2006, I retired at 58 years old from union work.
In 2007, my wife and I started a "political campaign consulting" business, mainly managing campaigns. Our success rate was 2 wins out of the 3 campaigns we managed to completion. 
We retired a second time in 2017 and now travel, read, and work hard at having fun. I always felt that I was one of the luckiest Yoopers to not have had to move away from the Upper Peninsula to make a living. Whether I worked at my craft, Ironwork, or my profession, Trade Union Representative, or our business in Campaign Consulting, we were able to make a good living and a good life for ourselves here in the U.P.
I also believe that through the benefit of a great education, from kindergarten to the University of Minnesota, I got all of the tools I needed to reach intellectual and financial success.
Plus, working most of my career covered by a collective bargaining agreement, I achieved a comfortable retirement.