The Trouble with Tourism: Munising's Economic and Demographic Challenges as a Seasonal Destination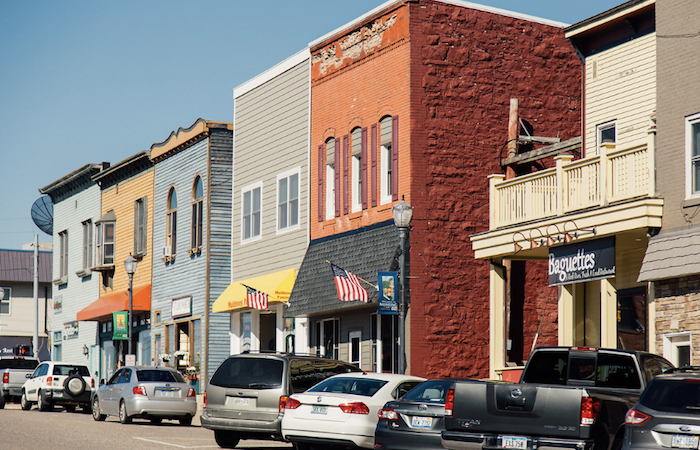 Tourism is considered a desirable industry, providing jobs and boosting economic activity. Recognizing that mining and forest resources were being depleted, UP residents founded the Upper Peninsula Development Board in 1911 to diversify economic activity.
Within a few years it published its first leaflet targeting tourism markets in Milwaukee, Chicago, and Minneapolis-St. Paul. From the outset, the region marketed its outdoors experiences to tourists. A hundred years later, that tradition continues.
One UP community that has achieved a degree of notoriety from tourism is Munising, the "Gateway to Pictured Rocks."
Between 2010 and 2020, the number of park visitors increased from approximately 500,000 to 1.2 million, and their presence has greatly affected Munising.
In July 2018, The Detroit News characterized its development as "a tourist boomtown," with local boosters identifying new businesses as one of the benefits of increased tourism. At the same time, some local residents complained that tourists were behind traffic increases, parking difficulties, and long lines at restaurants and supermarkets. 
Community developers concede that for destination residents to accept tourism as a means of economic development they have to see tangible economic and social benefits from the activity, otherwise tourists are likely to be resented.
This article attempts to determine the tourist boom's impact in Munising and Alger County over the 2010-2019 period by identifying major demographic and economic changes, using data from the Bureau of Labor Statistics, US Census's American Community Survey, and the Michigan Department of Education. 
Despite the increased number of visiting tourists, the number of people residing in Munising fell during the 2010-2019 period from an estimated 2,542 to 2,200 while the number of employed city residents dropped from 957 to 822.
At the same time, the number of persons employed in tourism-related activities–specifically entertainment, recreation, accommodation, and food services–increased from 117 to 193. By 2019, the largest share of the town's employed population (23 percent) was employed in this sector, almost double from a decade earlier.
These same patterns are exhibited in Alger County. From 2010 to 2019, its population dropped from 9,604 to 9,151, with the number of employed persons falling by 267, while the number of persons employed in tourism-related activities increased, from 380 to 607. By 2019, tourism was the largest industry in the county, exceeding the number of persons employed in education and health care (514) and manufacturing (463). 
The problem with jobs in the hospitality sector from an economic development perspective is that many are part-time, seasonal, and relatively low paying. Bureau of Labor Statistics data for 2019 indicate that the average weekly wage in Alger County for a person employed in the leisure and hospitality sector was $336, compared with $746 for all industries.
The seasonality of Munising's tourist season is reflected in Pictured Rocks' tourist counts: in 2019, the number of monthly park visits ranged from a low of 5,772 in November to a high of 213,448 in August. 
Indeed, 78 percent of total park visits occurred during the months of June, July, August and September. For some businesses this means closing once the tourist season is over, for others it means laying off staff, as there are fewer customers to serve.
The nature of tourism and its increasing importance to Munising is reflected by relatively modest increases in median household income (the median is the middle value of all household incomes ranked from highest to lowest).
In 2010, it was $34,650, and by 2019 it had reached $36,250–a gain of $1,600. By comparison, in the city of Norway–a similarly-sized and far less tourism-dependent UP community–the gain in household income during the same period was $6,500.
In the US, median household income is typically less than family income since households typically consist of either a young or older person, while families have two wage earners. This pattern is evident in Munising, where the gain in family income during the study period was $7,000, compared with Norway's corresponding figure of $9,000.
Further evidence of tourism's inability to boost the overall economy is found when examining the economic profiles of students in Munising Public Schools. In 2010, 301 students out of a total enrollment of 670 (44.59%) came from economically disadvantaged households, and by 2019 that figure rose to 346 students out of 646 (53.56%).
Estimates of families living below the poverty level in the city rose from 6.1% to 13.4% during the same period. These data indicate that while tourism is increasing in importance for Munising's overall employment, these jobs appear ineffective at meaningfully boosting city residents' incomes. 
The increase in tourists has undoubtedly contributed to the success of some local businesses. Based on its recent growth, in 2021 Munising's Uncle Ducky Outdoors was named as one of the "Michigan 50 Companies to Watch" by Michigan Celebrates Small Business.
In 2017, Tracey's restaurant in the Roam Inn was voted best new restaurant in the state of Michigan by Buzzfeed and Yelp. Tourists have also created demands for other businesses, including a coffeehouse and two microbreweries.
Tourism's growth has created additional demands for local housing. The city recently received a Community Development Block Grant to assist in the refurbishment of a downtown building for three new one-bedroom apartments, two of which would be for low-to-moderate income households.
Looking ahead, plans are being made for the Munising Market Place, "a three-story, mixed-use building that will house 38 mixed-income residential units and a collaborative workforce center designed to foster job creation and placement, serving area workers and businesses."
Without tourism, Munising's economic fortunes would be diminished, but given the nature of jobs in the hospitality sector–seasonal, low-paying and often part-time–it is asking a lot for this sector to boost the overall economic well-being of the city's residents.
The trouble with tourism is: it's complicated.