U.P. Scholars Program: Greater Than the Sum of its Parts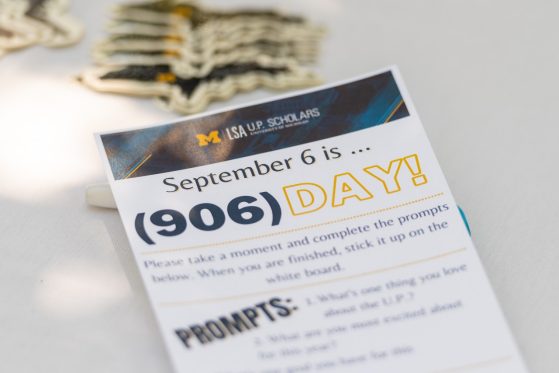 "Yooper culture is so unique to Michigan; it's a real, common bond that all of our students from the U.P. share. I've wanted to celebrate (906) Day since the inception of the program," said U.P. Scholars Program Assistant Director Cheyenne Marlin. "And the date, 9/06 (September 6), is an ideal time when students are newly on campus to gather everyone from the U.P. student community together to make connections, share a meal, give (and get) some pointers about life on campus, and kick off the fall semester in a fun way."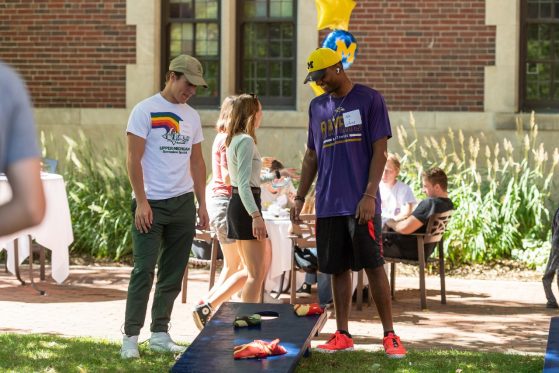 '
"To be able to celebrate (906) Day together for the first time this year—after we were all off campus for so long—felt extra special," Marlin reflected.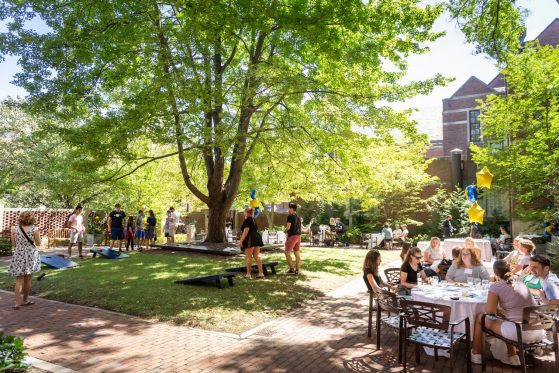 Students enjoy the (906) Day picnic in the courtyard at the Michigan League.
Ann Arbor can seem like it's a world away from the U.P. Another student's answer to the question posed on (906) Day was, "The peace and quiet, the serenity."
Though the U.P. covers almost 30 percent of Michigan's total landmass, the group of Yoopers at U-M is relatively small—about 210 undergraduate students from the Upper Peninsula are enrolled for the fall 2021 semester. Though in-state, the university's distance, cost, size, and even its demographics, can make it seem out of reach for those who grew up in the vast and rugged swath of land completely separated from Michigan's lower peninsula by Lakes Huron and Michigan. With fiercely icy Lake Superior to the north, the U.P. shares its only land border not with its own state but with northeastern Wisconsin. For thousands of "trolls," (Michiganders who live south of the Mackinac Bridge), the sparsely-populated, unspoiled wilderness of the U.P. is a tourist destination for outdoorsy adventure; for Yoopers, it's home. As a result, bright students in the U.P., most of whom attend small rural and regional high schools where the majority of households qualify as low income, often don't consider the University of Michigan when they're applying to colleges.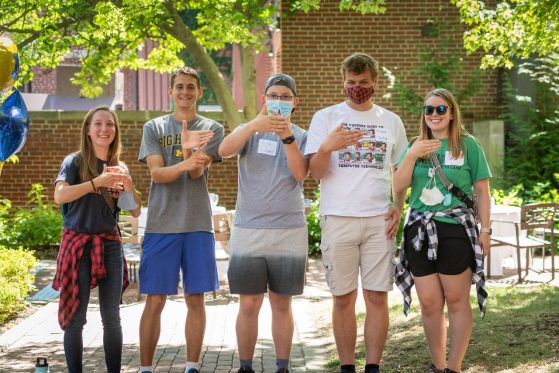 Students from all over campus celebrated (906) Day with the U.P. Scholars Program, and represented all years from first-year to super senior.
A Home Away From Home
The U.P. Scholars Program was established in 2018 with the goal of making the University of Michigan more accessible to high-achieving students with financial need from the U.P. The program welcomed its first cohort of eleven students to campus in fall 2020. Marlin's work begins well before students arrive in Ann Arbor, with focused recruitment via informational outreach events tailored to U.P. high schools. Data shows strong results from the effort's first year: U.P. applications increased by 18 percent from 2019 to 2020, the first year of focused recruitment by the U.P. Scholars Program, and, despite the global pandemic, 59 students from the U.P. enrolled in fall 2020, a 25 percent increase from fall 2019.
Once students are admitted and selected to join the U.P. Scholars, the cohort-based program combines need-based scholarships with customized academic, mentoring, and social support designed to address the unique needs of students from the region. By recognizing and celebrating the cohort's U.P. roots, the program eases participants' transition to campus and promotes success throughout their undergraduate experience—something that truly sets the program apart. Thoughtfully organized cohort activities and community events like (906) Day are one example.
"Deciding to attend the University of Michigan was not easy for me. Graduating with a class of 30 and then moving to a university with over 31,000 undergraduate students was very intimidating," said LSA sophomore Caitlyn Bloomburg, whose high school district encompasses 640 square miles and four townships with a total population of less than 4,000. Ann Arbor, comparatively, has a population density of 4,195 people per each of its 27 square miles. "I was so excited when I heard about the new U.P. Scholars Program because, if I got accepted, I would get to meet people from the same area as me, and get support from people who understand both my circumstances and my level of academics."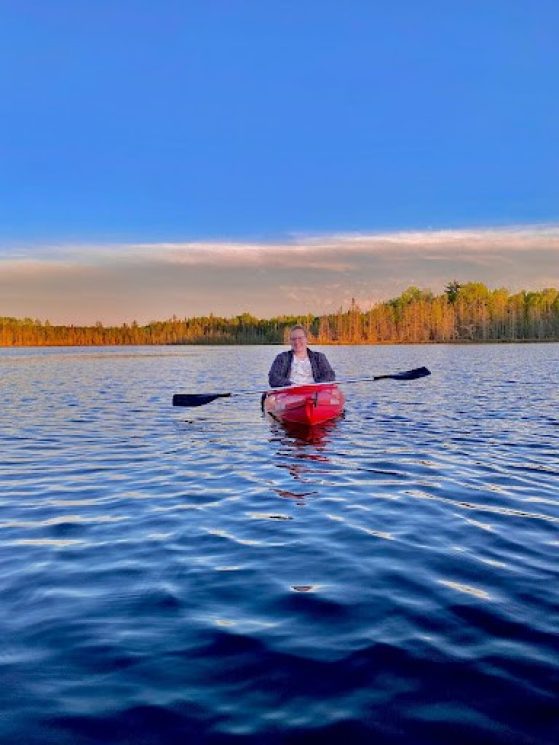 Caitlyn Bloomburg kayaking in the U.P.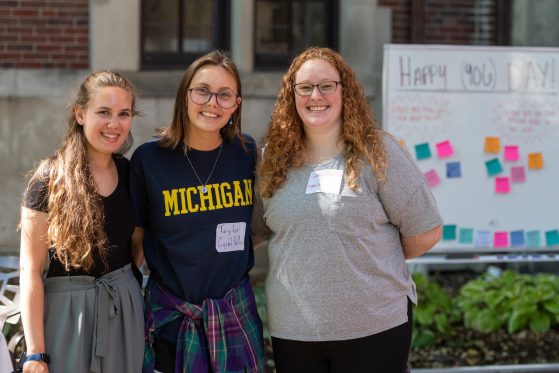 (L to R) Taylar Uimari, Taylor Clark, and Caitlyn Bloomburg at the (906) Day picnic. Uimari and Bloomburg are second year U.P. Scholars.
"We are replicating that feeling of a supportive small town community through the U.P. Scholars Program to create a home away from home for them on campus," noted Marlin.
When the U.P. Scholars welcomed its first eleven students last fall, most classes and programs at the university were meeting on Zoom due to the constraints of the COVID-19 pandemic. The U.P. Scholars Program followed suit, shifting content online and placing an emphasis on creating a strong network of support through regular one-one-one communication with staff, faculty, and peer mentors.
"Our first cohort was really special," said Marlin, who met with each student individually once per month and facilitated group Superior Seminars designed to build social capital and support students' academic and professional growth. "Being able to take on the tough year of uncertainty that they did and come out so successful really says a lot about the resilience and grit of our students from the U.P."
Lending a Hand
LSA sophomore Mia Brodeur, also a member of the first cohort, grew up in Chassell, Michigan, a tiny town that's home to about 1,800 year-round residents and firmly centered in Michigan's copper country. The term refers to the copper mining operations fueled by hardy Scandinavian, Irish, and Cornish immigrants that dominated the area's industry from the mid-1800s to the late 1960s; at its peak, the region was the world's largest copper producer.
"At the very top of the peninsula, where I'm from, Yooper culture consists of being outdoorsy and proud of your Finnish heritage一even if you might not have any! The words sisu, pannukakku, and Heikinpaiva are known to all. And we all roll our eyes when we hear 'saw-nah' instead of 'sow-nah,'" said Brodeur. "Yooper culture also means belonging to a close-knit community, where we will always lend a hand to our neighbors."
When Brodeur was applying to the University of Michigan, she was delighted to find that the university planned to replicate that hallmark of Yooper spirit in the new program.
"I was pleasantly surprised to see a program that catered to students living in the Upper Peninsula. Usually I feel a little left out living in such a sparsely populated area, where not many lower Michigan schools understand the unique challenges faced by U.P. students," said Brodeur. "I wanted to apply to the U.P Scholars Program to help connect me to other students living in the U.P., hopefully to help each other adapt to life and college in a big city."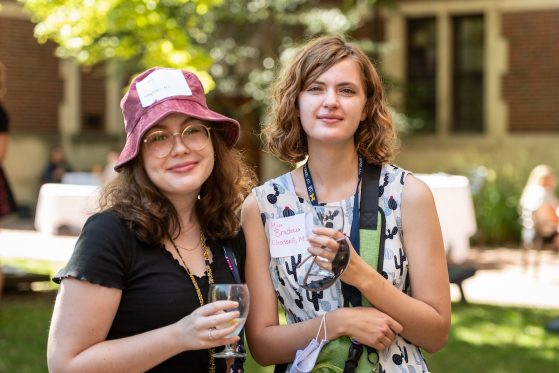 Mia Brodeur (right) with Maryn Cunningham at the U.P. Scholars (906) Day picnic.
Cross-Campus Cohort
With its second cohort entering the program this fall, the U.P. Scholars has more than doubled in size to 24 students, whose enrollments reflect the program's commitment to cross-college partnership. U.P. Scholars represent not only LSA, but also the Ross School of Business, the College of Engineering, and the Schools of Kinesiology and Nursing.
Such diversity in the cohort's academic pursuits means that bringing U.P. Scholars together to share experiences on campus is particularly important. Now that in-person learning is back, Marlin is excited about the monthly lunch-and-learn Superior Seminars meeting at the Michigan Union. The seminars feature representatives from U-M's vast network of resources and co-curricular opportunities, including Counseling and Psychological Services (CAPS), the Undergraduate Research Opportunity Program (UROP) and the U-M Biological Station. U.P. Scholars are also invited to participate in community-building events, like an upcoming adventure leadership retreat and a behind-the-scenes tour of Michigan Stadium, and to attend final exam study days and service days. And the program plans to continue to engage the wider Yooper community with one special event each semester; next up, ice skating at Yost Ice Arena in winter 2022.
"We are building out the peer mentor program to allow the upper-level U.P. Scholars the chance to mentor incoming classes," said Marlin. "And we are also planning tailored programming specific to the needs of the students as they progress further along in their degree programs."
Match-Maker Scales Up
The work of the U.P. Scholars Program, including the programming and staffing that are crucial to its integrated four-year cohort model, was enabled by the generosity and vision of one founding donor. The same donor recently established a new U.P. Scholars Program Matching Fund, which will provide a match for new, endowed funds of at least $25,000 that are established by other donors in support of students with financial need from the Upper Peninsula. Gifts made through December 31, 2023, may be eligible as long as matching funds last. The match presents a unique opportunity for U-M's donor community to help expand the program's services exponentially.
"We have consistently seen far more interest in the program than we have resources to support," said Marlin. "Additional funding would allow us to award and support more students each year, and to grow our cohort—our community—more quickly."
Yooper Alum Meets the Moment
The Picel-Barsky U.P. Scholarship Fund established by Tina (B.S. 1972, M.S. '73) and Joe Barsky (M.B.A. 1973), this fall, was the first gift to qualify for the match. "We both feel it is our duty and privilege to be able to share our financial success to help others," they said of their gift.
"I am a Yooper who received financial support to attend the University of Michigan, and I highly value the education I received. I don't think I can overstate the impact it had on me," said Tina Barsky. "The mission of the U.P. Scholars Program connected with me personally and immediately. In addition to financial assistance, the program provides both academic and social-emotional support that is essential to student success. As an educator, I understand how critical emotional well-being is to a student's ability to learn."
Now in their second year at U-M, Bloomburg and Brodeur value the chance to play a role in helping other students in the Yooper community thrive at the university. "Being part of the first cohort of U.P. Scholars makes me feel like I am creating opportunities for more students from the U.P. to be able to attend the University of Michigan," said Bloomburg.
"I was thrilled to be chosen as part of the first cohort! It felt like I was making a difference by helping the program find its footing, giving suggestions for future programming," agreed Brodeur. "And I'm excited about becoming a peer mentor for incoming students."
Meet the Moment: Have Your Gift to the U.P. Scholars Program Matched
LSA Advancement Contact:
Samantha Stears  //  P. 734.764.4762  //  slemmen@umich.edu