The opinions expressed in this publication are those of the authors, and do not necessarily reflect the opinions or views of Rural Insights or its members.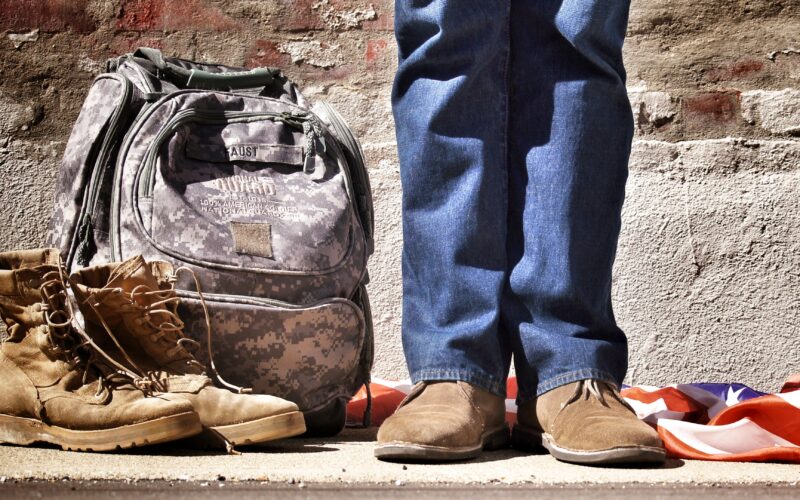 Except for the few who make the ultimate sacrifice, or the unfortunate who perish in accidents, every service member must face the day when they transition to becoming a veteran.
Regardless of whether one served four years, or twenty or more, there will be baggage: physical and/or psychological damage, readjusting to a previous but now almost alien culture, and more. How each veteran copes with this baggage is unique, but it is never simple.
There are many resources available to veterans today. These include the Veterans Administration (VA), private medical care that has a greater understanding of veteran-specific issues, as well as support groups within the traditional veteran service organizations. However, much of this is fairly new—at least only emerging after the Vietnam War—prior to that time the veteran was expected to come home, readjust to life as it once was, and move on.
This was usually possible for many when the nation was more rural in nature. Small-town America was able to absorb her men and women who had served back into that comfortable rhythm that distinguishes much of rural life, but the dynamism and cold anonymity of urban life has made re-entry into American culture difficult for some.
I retired from the U.S. Army in 2004 with twenty-two years of service. I was 19 when I left and 41 when I returned. My entire experience as an adult up until then had been in uniform and the "world" was a much different place than when I left in 1982. I also brought physical disabilities and PTSD home with me, and even though I had grown up in the Detroit area—and I did not necessarily feel uncomfortable there when I returned—something just did not seem right.
I immediately returned to school in Ypsilanti to acquire a Michigan teaching certificate and then began graduate school, but within three years the opportunity arose to move out of the urban setting when I was offered a teaching position in Traverse City. I jumped at this, hoping to find that healing, or that "it" that Jack Kerouac had described so many years ago, and I think I have.
Many career military men and women choose to retire near a large military installation as it is familiar to them and opportunities for employment with defense contractors are regularly available, and often lucrative. But others, such as I, seek a separation from the regimented world of military service, or even being in proximity to it, so moving "home" is the path of least resistance.
But for me, nothing was the same. The friends I had known two decades ago were gone, or exactly as they had been 22 years earlier; my family were older, many had passed, and the number of people crowded all around me was a difficult situation to adjust to.
Even in suburban Detroit, traffic was often at a standstill and drivers were hostile, and endless cul-de-sacs of drab "McMansions" and crowded parking lots of big box stores were all around. The discipline of my military life was sometimes all I had to fall back on and to get me to the end of a day, be that at the university or the substitute teaching job that I was working two to three days a week.
After my initial VA evaluation, which had actually taken place before I left the Army, I had not bothered to visit a VA facility again, because I really didn't know where they were located—and no one was stepping up to show me. I did join the Disabled American Veterans and the Veterans of Foreign Wars, and I did visit my assigned posts, but I felt like a stranger, and to be honest, I was treated like one, and Eastern Michigan University had no veteran support group or student-veteran club which I could join.
The only saving grace for me was seeking out a service dog, and then acquiring one through a national volunteer agency. I was paired with my first dog, Onyx, a female black lab, shortly after my return home. She became the partner I needed to get me through those first few years, but it was easy to tell even she was not comfortable in the crowds and the noise (you do become very close with these dogs and you know how they feel—as they know you).
The change came when I was offered a job "up north," in Traverse City in 2007.
Being in Marquette now, it is strange to think of Traverse City as "rural," but the change from the Detroit area was enormous. People from Michigan certainly understand the therapeutic nature of "up north," but when this worn out, old veteran arrived up north the change was immediate.
Even in the occasional crowds of a Traverse City summer, I was able to breath again. The aches and pains of some of the injuries I had suffered in the army did not hurt so much anymore and being able to sleep soundly because the din of urban life was gone was wonderful. But there was still a level of anonymity that was palpable, not anywhere near the level of being in Detroit, but it was present. Onyx made it bearable, but there were still some changes I knew would have to be made.
Within two years I had earned a masters degree and immediately began teaching as an adjunct at Northwestern Michigan College, which was fulfilling some of my post-army professional goals (I continued to teach high school), but I had still not made many meaningful human connections—particularly with other veterans. The Traverse City veteran community is, what I would call, quite tribal, and I very much felt like just a guest when I attempted to participate in any activities.
So by 2014, many of the same anxieties I had felt in Detroit were returning. But, that's when the chance to really become a rural veteran appeared, when I was asked to become the Student Veteran Services Coordinator at Northern Michigan University in Marquette.
This was a difficult decision–not the move to Marquette, but rather leaving teaching.
Yes, I would still be in the education field, but I was becoming a very effective teacher. However, the chance to live and work in Marquette had a stronger pull than any regrets I might have.
When I arrived in January of 2015, I immediately began to understand why the nation's veterans were once able to make themselves whole again in rural America. I was required to meet and assist veterans as part of my new position, but the veterans that I was helping took me in as part of their community almost from the day I arrived and helped me. They showed me where the local VA clinic was located, they referred me to a local veteran service officer, and they introduced me to the members of the veteran service organizations, and everywhere I felt welcome.
Onyx passed away at 14 years of age soon after I settled in and my brothers and sisters grieved with me, and they welcomed my new service dog Welles soon thereafter (and also made him quite the celebrity), and the ability to literally escape into the wilderness by taking a ten-minute drive is something which defies description and is a means to heal many of the wounds that veterans carry.
So, there is a lot to be said about life in a rural area. Certainly, there are obstacles that might not be present in an urban setting, but overcoming obstacles is something veterans tend to be rather good at.
I have been in Marquette for five years now, and would not change a single thing.