Carrie Jacobs Bond was the "Mother of America" with U.P. Roots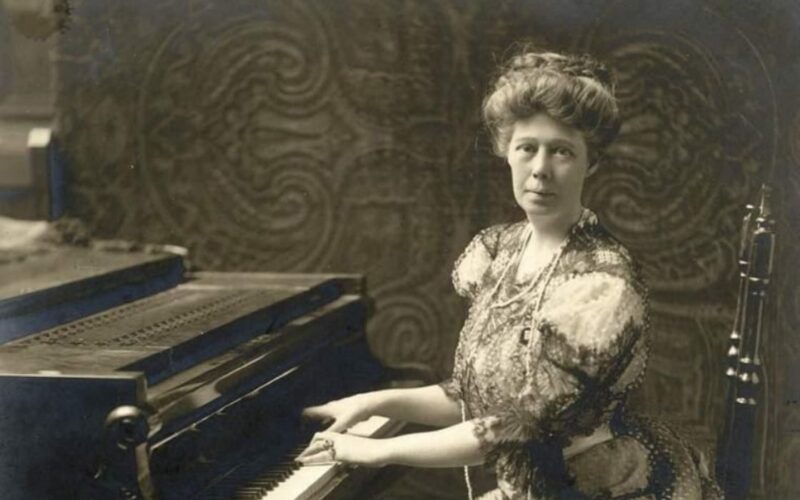 March is National Women's History Month, and the Upper Peninsula has been home to countless remarkable women through the decades! 
One of the most famous women from the U.P. is Carrie Jacobs-Bond, deemed the "Mother of America" in 1921, and the first great female song composer in the United States. 
Carrie Minetta Jacobs was born on August 11th, 1862 to Hannibal Jacobs, a family doctor, and his wife Mary. The family lived in Janesville, Wisconsin and the country was still in the beginning years of the Civil War.
We do not know much about Carrie's early life, only that times were hard. The economic depression that followed the end of the war in 1865 led her father to financial ruin and he took his own life when Carrie was just eight years old.
Carrie found solace from life's turmoil in music–teaching herself to play the piano by ear. Later, she took lessons and started writing music as a hobby. When she was fourteen years old, Carrie met a young man by the name of Frank L. Bond.
Frank was also the son of an affluent doctor and he quickly captured her innocent heart. Frank knew her love for music, and took young Carrie to see American operatic singer Miss Laura Schirmer, which further fueled her passion for music and sparked her dream of songwriting.
When Frank went to medical school–eventually moving with his father to the Upper Peninsula–he left Carrie in Janesville with a broken heart. She looked for comfort in the arms of Edward J. Smith, and when she found out she was pregnant, the two married in December of 1880.
She bore a son whom they named Fredrick and the couple moved to Chicago shortly thereafter. While Carrie loved her son, her marriage to Ed was tumultuous and he divorced her in 1888.
Carrie never forgot her first love, Frank, and had been secretly keeping in touch with him through letters. She even visited him during the troubled years of her marriage, telling her husband she was visiting the U.P. to "paint."
Upon her divorce at age twenty-six, Carrie took her son and traveled to the mining town of Iron River where Frank was working as physician and co-owned a mine with his father. Carrie and Frank immediately rekindled their relationship and were married in June of 1889.
Carrie spent only seven years of her life in Iron County, but she frequently said they were the happiest years of her life. She and Frank enjoyed the outdoors together and she grew to love the community, often accompanying her husband on patient visits and distributing food to the needy.
She taught piano lessons, played the organ on Sundays for two local churches, composed music, and even painted ceramics. She also began to publish her music at that time, spending six weeks in Chicago where she sold her compositions and was well-received.
Life was good and Carrie was happy.
But, "to everything there is a season," and that happy season ended. One snowy day, in 1894, Frank was pushed playfully by a child in a snowball fight, and he slipped and fell, striking his head on the frozen ground.
According to Carrie, his last words to her were "My darling, this is death. But, oh, how I want to live." Perhaps the silver lining in this tragedy was it became the catalyst for Carrie's success. 
The small fortune Carrie inherited of around $4,000 was not enough for her to make ends meet for her and her son, and she borrowed some money to move to Chicago where she obtained a house and rented rooms.
She continued writing songs, and eventually she was able to start a company composing and printing music. She went on to sell millions of copies of her songs, the most famous of which include "I Love You Truly," "Just Awearyin' for You," and "A Perfect Day."
Carrie Jacobs-Bond became a household name as the most successful female composer of the era. She performed at the White House in 1907. "A Perfect Day" became the soundtrack for Allied Forces in WWI, selling 8 million copies. 
Many of Carrie's compositions reflect the hardships she endured in her life, including her experiences with poverty as a child, the divorce of her first husband, and the deaths of her father, second husband and her son, who ended his own life in 1928 while listening to "A Perfect Day" when he found out he was dying of cancer. 
Carrie died at the age of 84 in 1946. Her mausoleum is inscribed with a tribute from President Herbert Hoover that reads, "Beloved composer of I Love You Truly, Just A Wearyin' For You, A Perfect Day and a hundred other heart songs that express the love, the longings, sadness and gladness of people everywhere…truly folk music of the world…she was America's gallant lady of song."
You can visit Carrie's Iron River home on the grounds of the Iron County Museum when the season opens in May. The entire first floor has been remodeled to look authentically like the early 1900's, and features beautiful artifacts from the Jacobs-Bond estate.
Learn more at IronCountyMuseum.org.