Celebrating Black History: Presidential Portrait Painter with Ties to the U.P.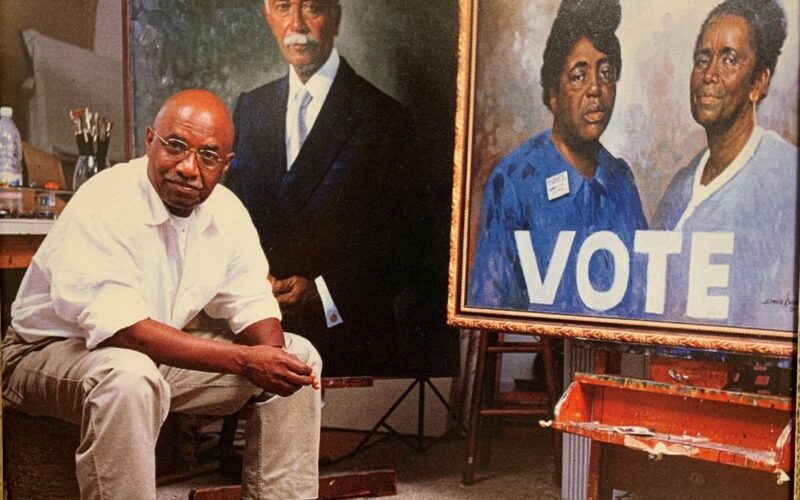 "Rural Voices" shares cultural, educational, economic and artistic views of people who have lived and thrived in the Upper Peninsula. Each of our authors in Rural Voices may be living here in the U.P. or living someplace around the globe, but the U.P. is an important part of who they are and what their beliefs and values are today. Rural Voices wants to share the voices of our neighbors and friends about life and experiences in the UP.
February is the month in our nation when we intentionally celebrate and remember the stories of Black Americans.
To participate in that celebration, enjoy the story of Simmie Knox, a Black American artist with ties to Iron County, MI.
Knox is most widely recognized as being the first Black artist to receive a presidential portrait commission, but he came from humble roots.
Knox was born in 1935 in Aliceville, Alabama, the son of a car mechanic, and developed his talent for art in an unusual way. The story goes that at age 13, Knox was hit in the eye with a baseball which left him with a bruised, lazy eye.
Someone suggested he start drawing to recoup and retrain the muscles in his eye. His aptitude for drawing was clear, and while his segregated school did not have an art program, a teacher connected him with a local tutor.
Knox went on to get his bachelor's and master's in fine art from Tyler School of Art at Temple University. He excelled most notably at portraits, saying there is nothing more interesting to paint than the human face.
"I think that a good portrait is the most difficult thing for an artist to bring off successfully," Knox said. "Somehow you must convey a subject's character, spirit and personality, and everything must communicate the dynamism of the subject."
Knox was "discovered" by Bill Cosby, who commissioned him to paint twelve members of his family, but Knox said his big break was his commission by Supreme Court Justice Thurgood Marshall.
That connection led him to paint other notable figures like Muhammad Ali, Hank Aaron, and Supreme Court Justice Ruth Bader Ginsburg who recommended him to the Clintons in the year 2000. With this commission, Knox became the first Black American artist to paint an official presidential portrait.
Knox said in an interview with Rin-Rin Yu of the Washingtonian in 2019 that he has never turned down a commission request. It's no surprise, then, that when he was invited to the Iron County Historical Museum in Caspian, MI, in August 2002 as part of the 40th anniversary celebration of the society, he accepted the commission that he subsequently was asked to complete.
Knox painted the friendly faces of Harold and Marcia Bernhardt, founding members of the museum, and the portrait still stands where it was unveiled at the entrance to the Bernhardt Cultural Center on the museum grounds. Knox completed the portrait in 2004–the same year as the Clinton's portrait was unveiled in the East Wing of the White House!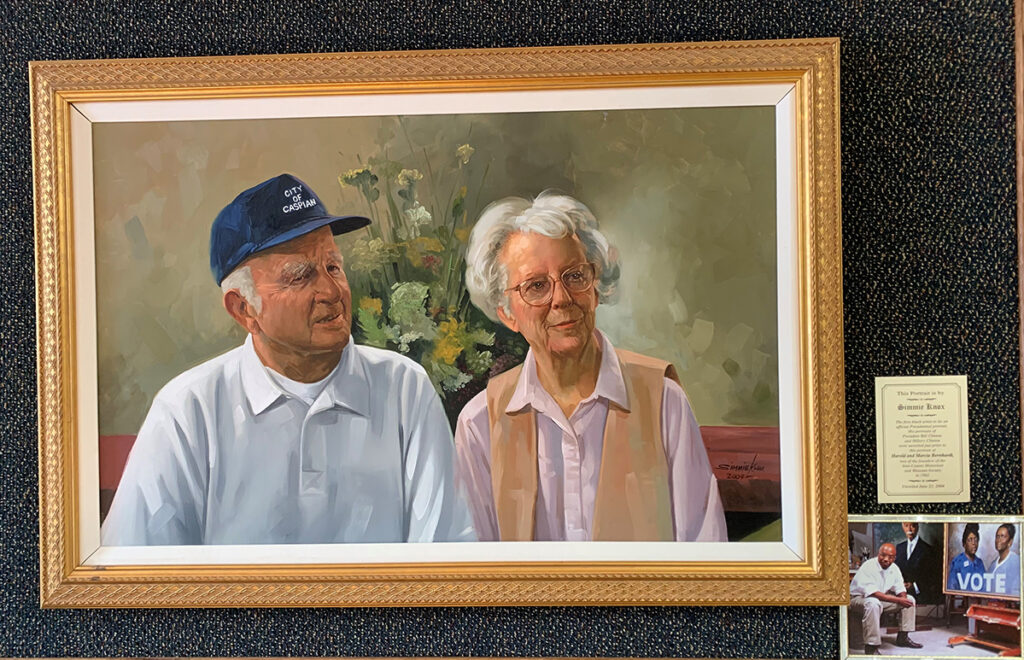 Visitors to the museum can view this beautiful portrait in person during our office hours Monday through Friday, 9:00 a.m. to 3:00 p.m.
Want to read more interesting tidbits from local history? Follow the Iron County Historical Museum on Facebook and join our newsletter mailing list to stay up-to-date on renovations, research projects, new exhibits, and ever-changing COVID-19 requirements.
Questions can be directed to erika@ironcountymuseum.org.