Dickinson Trail Network: Connecting Community Through Trails and Partnerships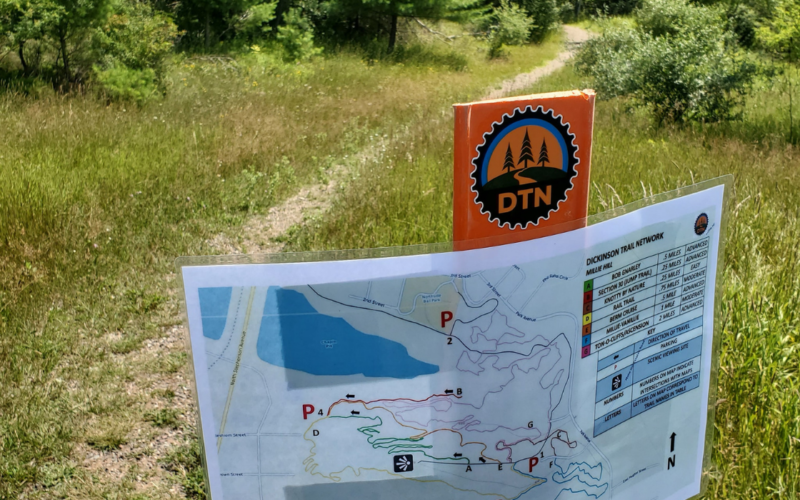 The Dickinson Trail Network (DTN), established in 2019 as a dba of the Dickinson County Bike Path, focuses on building, maintaining, and promoting off-road multi-use trails throughout Dickinson County, complementing the work done by the Bike Path group along paved roads. 
The 2019 reorganization not only brought with it a new logo, mission, vision, outreach, a board of directors with elected officers and committees, but by the end of 2019 DTN volunteers built more than 12 miles of trails. 
The group of dedicated volunteers are fulfilling their mission to develop, maintain, and promote a network of non-motorized trails and routes. As of February 2021, DTN has constructed new multi-use singletrack trails on Iron Mountain's Millie Hill and Norway's Ogee Trailheads with plans for additional trail systems and bike paths.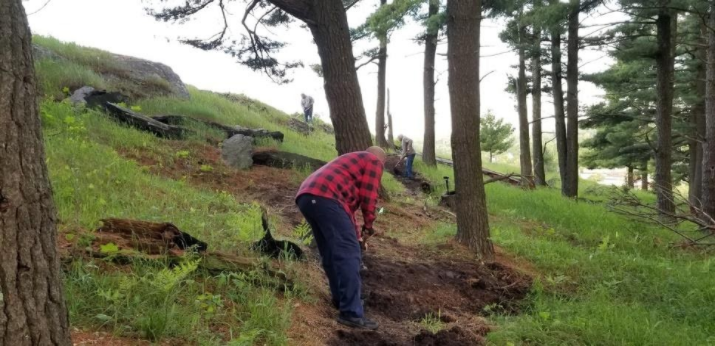 The Millie Hill Trails is the group's flagship project. It offers seven trails overlooking downtown Iron Mountain. The trails range from easy to advanced difficulty and provide a birds-eye view of Iron Mountain. 
The Norway Ogee Trails offer easy, moderate, and advanced difficulties around Marion Park and Norway's northside. New in 2020, a 2.6-mile loop around Piers Gorge on the Menominee River connects the city with one of the county's most beautiful natural areas. 
DTN is in the planning stages for a third trail system on Pewabic Hill in Iron Mountain. The new trail will connect the Millie Hill Trail System with the Fumee Lake Natural Area and from the Fumee Lake Natural Area to the Iron Belle trail less than half a mile on Quinnesec Avenue. 
All DTN trails are designated as multi-use for non-motorized uses and adhere to the International Mountain Bike Association (IMBA) Standards – the same approach as trails in Copper Harbor, Marquette, and Munising. IMBA Standards prioritize sustainable design and thoughtful construction to minimize environmental impact. 
During the winter months, DTN switches from trail building to trail grooming to provide year-round enjoyment. Their grooming machines create classic cross-country glide tracks as well as multi-use corduroy snow surfaces, including 24″-wide singletrack trails. Skiers, fat-tire bikers, and snowshoers are welcome to use groomed trails as long as the trail impact is less than 1 inch.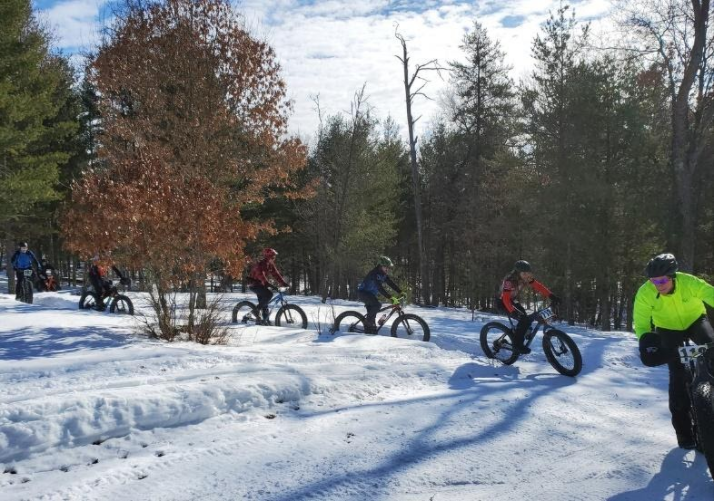 Staying true to their roots, DTN maintains four bike paths, including the Iron Belle trail connection with plans for a fifth along Little Badwater adjacent to the Menominee River in Breitung Township. DTN works with the Fumee Lake Natural Area and Pine Mountain Resort to promote their trails as well.
Dickinson County is quickly becoming a destination for eco-tourists looking to bike, hike, and snowshoe and serves as a hub for biking and outdoor enthusiasts heading to points north of Iron Mountain. The community can already see the economic impacts of DTN activities in Dickinson County. The trail system is adjacent to many downtown districts, where small businesses benefit from increased traffic from tourists and residents alike. Local businesses and industries use the DTN network to promote healthy lifestyles with their employees and as a recruitment tool to attract and recruit young professionals to the community. 
The Dickinson Trail Network has gained community and local government support through the accomplishments over the past three years, and the momentum is just beginning. Looking forward, DTN plans to roll out a restructured marketing campaign, develop a robust Trail Partnership Program for local businesses and corporations, and continue to connect the community through trails and partnerships. These collaborations allow businesses and individuals to provide support both financially and through in-kind donations in exchange for the indirect benefits from a thriving trail user community; and directly through the promotion of their place of business.
From building and maintaining trails to signage – all of this work is done by volunteers and through grant funding. DTN has a Combined Federal Campaign (CFC) designation that allows federal workers to make donations via payroll deductions.  
To learn more about Dickinson Trail Network or to make a donation, visit www.dtntrails.org.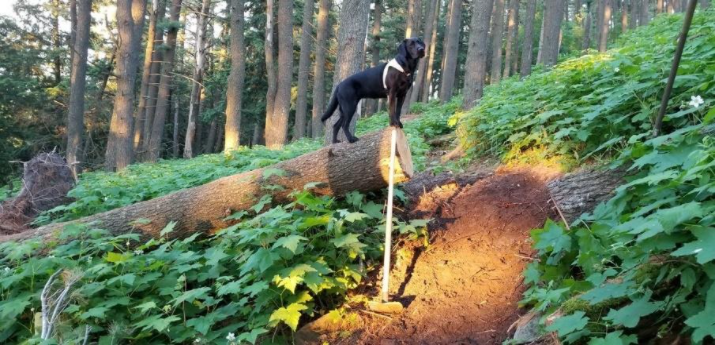 About the International Mountain Bike Association
The International Mountain Bike Association (IMBA), founded in 1988, is a worldwide, non-profit organization that provides land managers guidance and best practices to enhance and preserve mountain bike trails. They promote responsible mountain biking, support volunteer trail work, assist land managers with trail management issues, and enhance relations among trail user groups. IMBA members annually contribute more than one million hours to trail work projects on public land.