Raising Awareness of Local Industry Needs Through Talent Initiatives
Talent is needed everywhere these days, and the Dickinson County area is experiencing a tight labor market like many communities.
With unemployment at 5.2% and the lingering pandemic effects keeping some workers out of the workforce, many job openings go unfilled for an extended time, which impedes productivity.
Each year, a jobs forecast survey is sent to the area's largest employers to understand job growth needs over the next five years. The survey is compiled by the Dickinson Area Economic Development Alliance and its Talent & Education Task Force.
While the survey results are not yet final, initial indicators and patterns help us create initiatives and programs to address the projected job needs for the coming years.
Projections show the need for 750 workers over the next five years, with 75% of open positions in production and technical occupations. The projections point toward a great need for skilled individuals in hands-on careers typically offered by Career & Technical Education programs, certificates, and two-year degrees at community colleges or through on-the-job training provided by employers.
This talent development pipeline has not received the same level of attention that careers requiring a four-year degree from a college or university have received for decades now. It is imperative that we turn the tide and highlight these in-demand occupations, encouraging young people to explore these rewarding careers.
These careers mostly require technical training offered through programs over the course of months instead of years. This alternative helps alleviate the financial burden of post-secondary education for students. It allows them to begin earning wages sooner, with many being able to "earn while they learn" through employer financial support.
Because of these skilled labor needs, the Alliance offers initiatives to help raise awareness of the in-demand careers and the educational paths needed to pursue them.
The following are some of the programs we are currently highlighting.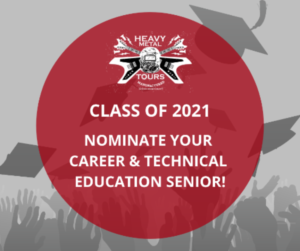 Career & Technical Education Graduate Recognition
Throughout the month of May, Heavy Metal Tours is recognizing local high school graduates who are pursuing careers in manufacturing and technical occupations upon graduation. Heavy Metal Tours is a collaboration between the Dickinson Area Economic Development Alliance, Bay College, Northern Initiatives-MMTC, the Dickinson-Iron Intermediate School District, Michigan Works!, and area companies.
It exists to educate students, parents, and school personnel about career opportunities at local Dickinson County manufacturers.
Heavy Metal Tours kicked off the social media campaign asking parents, teachers, guidance counselors, and friends to nominate a graduating student pursuing a technical education or occupation. One random winner will be selected from each of the eight area high schools – Forest Park, Florence (WI), Iron Mountain, Kingsford, Niagara (WI), North Dickinson, Norway and West Iron County.
The winning students will receive recognition on social media and a prize package of gifts from area companies and Heavy Metal Tours.
This program brings awareness to the many meaningful job opportunities that align with Career & Technical Education paths in the Dickinson County area. Learn more at www.heavymetaltours.com.
Alliance Hosting Intern Social
One way the Alliance works with area companies to help attract and retain talent is to host an annual Intern Social. This event offers a fun and relaxing environment for interns, co-op students, and recent graduates new to the area's workforce to hear more about the many enjoyable activities in the area.
The Alliance is excited to offer our annual Intern/Co-op Social event on June 3 after cancelling the event in 2020. Attendees will enjoy networking and lawn games, including the opportunity to learn and play disc golf with their peers. The goal is to create personal and professional connections through the hobbies and activities that the attendees already enjoy.
We hope to encourage attendees to make the Dickinson County area their permanent home as they start their careers by creating a welcoming environment.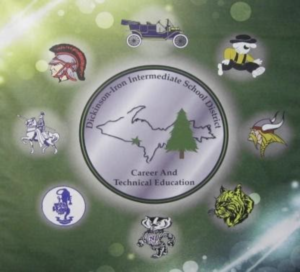 Bay College West Prepares Students for Trades Careers
In the Dickinson area, the Dickinson-Iron Intermediate School District partners with Bay College West Campus offering students an early college experience in Welding, Computer Networking and Security, Mechatronics, and Health Occupations programs.
When students take advantage of Early College, families save money on costs because school districts pay the tuition and fees for dual enrollees. Taking college courses while still in high school allows students to get ahead of the game toward their future careers and provides students the opportunity to earn an associate's degree or certificate.

The West Campus is also answering the call with workforce development training programs, including their Leadership Academy, Certified Nursing Assistant, Dental Assistant, and New Manager Training, as well as customized contract training for industry partners.
Dickinson Area Featured Employer Series
The Alliance also features area employers that are hiring using a series of posts on daeda.org and the Alliance social media accounts as part of an ongoing awareness campaign. Systems Control, the Oscar G. Johnson VA Medical Center, CCI Systems, Dickinson County Healthcare System, and 41 Lumber all have been featured in recent months. Check out an example here.
These talent needs and challenges have been emerging over recent decades. They will not be easily or quickly resolved. We are encouraged as progress is being made by reaching our K-12 students and helping them, along with their families, understand what careers are in-demand and available to them as they graduate from high school and decide what career path to pursue.