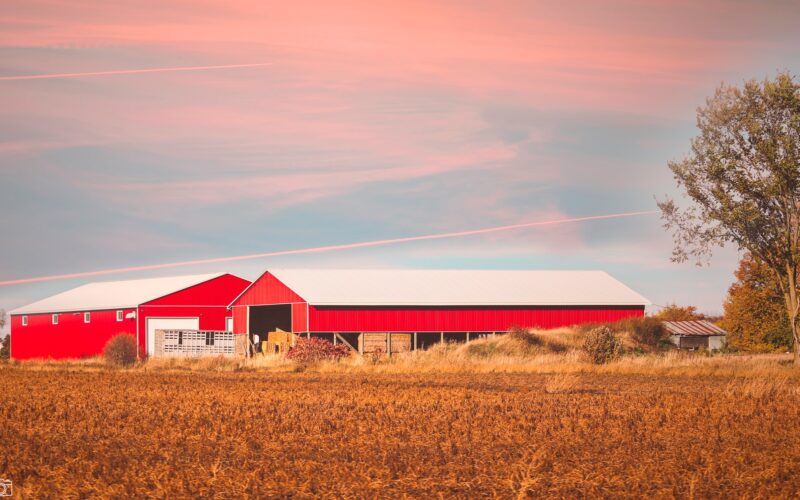 A drive across Michigan's Upper Peninsula along US Route 2 or M28 provides the casual observer the overriding impression of a sparsely populated, heavily-forested region.
Yet hidden among the trees are an increasing number of farms.
Most people would consider the region largely unsuitable for agriculture; its short growing season, poor soils, extreme weather and small market make farming a challenge.
Indeed, the number of farms, as defined by the US Department of Agriculture, peaked in the UP during the 1930s, and for the next 60 years their numbers declined. But in the last 30 years there has been a reversal.
In Marquette County, for example, the number of farms topped out at 1,381 in 1935 and covered nearly ten percent of the county's land area. By 1992 there were 84 farms covering just 2.5 percent of the land area, however 25 years later their numbers have more than doubled to 179–but with little change in the land area.
Indeed, every one of the UP's 15 counties experienced a boost in farm numbers between 1992 and 2017, with the region's total number of farms increasing from 1,688 to 2,313–a 37% gain. By comparison, during the same period, Michigan's total number of farms increased by 1,079 or just 2.3%, with the UP accounting for nearly two-thirds of this gain.
This article uses data from the US Agricultural Census to examine recent increases in farm numbers across the UP and offers some explanations for this phenomenon, beginning with a brief overview of the factors affecting the state's farm economy.
Farming in the United States has undergone a process of consolidation since the 1930s, with fewer farms producing more of our food. This process is driven by economics with farmers investing in machinery and improvements in seeds, fertilizers, herbicides and livestock to boost productivity and output.
Ironically, while increased output helped keep food prices low for consumers, farmers had to absorb lower prices for their crops resulting from supply increasing faster than demand, forcing many into bankruptcy or retirement.
Farmers in the UP have additional challenges: the region's low population means they have to absorb the transportation costs associated with shipping commodities to market. The net effect of these processes has been to reduce statewide farm numbers by nearly 150,000.
Against this backdrop of farm consolidation and low commodity prices, the recent increase in UP farm numbers is particularly striking.
However, a close examination of the dimensions of this growth indicates that all of the growth is occurring among small farms. In 1992, the UP contained 231 farms of less than 49 acres; by 2017 the equivalent figure was 785, with most of this increase occurring among farms of 10-49 acres in size; between 50 and 179 acres in size the number of farms rose from 587 to 841.  However, among larger farms of 180 acres and more their numbers declined, from 870 to 688. 
So what explains the growth in small farms?
Since the late 1980s, increasing concerns have been raised about the viability of so-called industrialized agriculture with its dependence on chemicals and adverse environmental impacts. 
Organic agriculture is seen by some as a more sustainable method of producing food.
The UP has land to spare for those willing to take the risk of farming in a challenging environment. Adopting hoop houses and greenhouses has made farming more viable while also increasing productivity; these improvements positively impact soil and water while reducing nutrient and pesticide usage.
Meanwhile, demand for locally-produced food is driven by consumers' interest in Community Supported Agriculture programs, whereby participants provide upfront funding to a farmer who in return provides a weekly box of fresh vegetables once harvesting begins.
For others who do not want to assume farming's risks, purchasing locally-produced food at farmers markets provides an alternative. 
In 2000, the Downtown Marquette Farmers Market began operations with five Marquette County farmers; by 2021 their number had grown to over 30, including producers from nearby counties. 
Farmers markets selling locally-produced food can be found throughout the UP in large and small settlements, including Houghton, Iron Mountain, Manistique, Sault Ste Marie, Lake Linden and Pickford.
An additional factor contributing to the demand for locally-sourced food is the desire among some retailers, restaurants and institutional purchasers to emphasize their contributions to environmental sustainability by reducing so-called food miles–the distance between where food is produced and where it is consumed.
To meet some of this demand, a regional food hub, the Upper Peninsula Food Exchange, was created in Marquette to connect local farmers with wholesalers, retailers, restaurants, and institutional purchasers.
Before the pandemic, for example, some local restaurants in Marquette and Munising listed local farms that provided particular food items as part of their menus, while Northern Michigan University's dining services continues to purchase locally-produced food from several Marquette County farms.
Despite the increase in farm numbers and the desire among some consumers and businesses to support locally-produced food, farming in the region remains financially challenging.
According to the USDA County profiles for 2017, the average net cash farm income in Alger, Iron, Keweenaw and Marquette was negative (after farm production expenses are subtracted from farm sales and other income sources).
Among counties where the average cash farm income was positive, it ranged from a low of $455 (Dickinson) to a high of $26,537 (Menominee), emphasizing that most farmers, like many of their counterparts outside the UP, are dependent upon off-farm income for their survival. 
Farming has always provided challenges for UP farmers. However, at a time when food supply chains can be disrupted by climate change or a pandemic, local farmers have a critical role in contributing to the region's sustainability, and policymakers should promote and support them.