U.P. Brothers Shoot Major Motion Picture Celebrating Yooper Culture and Values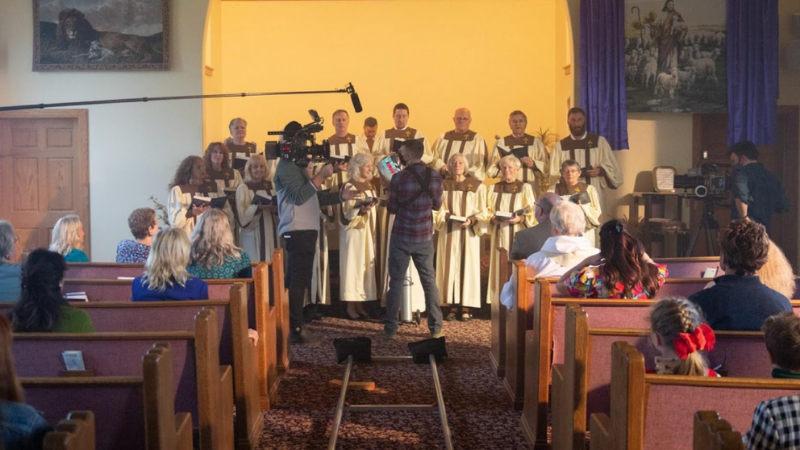 What movie has lovable rural characters and a wild story set in the Northwoods? No, I'm not talking about Escanaba in da Moonlight, though this new film does have a few well-known stars in its cast, too! Anders and Davin Lindwall, brothers from Iron County, are taking a decidedly different approach to the portrayal of small-town life and values in their new film called God Loves the Green Bay Packers that just finished shooting in earlier this month. 
The Lindwall brothers are making history as the first Iron County natives to produce a major motion picture. Both got their start in film and photography from multi-media teacher, Lee Rometti, who is still teaching those classes at the local high school today. 
The pair formed a film company in 2016 and have been doing commercial work since then, creating ads for recognizable brands like Otterbox, National Geographic and Nike, but it was always their dream to make a feature-length film that captures the essence of the beauty of their childhood home in the U.P.
This November their dream came true with the completion of their first movie called God Loves the Green Bay Packers. Anders was the writer and director while Davin was the lead producer. For 18 days they, and a crew of about sixty staff and actors, worked tirelessly to produce what is a heartwarming story about "an old farmer and his granddaughter who attempt a hail mary play to save their life's work and the legacy of four generations." 
The Lindwalls intimated that the idea for the film had come to them many years ago, but really started to get traction in 2019 when a commercial client took interest in their work. "He asked us what movie we really wanted to make," Anders explained, "and on a long shot, we decided to pitch him our Packers film concept and it resonated." That client became an investor and the concept was received with enthusiasm by others, becoming fully-funded in 2020. "I think it resonated because it's a story that has a lot of goodness to it."  
The film stars Craig T. Nelson as the main character in the role of an old farmer named "Buck." Nelson's distinguished acting career includes starring roles in the sitcom Coach, for which he won an Emmy, and as Mr. Incredible in The Incredibles (2004) and its sequel (2018). 
About casting Nelson, Anders said, "We thought 'who would make a good old farmer?' and we thought of Craig. He's classic – he's both tough and grizzly, but also sweet and relatable. Craig was the first actor to read the script and he loved it. He called us up the next day and said, 'You know, I read scripts every day, but this one is different. I want to be a part of it.' Craig doesn't fly out to make indie movies in the rural Midwest, so this is a pretty big deal for him to come out here and work with us." 
The movie features other big names including Charlie Berens, M. Emmet Walsh, and retired Packers defensive back, LeRoy Butler, who is credited with inventing the "Lambeau Leap."
Though the film stars some big names, the Lindwalls' focus has been on trying to communicate the values instilled in them by their hometown. "The humans in this film are not meant to be tropey caricatures like something in Fargo," Anders said. "They carry an authenticity and an earnestness about the simplicity to which they exist, prioritizing above all things the most valuable gift of life: time, and time together. In a culture that pedestals charismatic figures, our story celebrates faithfulness. As Fred Rogers said, 'I find it's not the fancy people in life who seem to nourish my soul."
Davin echoed that sentiment saying, "This film is ultimately a celebration of a people and place we love, which is often overlooked. This was our chance to show the rest of the world why it's special." In holding close to their values of celebrating their small town, the Lindwalls included many people from Iron County in the production. West Iron County High School senior, Ryan Piwarski, headed up the behind-the-scenes video footage for the duration of the filming process, and sixteen singers from Iron County took on the task of becoming a choir for the final scene in the movie. Several other locals were used as extras in various scenes, as well.
"We can't fully express the gratitude we feel for our local community," Anders said. "Each person embodied in one short day what I've experienced my whole life: community members rallying to stand behind their local boys as an act of gracious love and support. To have folks from our hometown share in this project adds a level of depth and authenticity to this film that's been felt by everyone in the crew." 
Lindwall shared the last thing Nelson said to him as the final day of filming wrapped: "Anders, I've been making films for a lot of years and this one had more heart in it than anything I've ever done. It doesn't mean it's going to be a good movie, but it will be true." 
God Loves the Green Bay Packers officially wrapped shooting on November 6th and is now in the post-production phase of editing and securing a distributor. It is slated to be released in the summer of 2022. This will be the first major motion picture written and directed by Yoopers in many years. It is something that the U.P. can feel a proud ownership of, knowing that so many of our own contributed to its making and that the values of our Yooper heritage will be in the spotlight for the world to see.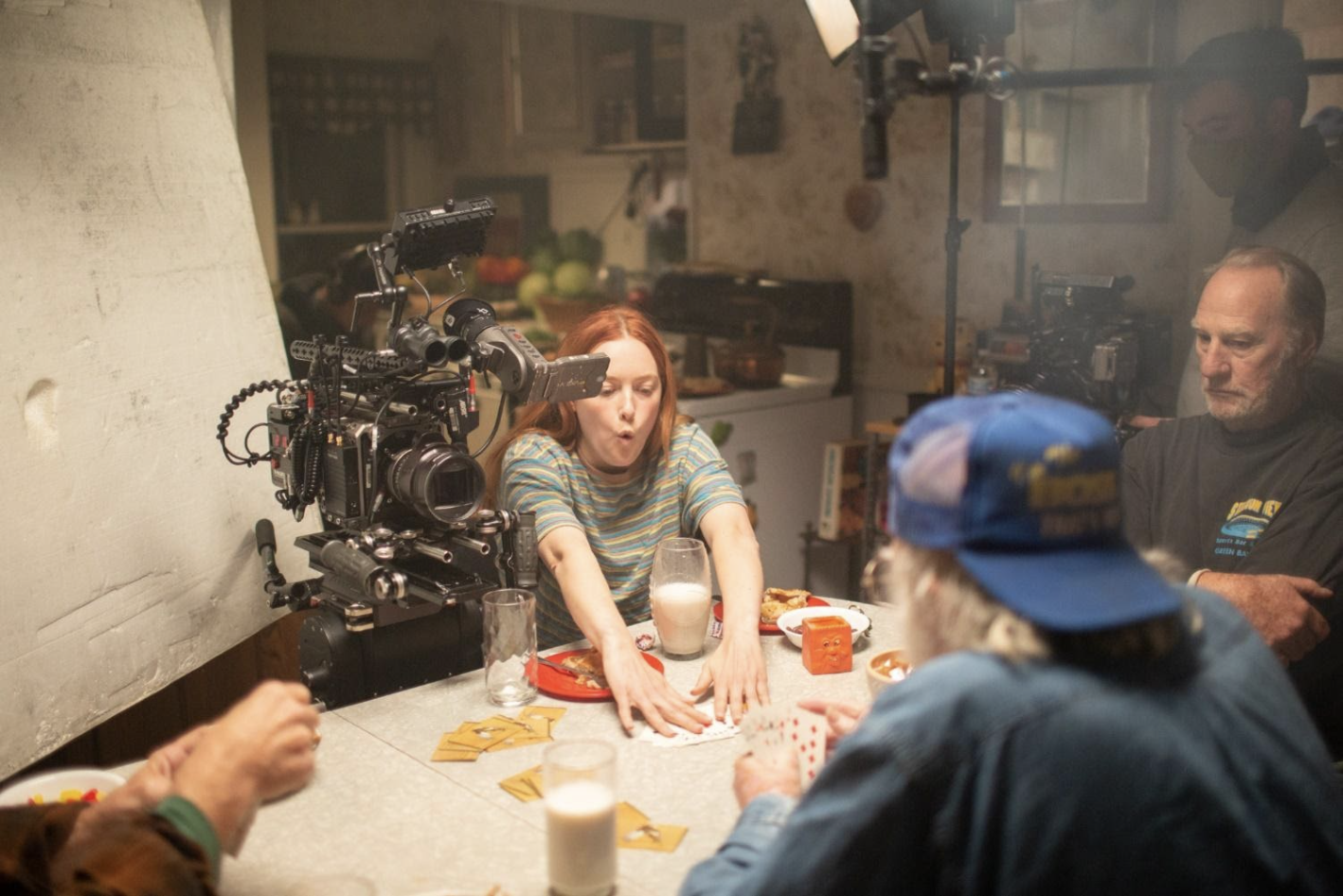 A photo from behind the scenes shows the actors (Madison Lawlor and Craig T. Nelson) playing a game of Smear, a nod to a favorite Yooper card game. (Davin Lindwall photo)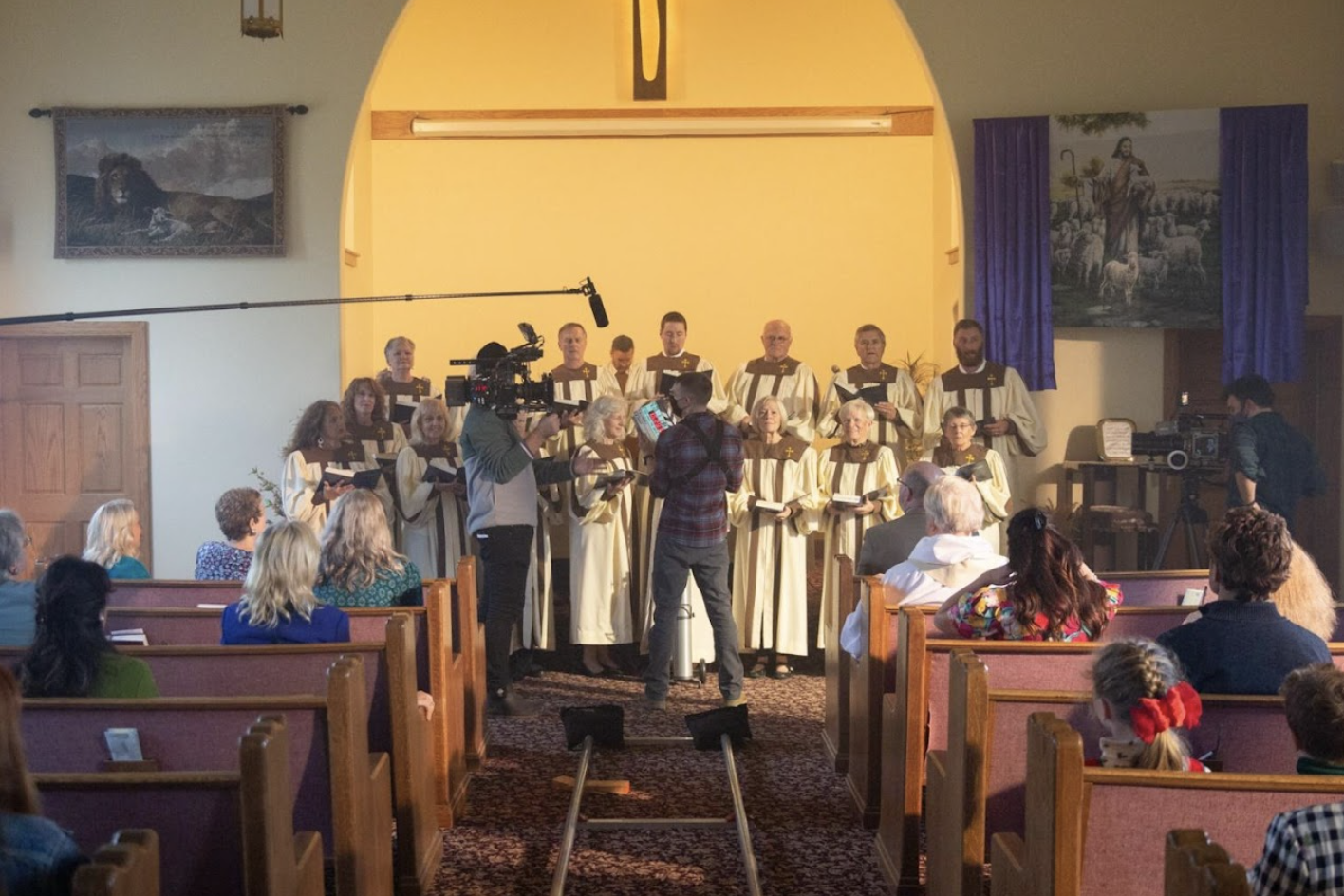 A still from the set where the choir scenes were filmed. The people of the choir are all Iron County residents who rehearsed for weeks to learn songs written for the movie. (Davin Lindwall photo)