Locally-Produced Beer a Growing Industry in the UP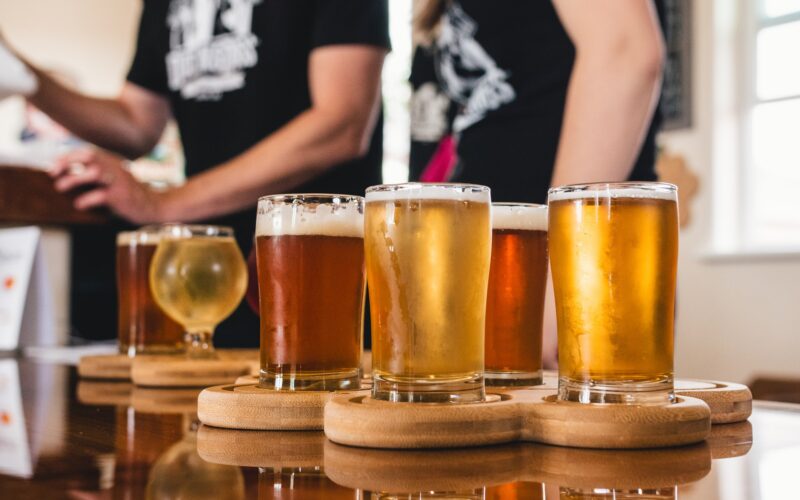 Selling locally-produced beer is a growing industry in the Upper Peninsula.
A decade or so ago there was just one brewpub in Marquette; today that same brewpub has been joined by four microbreweries. Brewpubs are distinguished from a microbrewery by having a license to serve alcohol in conjunction with a restaurant function.
The growth in microbreweries is part of a national trend; until about 30 years ago the beer industry was dominated by large national brewers such as Anheuser–Busch, Coors, and Miller. Since then there has been an explosion of beer producers.
According to the Brewers Association, the number of breweries in the US jumped from 93 in 1983 to 8,884 in 2020, and nearly all of the newcomers are microbreweries. 
In 2010, the Michigan Brewers Guild listed 67 microbreweries and brewpubs in the state–by 2021 there were 291.
Such is the popularity of microbreweries and brewpubs that they feature in the state's tourist marketing: "Michigan is home to Beer City USA–Grand Rapids–as well as beer-centric communities such as Kalamazoo, Ann Arbor, Traverse City, Detroit, Marquette, Lansing and Ypsilanti."
In the Upper Peninsula the largest concentration of microbreweries is in the Marquette-Ishpeming area, home to the region's largest population concentration. Smaller clusters of microbreweries are in Sault Ste. Marie, Munising, and the Houghton area.
Population, however, is not the only factor influencing the location of microbreweries, as they can be found in Copper Harbor, Grand Marais, and, perhaps most interestingly, Alpha.
Alpha, located south of Crystal Falls in Iron County, has a population of less than 150 and is home to the Alpha Michigan Brewing Company. It made local headlines over the July 4 holiday in 2019 when abnormally-high sales resulted in it running out of beer!
Paradoxically, the growth in microbreweries has occurred during a period when overall beer consumption is in decline. This article explores the recent growth of microbreweries in the UP and how these new brewers market their beers to appeal to a sense of place.
First, a brief explanation on the growth of microbreweries.
One possible reason for the explosion of microbrewing is 'neolocalism,' a process whereby local businesses attempt to foster a sense of place based on a community's unique attributes.
It is viewed as a response to the homogenizing effects of globalization that leads to places having the same array of retailers and chain restaurants. Other manifestations of neolocalism can be seen in the growth of farmers markets, community-supported agriculture, and 'buy local' programs.
Much of the demand for craft beer is driven by millennials. Market research indicates they prefer to purchase products and services from local companies while opposing power and influence in the hands of a few companies (for beer this is represented by the large brewers).
Thus, much of the success of microbreweries is attributable to their local ownership and targeted marketing strategies that emphasize local identity and distinctiveness. 
So how do the UP's microbrewers market beer based upon a sense of place while appealing to millennials? One strategy is to emphasize community. According to a Marquette microbrewery's website, its goal is to "craft great beer and help craft a great community;" while an Iron County counterpart "brews with a purpose–community involvement," by setting aside a percentage of its profits to support community charities.
Perhaps the most explicit statement of community involvement is the recent opening of Michigan's first cooperatively-owned craft brewery in Marquette; its website notes that since they are community-owned, "your money will stay local." However, it is worth noting that most brewers have to purchase their ingredients from outside the UP.
Breweries use place names when naming their beers or the breweries themselves. Blackrocks Brewery is named after an area in Presque Isle Park in Marquette where people jump into Lake Superior, while Marquette's Ore Dock Brewery gets its name from one of the city's most prominent structures.
The 51st State Brewing Company in Kingsford derives its name from a 1970's proposal to secede the Upper Peninsula from Michigan. Other examples linking place to brewery include the Keweenaw Brewing Company and Copper Country Brewery in Houghton, and Grand Marais' Lake Superior Brewing Company. 
Place names are frequently used in naming a specific beer and can range from relatively obscure to more well-known landmarks.
Sault Ste. Marie's Superior Coast Brewery produces 'Ashmun Creek Pale Ale' named after a small water feature in the city. Cold Iron Brewing in Ironwood produces 'Porcupine Light' named after the nearby mountains, and the Alpha Michigan Brewing Company incorporates 'Stager Lake' into a Summer Wheat beer.
Historical references are another means of conveying a sense of place. The Keweenaw Brewing Company produces a variety of beers with titles that refer to the surrounding area's mining history, such as Pick Axe and Widow Maker (a reference to a particularly dangerous piece of machinery). Marquette's Ore Dock has a 'Queen City' beer, acknowledging the city's nineteenth century moniker. 
Finally, breweries also deploy direct appeals to the region's identity. Escanaba's Upper Hand Brewery produces 'Yooper Ale' and a seasonal beer entitled 'Deer Camp.' Not all breweries employ this strategy, however. Munising's ByGeorge Brewing Company has a distinctly tropical flavor with its 'Toucan Mosh Pit' IPA and 'Rasta-Mon Caribbean' Stout.
Appealing to people's sense of place and engaging with a local community have proven to be successful business strategies for the UP's microbreweries. However, apart from the water used in the beer, other ingredients such as hops and grain are likely to be obtained from outside the region, which weakens the brewers' local economic impact.
Despite this limitation, brewpubs and microbreweries are quenching the public's thirst for community and regional identity.