Demography is Destiny? The Implications of Declining School Enrollment for the Upper Peninsula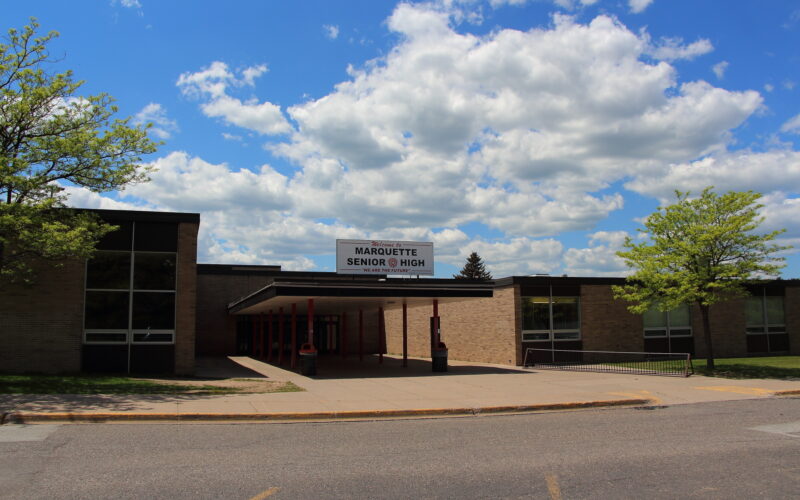 'Demography is Destiny' is a phrase attributed to Auguste Comte, a French nineteenth-century philosopher, who argued that the size and structure of a population will influence its future.
His idea was perfectly illustrated when as a Northern Michigan University administrator I listened to a presentation about the enrollment challenges confronting the University due to the state's shrinking population of 18-year-olds. The presenter analyzed the population of Michigan students in each grade (K thru 12) and noted that the numbers in the early grades were lower than the higher grades, ensuring that in the future there would be fewer College eligible students.
Since that presentation, the number of births in the state has continued to fall, from 117,309 in 2009 to 105,022 in 2021. This drop is part of a long-term decline in US birth rates, which since 2010 have fallen below the so-called replacement level–the level at which a population replaces itself from one generation to the next. The only factor stopping the US population from declining is immigration.
This article begins by analyzing the drop in school enrollment in the Upper Peninsula, considers some of the consequences of this decline, and suggests what might be done to address this issue.
Upper Peninsula School Enrollment
According to MI school data, the seven UP school districts had a total enrollment of 48,434 in the 2002-03 school year. Twenty years later, the number had dropped to 37,139, a 23-percent decline. The largest loss is associated with schools in the western UP (Gogebic and Ontonagon counties), while the Copper Country School District that serves Keweenaw, Houghton and Baraga counties had the smallest decline (Table 1).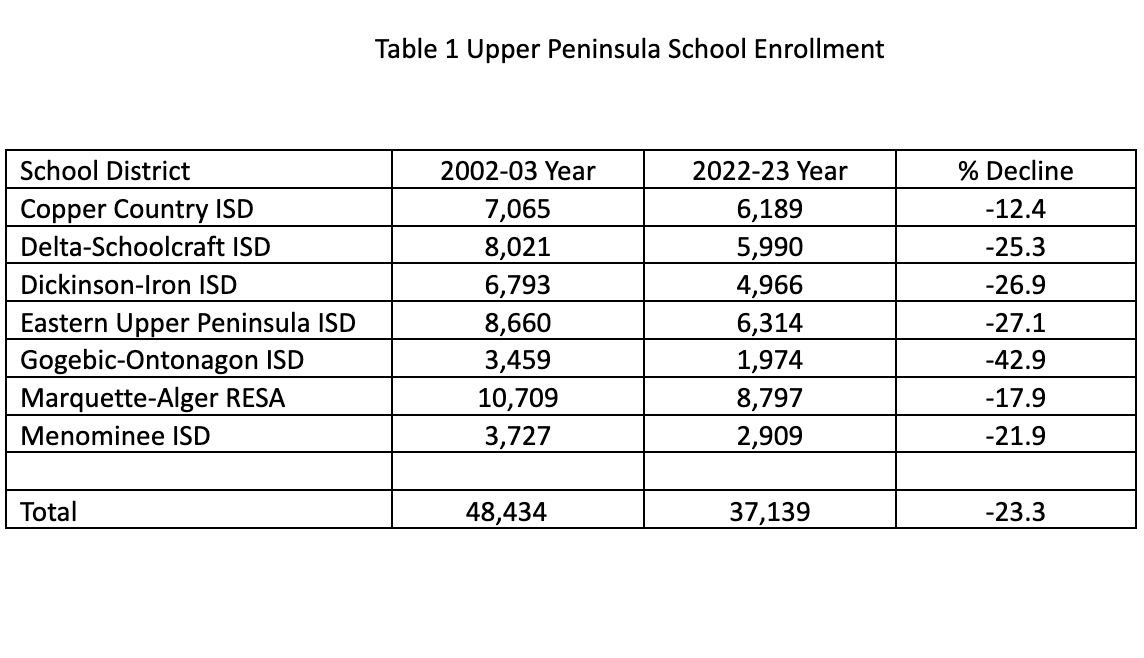 Despite the overall decline, there are significant variations in enrollment within each school district. In Marquette-Alger, the number of students attending Munising public schools has fallen from 950 to 570 over the past twenty years. In contrast, the corresponding figures for the Marquette area public schools are 3,720 and 3,233. Despite this caveat, the fall in school enrollment is unequivocal and there is little evidence to suggest that this situation is likely to change any time soon.
Consequences of Declining School Enrollment
One obvious consequence of falling school enrollment is a similar drop in postsecondary education enrollment. For Northern Michigan University (NMU), which has historically depended upon UP students for a significant proportion of its enrollment, the effects are clear.
According to the Michigan House Fiscal Agency, the number of Fiscal Year Equated Students (a calculated statistic used to determine the number of full-time students at each Michigan public university) at NMU fell from 8,568 in 2011-12 to 6,374 in 2021, a decline of more than 25 percent. At Lake Superior State the drop was even larger at 40%. In contrast, Michigan Tech was one of only three state universities that experienced an increase in Fiscal Year Equated Students (+4%), the others being Michigan State (+6%) and the University of Michigan at Ann Arbor (+19%).
Declining enrollment brings a host of challenges for universities. They have fixed costs such as payroll, heating, and maintenance which have to be met, while their ability to meet these costs is constrained by limits on tuition increases and falling enrollment. This means they scramble to cut costs by not replacing retiring faculty and staff, or encouraging faculty to leave through buy-out programs. Simultaneously, they look for alternative revenue sources by expanding online graduate programs where higher tuition rates can be charged, and targeting so-called non-traditional students.
At a community level, falling enrollment has economic implications, since fewer students translates into less money circulating locally and fewer parents' visits. Finlandia University's recent decision to close illustrates the most dramatic consequence of falling enrollment. That decision will reverberate in Hancock and its surrounding area, with faculty and staff layoffs meaning tough times ahead for businesses that cater to the University's students and workers.
For the state, fewer students will eventually translate into fewer working adults and taxpayers. At the same time, labor shortages force businesses to increase wages as a means of attracting or retaining workers, leading businesses to pass these increased costs to consumers in the form of higher prices. More significantly from a long-term perspective is the potential reduction in the number of taxpayers.
Michigan has two primary sources of tax revenue: an income tax and a sales tax, with income tax providing the bulk of the state's revenues. Fewer working adults will mean a reduction in state revenue, unless tax rates are raised, which is an unlikely prospect.
Is Demography Destiny?
Back in the 1960s, demographers were predicting a population apocalypse. Paul Ehrlich, in his book The Population Bomb, famously predicted dire consequences for the world as a result of rapid population growth, most of which have not been borne out. He and others failed to foresee the declining birth rate that has led some countries' populations to fall.
In the US, a 2021 Pew Research Center survey found that a rising share of U.S. adults who are not already parents say they are unlikely to ever have children, which suggests that the challenges of a declining population are here for the foreseeable future. One means of offsetting population decline is via immigration, the other is attracting internal migrants from other states.
However, the states that continue to experience population gains as a result of migration are in the South and West. Between 2012 and 2021, 177,322 immigrants settled in Michigan, helping to boost the state's population, (California had the highest figure at 1.9 million). Immigrants are more likely to be of working-age than their U.S.-born counterparts. This means they are more likely to be active in the labor force, allowing them to contribute to the economy not only as consumers but as taxpayers as well. Immigrants are also more likely to establish new businesses than native-born Americans.
In short, encouraging immigrants to settle in Michigan is a means to forge a new destiny, free from the challenges posed by recent demographic trends.