Important Federal Student Aid Information for Students and Families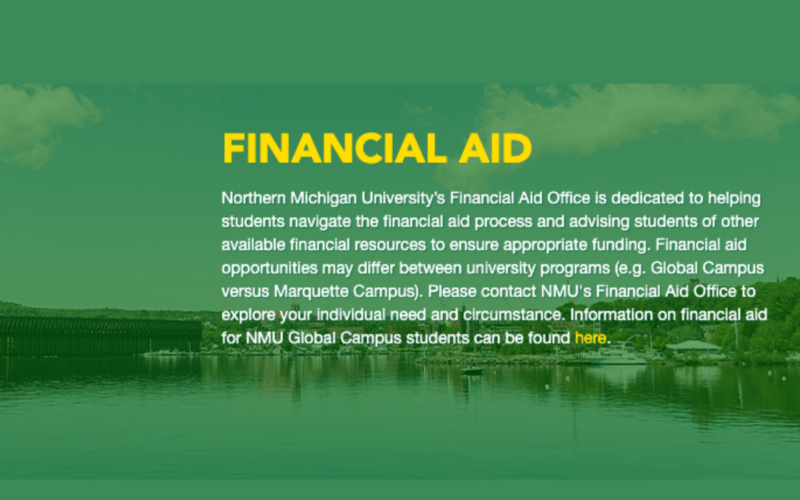 With March 1st fast approaching, it's time to finalize your FAFSA for the 2021-2022 academic year.
The FAFSA (Free Application for Federal Student Aid) is the annual federal application to determine a student's financial aid eligibility. Whether renewing or filing for the first time, the first step is completing the FAFSA at fafsa.ed.gov. 
Why is March 1st an important date?
March 1st is not a deadline; at NMU, we consider this to be a priority date. Students can certainly file their FAFSA after the date, but to maximize your financial aid eligibility we recommend filing your FAFSA between October 1st and the end of February.
After the FAFSA is submitted and reviewed, students receive a financial aid award notice from their financial aid office, either through a paper mailing or through their email.
Carefully review this information. The financial aid award may include a combination of grants, scholarships, work-study, and loans. 
Federal Pell Grant is the primary need-based award to assist low-income families. Not only will schools use the FAFSA to determine eligibility for federal programs such as the Pell Grant, most schools will also use the information to award institutional grant program funds.
For example, in addition to NMU's Board of Trustee Grant to assist students with financial need, NMU recently created a great resource for our U.P. students.
We now have a U.P. Grant that enables eligible students to receive up to $4,000 over the next two years. You can see if you might qualify here: https://nmu.edu/admissions/upgrant. 
Some scholarship eligibility also requires a FAFSA. For residents of Michigan, this includes the Michigan Competitive Scholarship award.
Additionally, many of NMU's 300+ donor-funded scholarships require a FAFSA on file for consideration. The NMU donor-funded scholarships application period is open until Monday, February 15th.
Submit an application by logging into MyNMU and clicking on Financial Aid – Donor-Funded Scholarships. 
Federal Work-Study is a type of need-based financial aid that encourages college students to engage in part-time employment while attending college. The Work-Study award is not directly applied to the bill, but is paid biweekly based on hours worked and level of hourly wage.
There is also on-campus employment for students who do not qualify for Federal Work-Study. For more on both, see Home | Career Services (nmu.edu). 
Federal student loans through the Direct Loan program are offered to all students who are eligible to receive them. We encourage students to borrow responsibly by only borrowing what is needed.
Remember that a student loan is just like any other loan, it must be repaid. If you plan to accept federal loans, completing first-time borrower requirements is the next step. Students may complete the Entrance Counseling and Master Promissory Note for Direct Loans at studentaid.gov. 
Verification process: Some students are selected for a process called verification and are required to provide additional documentation in order to finalize financial aid eligibility. Additional information regarding the verification process can be found on the NMU Financial Aid website: https://www.nmu.edu/financialaid/.
If you have questions about the verification process or anything else, please contact us. We're glad to help. 
Re-Evaluation process: The 2021-2022 FAFSA application uses financial information from 2019 to determine the family's financial strength for the upcoming academic year. The federal government understands a family's financial situation may have changed between 2019 and when the student is starting college.
If this is the case for your family, first file the FAFSA answering the questions as presented; don't try to account for changes on the application itself. Then, once you have filed your 2020 federal tax return, contact the financial aid office to find out about next steps.
In some cases, changes to household income may not impact the FAFSA outcomes. If that is the case, other aid recommendations may be made.
Know your next steps. 
Applying through the FAFSA in itself does not guarantee that your bill will be covered. Here are some ideas for bridging the gap:
Continue searching for private scholarships. High school guidance offices and local libraries are good sources of scholarship information. Students may also wish to check with local organizations, businesses, churches and parents' employers to see if scholarships are available. It is best to avoid any scholarship service that requires a fee.

Before looking at the longer-term financing programs, always check family resources, including any part-time student employment that can help reduce costs.  

Explore NMU's payment plan options to see if they may be helpful to bridge any short-term gaps.

If you are looking for additional financing through student loans, starting with federal Direct Loans is best. These loans usually have the lowest interest rates and do not require a co-signer or credit check. The repayment options are very flexible, as well.

Additional loan options include a Parent PLUS Loan (if you are a dependent student based on the FAFSA) or private education loan from the lender of your choice. Information about both of these resources can be found on

www.nmu.edu/financialaid/

under the Sources of Aid section.
Mike Rotundo, Director NMU Financial Aid 
fao@nmu.edu • 906-227-2327