Upper Peninsula Digital Network project helps reveal the treasures of rural UP history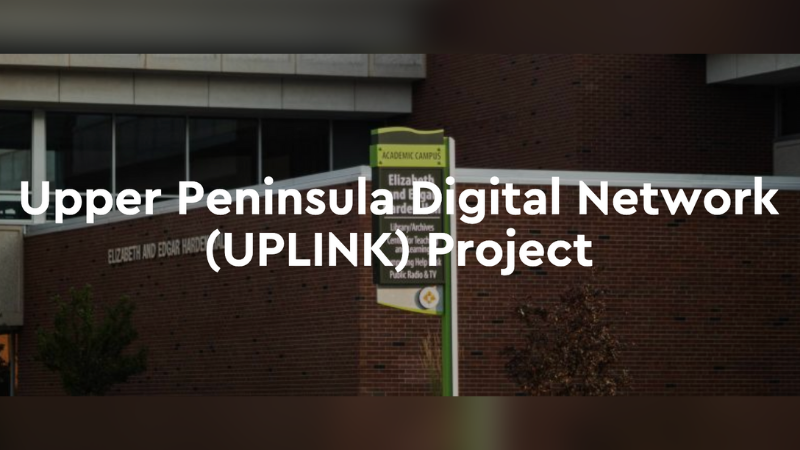 In order to access a collection of oral history interviews with Ojibwe elders kept at the Drummond Island Historical Society, classmates in my History of the Upper Peninsula class would have to drive for more than 4.5 hours and pay $20 for a ferry ticket.
Once there, they'd have only four hours to identify which interviews to listen to, hear whichever few they selected, and take the relevant notes for their research papers.
Of course, they could only do these things if they had access to a car, an open schedule, and enough pocket change to pay for it all. These interviews are one of many historically significant collections located across the rural Upper Peninsula, but the difficulty of accessing them often turns away interested learners who don't have the necessary resources. 
Clearly, these scattered heritage organizations face problems with providing widespread access to their holdings. Geographic isolation is the biggest blessing and the biggest curse–they could transfer their holdings to a formal Upper Peninsula archives or send them even further to downstate institutions, but why?
Why should they give up their historical record to another institution for the sake of outside researchers? And why deprive the community of immediate access to its own history?
Luckily, we live in a digital age where the Internet can solve that geographic problem; however, the lack of time, money, manpower, technology, and digital literacy prevents most rural organizations from digitizing and publishing collections online.
These are just a few of the challenges facing Upper Peninsula heritage organizations, where rural communities have a deeply impactful history but few ways to share it.
I was born and raised downstate in the Grand Rapids metro area, but it wasn't until moving to the UP in 2018 that I learned anything about this place. In primary school, I learned of the California gold rush, but never the booms and busts of Michigan copper and iron mining that built the Midwest.
They taught us about British colonization pushing out from the east coast of North America, but glossed over the massive influence of the French fur trade centered on Sault Sainte Marie and the Great Lakes' waterways.
I was simply shocked to discover how big a role the Upper Peninsula has had in the history of the United States, and just how little I knew of it. How many other Michiganders have never had the opportunity to learn this history? 
Enter UPLINK: the Upper Peninsula Digital Network dedicated to preserving and sharing the history of "da Yoop" on the internet.
In 2019, the National Publications and Records Commission (NHPRC) of the National Archives awarded Northern Michigan University a $20,000 Planning Grant to develop a proposed collaborative digital network from among the Upper Peninsula's heritage organizations.
With a $7,000 NMU faculty research grant, NMU Archivist Marcus C. Robyns conducted site visits and distributed an online survey of 26 heritage organizations. Robyns gathered information on staffing, income, expenditures, and infrastructure.
In the fall of 2019, he brought together a group of professional public historians and librarians to analyze the data and develop the administrative structure, policies, and procedures of UPLINK. With this information and documentation, Robyns successfully applied for a $100,000 NHPRC Implementation Grant. 
The NHPRC Implementation Grant has provided the "seed" money to launch UPLINK. In May of 2021, UPLINK named Annika Peterson (former NMU Archives senior student assistant) as its first Digital Project Manager; four undergraduate students were also hired by the Archives to assist.
The UPLINK website will be launching soon, with digital materials migrating onto a new user-friendly Islandora database. And membership continues to grow–its 14 current members represent Ontonagon, Houghton, Iron, Marquette, Alger, Chippewa, and Mackinac counties. The NMU Archives is the first service hub to begin transferring, digitizing, and publishing historically significant materials from these member organizations.
In June 2021, we received a long-awaited Bookeye planetary scanner that increased capacity for digitizing large-scale documents. With it, staff have preserved hundreds of aging ledgers and maps already. 
UPLINK is a collaborative network governed by an independent board of directors, and their varied input on improving the project and serving everyone is one of UPLINK's major strengths.
The project's organizing principle is to leverage the existing resources of heritage organizations–especially their workers and volunteers who dedicate valuable time and knowledge to maintaining the historical record–to make interesting and valuable historical manuscript materials available to anyone, anywhere, anytime.
In this way, UPLINK is the first step toward a future where Upper Peninsula history is available to whoever is inspired to look.
We'll be holding a community history workshop this Saturday, October 30 from 11-4pm in the NMU Archives, where we'll be recording oral history interviews and making free scans of any historical photos/documents people want to bring in. These files will then be used to grow UPLINK's collections. Please spread the word to anyone who might be interested–we hope we see you there!